About Bradley Gravett
Posted by BRADLEY GRAVETT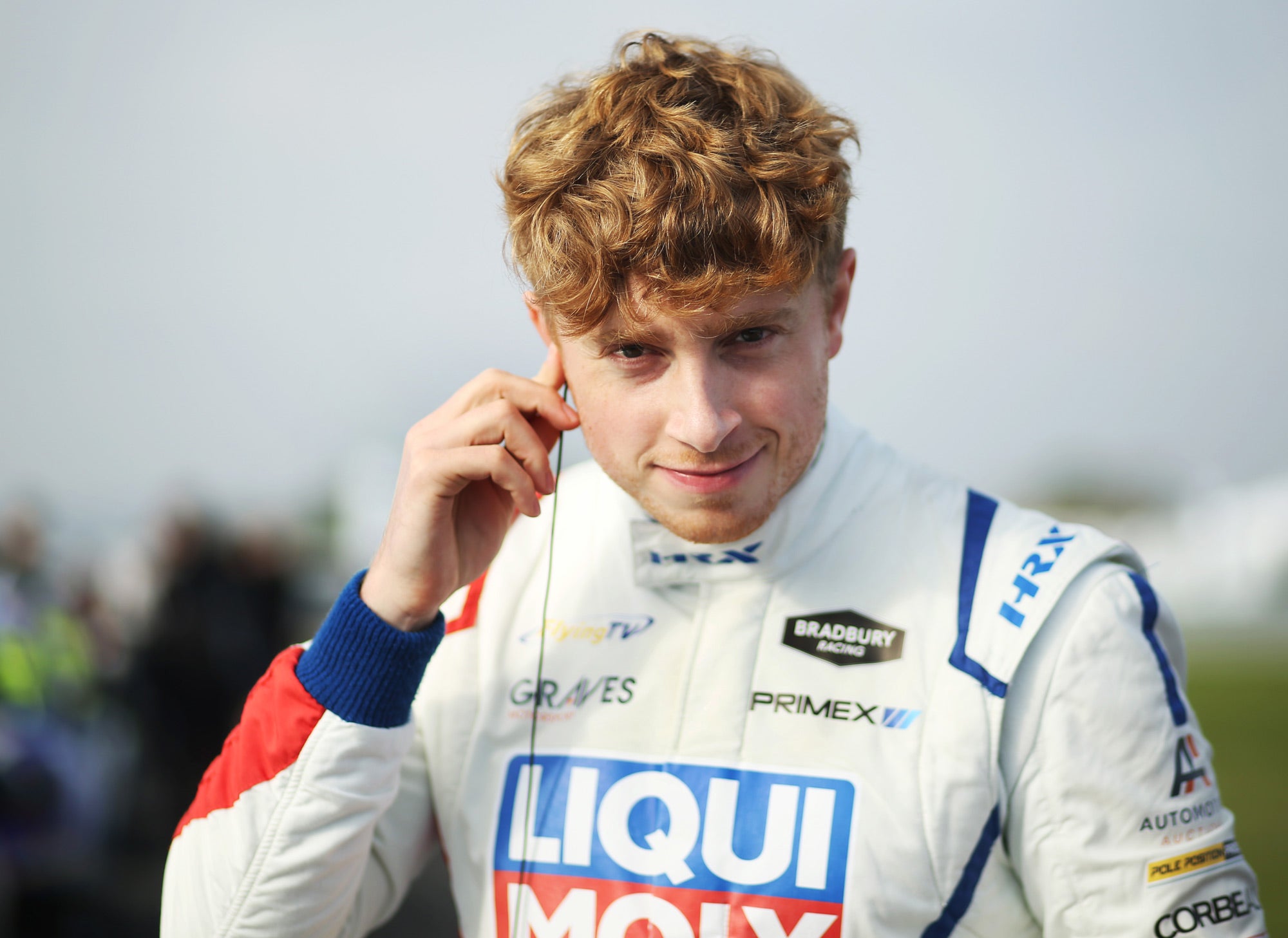 Bradley Gravett is a professional racing driver based just outside of London, England, who's currently competing in the premier support series to the British Touring Car Championship, the MINI Challenge JCW Series.
With a lifetime around motorsport, Bradley's father, Robb Gravett, is a multiple British Touring Car champion whose professional and incredibly successful motorsport career spanned over 20 years.
Born in the early 90s, midway through Robb's successes, Bradley's professional motorsport career started in karts in 2007 when he competed as a factory Zip Kart Young Guns Driver at the age of 13, under the wing of the global karting legend Martin Hines. That year, he competed in the Junior Rotax class in two back to back British championships, SuperOne and Stars of Tomorrow, both considered the absolute pinnacle of Global karting. Bradley showed incredible pace and ability, which is where his extraordinary journey to the pinnacle of British motorsport began.
In 2008, Gravett made the step up from Junior Rotax to KF3 and graduated away from Zip Kart to an independent race team named Millenium Motorsport, who specialised in the highly successful Tony Kart chassis. That year, Bradley decided only to compete and focus his efforts on the SuperOne Championship. At that time, SuperOne was recognised globally as one of the most competitive karting championships, with some of the world's most successful drivers competing in the same races as Bradley; Alex Albon, Ashley Sutton, Tom Ingram, and Jake Dennis, to name a few.
The 15-year-old continued to develop his pace and consistency in 2008 and by two thirds the way through that season was able to comfortably and consistently compete with the front runners.
Despite a successful run in 2008 and a promising future in karting, Gravett decided against the move to continue with karting to focus his efforts on the move into car racing. Unfortunately, however, due to the economic climate caused by the financial fallover of 2008, balanced with Gravett's educational commitments, he was forced to take what became a 12-year sabbatical away from full-time professional motor racing. During this time off, however, Gravett didn't stay away from the sport and kept his toe in the water by testing and racing several cars until, in 2020, he secured a full-time drive with Graves Motorsport in the MINI Challenge Cooper Trophy class in support of the British Touring Car Championship.
Gravett's multitude of top 10 finishes and impressive front end qualifying results in 2020, in just his first full season of car racing with Graves Motorsport, in such a closely matched series as the Cooper Trophy, indeed highlighted Bradley's ability to compete at the front end of an elite British motorsport championship.
After Gravett's successes in 2020, he caught the attention of the multinational German Oil and Additives brand, LIQUI MOLY, which for 2021 helped to facilitate Gravett's step up from the MINI Challenge Cooper Trophy class to the premier MINI Challenge JCW class.
The MINI Challenge JCW class is the main support series to the BTCC, which sits under the umbrella of TOCA, an elite British Motorsport package allowing drivers, like Bradley, who compete on it, access to a vast multitude of media audiences across the United Kingdom. These audiences include; trackside spectators, full ITV coverage and an extensive network of relevant social media channels.
Gravett continued to have an incredibly successful season in the JCW class in 2021, albeit a planned learning year for Bradley, impressively from his first outing in the series. He managed to compete in the top ten amongst some of the UK's most competitive drivers. This form continued throughout 2021, where the 27-year-old fought his way to finish third in the Rookie Cup Championship. But that's not all he achieved; Bradley's proactive work and commitment to his social media networks and supporters has rapidly increased his social media follower growth to over 10,000 engaged followers, achieved in just under eight months.
2022, thereafter, was a dynamic year for Bradley in the MINI Challenge JCW Championship. Starting the season with Graves Motorsport, Gravett showed his strength right off the bat, from round one of the season at Donington Park, where, despite a limited preseason testing programme, saw Bradley fighting for wins.
This progression and success continued for the first half of the season until a multitude of team preparation failings continually resulted in mechanical issues, ultimately ending in Bradley's engine blowing up at round five at Snetterton. To overcome these issues, Bradley made a mid-season team switch to front running, championship-winning team, EXCELR8 Motorsport.
Once Gravett had made the successful team switch to EXCELR8 Motorsport, who rebuilt and re-prepared his race car to a front-running standard, Bradley once again found himself competing back with the lead pack of cars, where he was earlier in the season. Despite the political challenges overcome during 2022, Gravett still secured a graduate vice champion finish in the series, which was a fantastic result.
2022 also saw the addition of several new long-term sponsorship partners, including Thinking it Better, Scalextric, DriverAssist.ME and PolyChrome Studios joining Bradley and Gravett Racing. Along with the exciting 4 part, fly-on-the-wall style documentary project filmed with PolyChrome Studios, illustrating Bradley's 2022 season in film, which is expected to be aired in the year ahead.
Finally, Bradley was also welcomed as an EXCELR8 Motorsport British Touring Car Development driver, which will see him have the opportunity to test the 2022 championship-winning EXCELR8 Motorsport Hyundai i30n Fastback race car in 2023, preparing Bradley for a full BTCC campaign planned for 2024.
2023 saw Bradley have his most successful year to date in motorsport, achieving personal record-breaking results, weekend on weekend. Continuing in the MINI Challenge JCW series with EXCELR8 Motorsport, Gravett, who secured a new title sponsorship deal with GERKO, started the year with immediate podium-finishing pace, despite having no opportunity to partake in any off-season testing due to winter budget restrictions.
Throughout the 2023 season, Bradley, who's consistently had minimal testing opportunities, has shown incredible resilience by continuing to compete at the front of the field, securing podium finishes at both Brands Hatch and Oulton Park. Bradley has also demonstrated astonishing pace during his qualifying sessions, with multiple front-row starts throughout the season.
Despite Bradley's incredibly successful season, it's not been without its challenges, which hit hardest at Donington with a broken gearbox, Brands Hatch with a terminal braking issue, and Silverstone with a snapped gear lever. All three of the above caused non-finishes and knock-on damages to the remainder of each weekend regarding points scoring, ultimately snatching Bradley's goal of a top-three championship finish from his hands, which was very much on the cards.
Without question, Bradley has made a huge step forward in 2023, displaying consistent podium-finishing results matched with unbeatable resilience, boding well for his future in the sport. Despite his mechanical issues in 2023, it's been a very positive and needed year for Bradley, inspiring his confidence and belief that he is a future champion in the making.
For 2024, Bradley and the whole Gravett Racing team focus on securing Bradley a drive in the 2024 British Touring Car Championship. Talks are currently ongoing with teams and sponsors alike, and a press release will be published in due course.