The MINI Challenge JCW Race Car
Posted by BRADLEY GRAVETT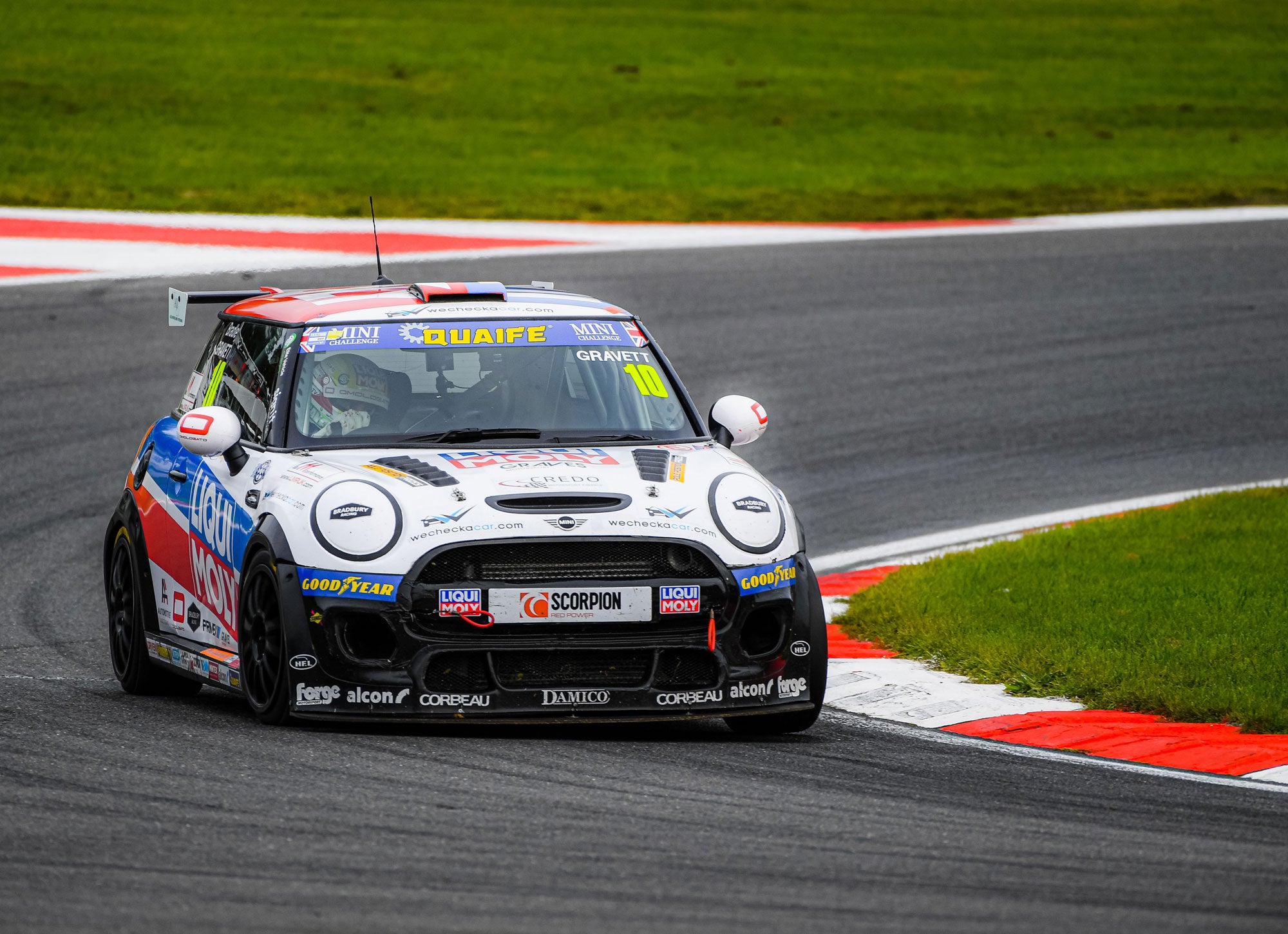 The MINI Challenge JCW race car is arguably the closest thing one can get to a British Touring Car and is, in many ways, more of a 'touring car' than an actual British Touring Car, in the 'old fashion' sense, of course.
Until the late 90s, a British Touring Car was always a production road car transformed into a race car, which is why the BTCC became so popular as the cars were fundamentally the same as the family car one had on their drive or could buy from a dealership, which gave the series its charm.
In recent years, British Touring Cars have become more dedicated, purpose-made race cars; built from the ground up to compete in the BTCC specifically. Most Touring Cars still look somewhat like their road-going equivalent from the outside, but under their shell, they're nothing like their road-going equivalents at all.
Technological advances in recent years are what have driven the teams and organisers toward a purpose-built race car instead of converted production road cars.
So, the MINI Challenge JCW race car, which, unlike a British Touring Car, starts its life as a road car, a road car that was, in fact, actually used on the road. So, MINI Challenge acquire these cars, strip them apart and upgrade and rebuild them into the track-ready MINI Challenge JCW weapon you know so well.
The fact that the JCW starts its life as a road car makes it more of a 'touring car' than an actual touring car, in the old-fashioned sense, of course.
So, what does MINI Challenge do to these race cars... let's find what MINI Challenge themselves say (2022 spec);
- Based on Gen 3 F56 MINI Hatch.
- Reconditioned engine and ancillaries as new engines are not available due to original car specification changing.
- New for 2022 – Uprated larger Driveshafts.
- New for 2022 – Facelifted Bodykit.
- New for 2022 – Re-positioned air filter.
- Shell lightening programme.
- Welded in cage with side impact strategy.
- 0lt Turbo, 240-275Bhp depending on application and fuel.
- Bespoke Specialist Components Motorsport ECU.
- Forge Intercooler, Radiator & Induction.
- Scorpion Stainless Exhaust System.
- Owen Developments spec turbo.
- Engine oil cooler & rad cowl.
- Quaife Sequential dog box.
- Lightweight Flywheel.
- Motorsport clutch.
- Tran X Plated Limited Slip Differential.
- OBP Pedal Box with Alcon Master Cylinders.
- HEL Braided brake hoses.
- Powerful Alcon brakes with floating rotors.
- Mintex Brake Pads.
- 3 Way Adjustable Nitron Dampers.
- Adjustable rear control arms.
- Powerflex Black Series bushes.
- Bespoke Touring Car inspired aero kit.
- GRP Dash.
- Three spring options.
- Uprated PAS ECU.
- 17 Inch Team Dynamics Rims.
- 235/17 Slick and Wet Goodyear Tyres.
- Cosworth full-colour dash.
- Weight 1170kg with the driver.
We asked Bradley what his MINI Challenge UK JCW race car is like to drive, and this is what he said;
"With just under 300bhp, full racing suspension, slick tyres, a 6-speed sequential gearbox, and an enormous turbo, my MINI Challenge JCW racing car is a thoroughbred racing machine.
When I stepped up from the MINI Challenge Cooper class, the slower of the two MINI Challenge championships, I knew the jump would be significant, but I wasn't expecting it to be as substantial as it was.
Thankfully, however, and unlike many other drivers, It didn't take me long to understand how the JCW needs to be driven to make it go really rather quickly.
But, what's it actually like to drive? Well, it's an absolute animal; MINI Challenge has left nothing on the table when it comes to power and performance. Being such a short-wheelbase, front-wheel drive car, it's incredibly loose at the rear, and to be quick, you've got to trust in your ability as a driver and let the thing dance beneath you. I've always had excellent car control, so movement's never bothered me, but full opposite lock at 100 mph, randomly, can at times be a little unnerving.
The long and short of it is, as a driver, one cannot be frightened of these cars; you've got to get a hold of them and wring their neck, let them do their thing and embrace the almighty twitch they can throw at you from time to time.
I've spoken to many British Touring Car drivers who have switched between the BTCC and the MINI Challenge JCW championship, and every driver I talk to who's made the switch always says how much harder the JCW is to drive as compared to an actual British Touring Car.
With the above in mind, the fact that I am now a front runner in the MINI Challenge JCW Championship bodes incredibly well for when I switch over to the BTCC, very exciting times ahead!"
MINIChallenge.co.uk/JCWRaceCar