Bradley Gears Up for a Triumphant Finale at Brands Hatch
Posted by BRADLEY GRAVETT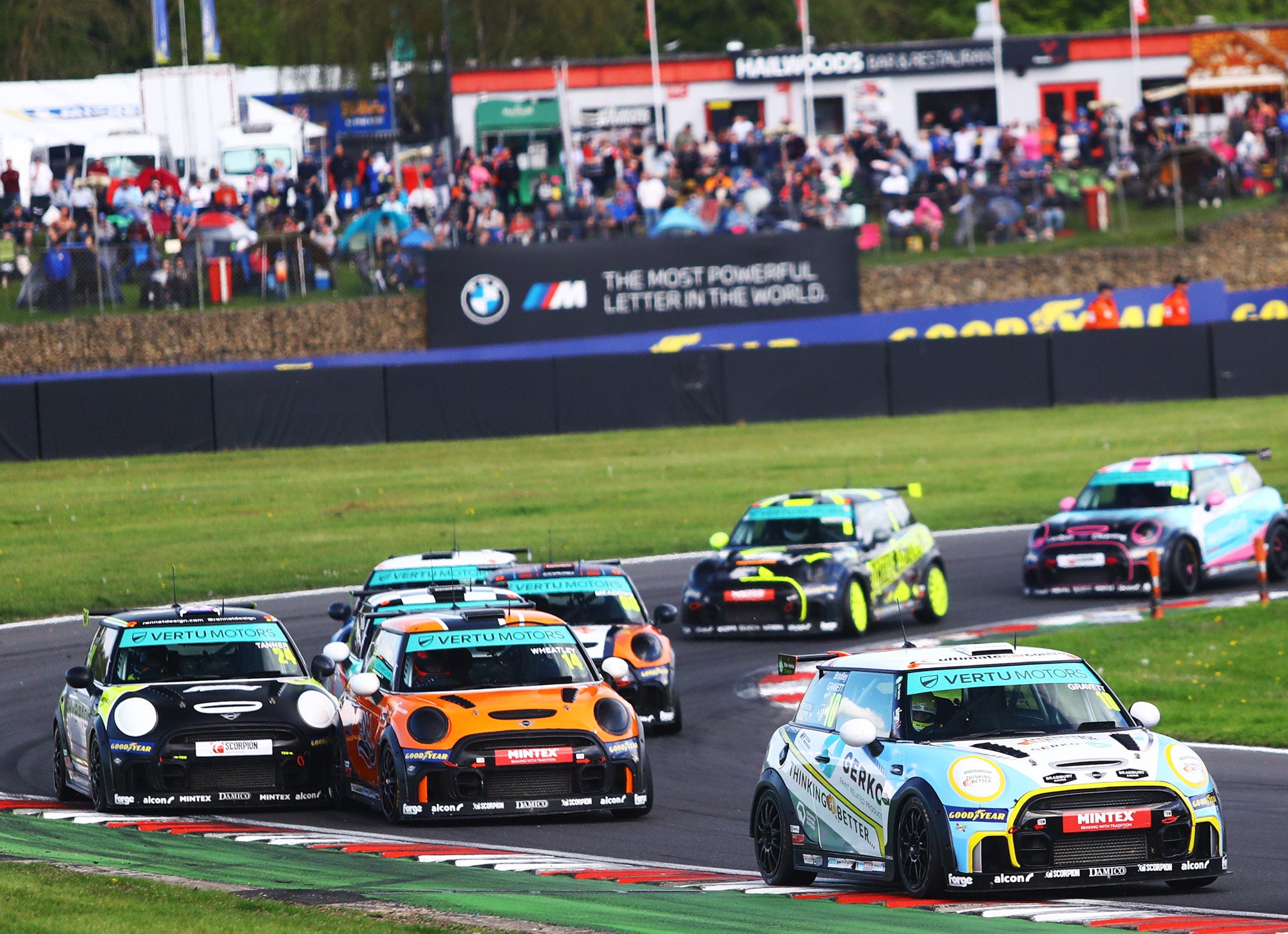 After a challenging weekend at Silverstone that left Bradley reflecting on what could have been, Bradley and Gravett Racing are heading to Brands Hatch with renewed determination and a hunger for victory. Bradley is gearing up for the final round of the MINI Challenge JCW series and, despite recent setbacks, is feeling positive, open-minded, and ready to conquer the iconic GP circuit layout at Brands Hatch.
The setback at Silverstone, where Bradley's gear stick snapped in the first race, leading to a disappointing DNF, was undoubtedly a tough pill to swallow. Starting the second race at the back of the grid due to the incident further complicated his pursuit of a top-three overall championship finish. However, in the face of adversity, and despite Bradley now unable to achieve a top-three championship finish in the series, Bradley's spirit remains unbroken, and the entire team is channelling that resilience into the upcoming grand finale at Brands Hatch.
The weekend at Silverstone last time out was a rollercoaster ride for Bradley. Tricky weather conditions during practice posed challenges, but Bradley's talent shone through as he secured a ninth-place grid position in qualifying, just half a second away from pole. Unfortunately, race one ended abruptly with the broken gearstick, setting the stage for a comeback drive in races two and three.
Race two saw Bradley taking a strategic gamble with slick tires on a wet but drying circuit. Although it took some time for conditions to improve and the tyres to switch on, Bradley's skill and determination secured him the fastest lap, his first ever, showcasing how far he's developed as a 'front-running' driver. Despite finishing 17th, due to the amount of time lost at the start of the race, the bonus points from the fastest lap meant he gained as many points as a ninth-place finish.
Race three witnessed Bradley's remarkable comeback and one of his best drives to date from the back of the grid, showcasing his genuine pace and ability to navigate through the field. Even with a rather large mid-race 'moment' through Copse, penalties for other drivers elevated Bradley to an eighth-place finish, leaving him seventh in the standings.
Reflecting on the challenging weekend at Silverstone, Bradley commented, "On one hand, the weekend at Silverstone turned out to be a bit of a stinker, but on the other hand, there are some massive positives for me to take away from it." He emphasised the car's performance improvements and expressed confidence in ending the season on a high note at Brands Hatch this coming weekend.
As we approach the final round of the MINI Challenge JCW series at Brands Hatch, the entire Gravett Racing team is buzzing with positivity. Bradley's consistent front-running pace throughout the season, coupled with the ongoing development of the car, sets the stage for a thrilling finale. We're open-minded and ready to adapt to any challenges, and we aim for nothing less than victories this coming weekend.
The iconic GP circuit at Brands Hatch holds a special place in motorsport history, and Bradley is eager to leave his mark on it. With a combination of skill, determination, and a positive mindset, we believe Bradley is poised for a positive end to the MINI Challenge JCW series. Join us on this exciting journey as we chase victory at the Brands Hatch finale and showcase the true spirit of Gravett Racing.
Bradley will, of course, be doing all his usual social media posts over the weekend, so watch your social platform of choice for live updates.
Facebook: BradleyGravettRacing
Twitter: BradleyGravett
Instagram: BradleyGravett
LinkedIn: Bradley-Gravett-181214151
TikTok: BradleyGravett
You'll also be able to keep up to date with all the live timings from TSL (the timing people) as it's happening by clicking HERE for the Friday test day timings and HERE for Saturday and Sunday timings.
This BTCC round, as usual, is also televised on Sunday's live ITV4 TV coverage. Race three will be aired live at 15:20, with, for the first time, Saturday's opening race and the second race of the weekend on Sunday morning to both be shown on the ITV Sports YouTube channel, which can be found at this link youtube.com/ITVSport.
Race 1 - Saturday: 14:25 - ITV Sport YouTube
Race 2 - Sunday: 10:40 - ITV Sport YouTube
Race 3 - Sunday: 15:20 - ITV4
Finally, if you're visiting the circuit this weekend, be sure to come and say hello; it will be great to see you there, trackside, for the final time in 2023! :)
Team Gravett Racing 🟨 🟥 🟩