Bradley Sets His Sights on Oulton Park Podium
Posted by BRADLEY GRAVETT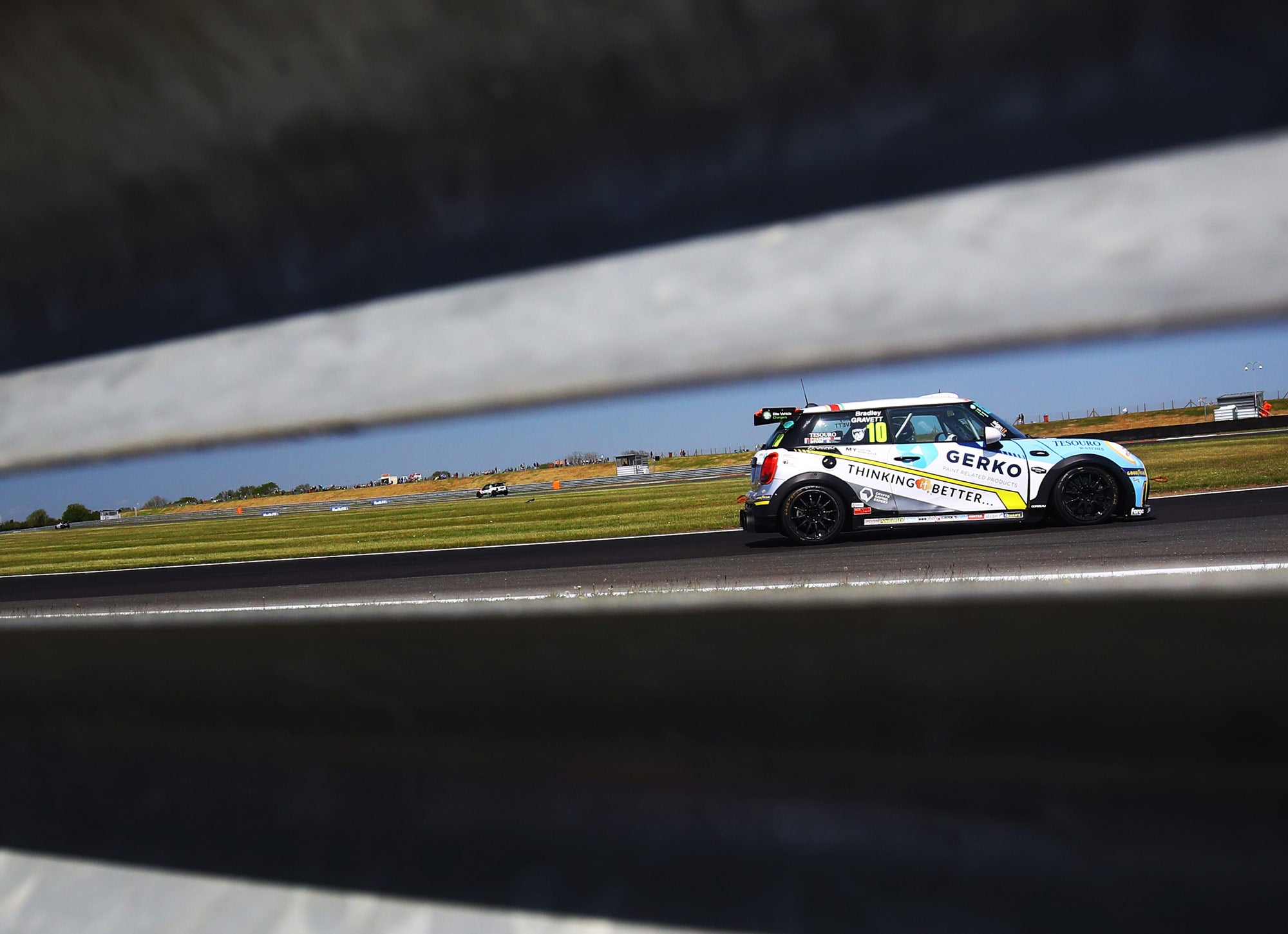 After an impressive performance at Snetterton, Bradley and the entire Gravett Racing team are feeling positive and eager to continue their strong momentum as they head into Round 4 of the MINI Challenge JCW series at Oulton Park this coming weekend. With consistent front-running results and a new personal best in points scoring, Bradley is determined to secure another well-deserved podium finish.
The previous round at Snetterton showcased Bradley's remarkable talent and determination. Despite not having driven the circuit for over 12 months, he displayed exceptional pace and racecraft, narrowly missing out on podium finishes in all three races. Unfortunately, aggressive manoeuvres from over-ambitious drivers forced him off track, preventing him from clinching that second podium spot.
Reflecting on his performance at Snetterton, Bradley remains optimistic and motivated to carry that momentum into the upcoming race weekend at Oulton Park. His goal is clear: challenge for more podium finishes and capitalise on the opportunity to bring home more silverware.
The article published after the third round at Snetterton highlighted Bradley's outstanding achievements and showcased his determination to make a mark in the MINI Challenge. Bradley's highest-ever points-scoring race weekend demonstrates his progress and growing confidence on the track. Bradley secured a solid starting position for the races with an excellent qualifying session at Snetterton, where he lapped more than a second quicker than he did in testing.
A brilliant opening lap in race one propelled Bradley into the top five, showcasing his overtaking skills and racecraft. He held off challenges from competitors to finish in fifth place, securing essential championship points. Race two presented a challenge when he was nudged wide by another driver in turn one, resulting in a drop to eighth place. Nevertheless, Bradley exhibited his tenacity and fought back to fifth place, again scoring valuable points. In race three, a spirited battle for podium positions, unfortunately, resulted in a drop down the order, but Bradley managed to salvage a sixth-place finish, further adding to his point tally.
With Snetterton concluded Bradley currently sits in sixth place in the championship standings, considering dropped scores. This position reflects his consistent performance and the immense potential he possesses. Bradley's determination to challenge for podiums is unwavering, and he is confident in his ability to compete among the front-runners.
Looking ahead to Oulton Park, the Gravett Racing team is excited about the opportunities that lie ahead. Bradley's strong start to the season has already showcased his pace and potential to be a formidable contender. He is determined to overcome any obstacles and capitalise on every chance to secure podium finishes. The team aims to maximise their points tally and elevate Bradley's position in the championship standings.
As the team prepares for Round 4, Bradley and Gravett Racing are fully focused and motivated to return to the podium. The positive energy from their recent performances, combined with Bradley's exceptional skill and dedication, sets the stage for an exciting race weekend at Oulton Park. With the team's collective determination and Bradley's hunger for success, they aim to leave no stone unturned in their pursuit of podium positions.
Robb Gravett, former 1990 British Touring Car Champion and father of Bradley Gravett, shared his thoughts on Bradley's progress and aspirations:
"I couldn't be prouder of Bradley's achievements in the MINI Challenge JCW series. Seeing him consistently perform at the front and score his highest-ever points-scoring race weekend demonstrates his dedication and talent. As a father and former champion, I know the challenges he faces on the track, but Bradley's determination and skill make me confident that he will reach new heights. The podium is within his grasp, and I'm excited to see him continue to excel in the upcoming races."
Bradley Gravett expressed his determination and focus as he looks forward to Oulton Park:
"I'm feeling positive and hungry for success heading into Oulton Park. The past rounds have shown that we have the pace and ability to challenge for podium finishes. Although we've faced some unfortunate incidents this season, it only fuels my motivation to prove myself even further on the track. I believe in the team's capabilities and my skills. The goal is clear - return to the podium and score valuable points. I've shown that I can be a front-runner, and I'm determined to make that evident once again at Oulton Park this weekend."
Stay tuned for the thrilling action as Bradley takes on the challenge of Oulton Park, aiming high and ready to demonstrate his on-track potential.
Bradley will be doing all his usual social media posts over the weekend, so watch your social platform of choice for live updates.
Facebook: BradleyGravettRacing
Twitter: BradleyGravett
Instagram: BradleyGravett
LinkedIn: Bradley-Gravett-181214151
TikTok: BradleyGravett
You'll also be able to keep up to date with all the live timings from TSL (the timing people) as it's happening by clicking HERE for the Friday test day timings and HERE for Saturday and Sunday timings.
This BTCC round is also televised on Sunday's live ITV1 (in the morning) and ITV4 (in the afternoon) coverage. Race two is likely to be aired live at 16:00, with the possibility of race one also being shown as a highlights race at some point throughout the coverage.
Finally, if you're visiting the circuit this weekend, be sure to come and say hello; it will be great to see you there! :)
Team Gravett Racing 🟨 🟥 🟩