Bradley's Aiming for More Silverware this Weekend at Snetterton
Posted by BRADLEY GRAVETT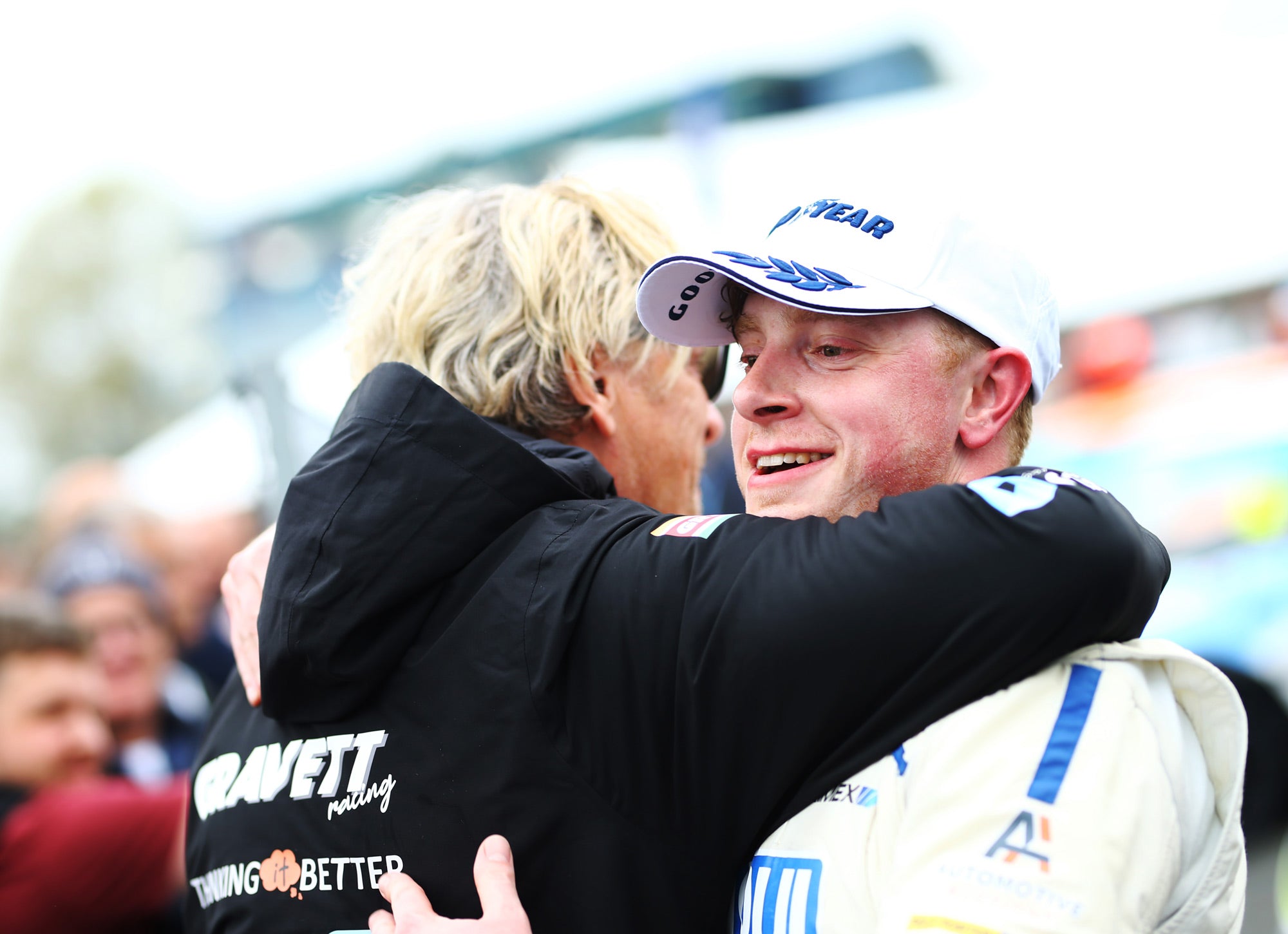 Snetterton, the Norfolk-based circuit and one of the most technical tracks on the UK calendar, is about to witness an electrifying display of skill, speed, and determination as Round 3 of the MINI Challenge JCW series approaches. Following an exceptional performance at Brands Hatch Indy last time out, where Bradley Gravett secured his first-ever podium finish, Gravett Racing is feeling positive and eager to continue their momentum at Snetterton.
Last time out at Brands Hatch Indy showcased Bradley's remarkable talent and ability to run at the front of the pack. Despite a mechanical failure that resulted in a disappointing retirement while running in second place in race 3, which would have been his second podium finish, the weekend was filled with thrilling moments, with Bradley consistently displaying his front-running pace.
Bradley's podium finish in Race 2 was a defining moment for him and Gravett Racing. It marked a breakthrough in Bradley's racing career and left an indelible mark of success. The team's hard work and dedication paid off, reaffirming their belief in Bradley's potential to challenge for the championship title this season.
As we turn our attention to Snetterton, the enthusiasm within the Gravett Racing camp is palpable. Bradley's impressive performance at Brands Hatch has instilled a renewed sense of confidence and determination. As a result, the team firmly believes that consistent podium finishes are well within reach.
Bradley very much displayed at Brands Hatch his exceptional and consistent pace and ability to run at the front, shown throughout the weekend. Despite the mechanical DNF in Race 3, which undoubtedly would have secured him another podium finish, the team recognises the significance of Bradley's performance and its impact on the championship race.
With the upcoming round at Snetterton, Bradley Gravett and EXCELR8 Motorsport aim to carry forward the momentum gained from Brands Hatch. The team's meticulous preparation and Bradley's unwavering commitment leave no doubt that we will be formidable contenders for the top spots this coming weekend.
The Gravett Racing team's positive outlook is bolstered by the incredible support they receive from fans, sponsors, and the entire racing community. Additionally, Bradley's role as the BTCC development driver for the EXCELR8 BTCC team adds an extra layer of depth and expertise to his racing journey, as he'll continue to work closely with the BTCC team at Snetterton and throughout the course of the season, to gain further experience for when Bradley makes that step up to the headline series.
As the engines roar and the lights go green, the Gravett Racing team will be focused on delivering their best performance yet. Their sights are set on consistent podium finishes, not only to showcase Bradley's exceptional skills but also to establish their presence as serious title contenders for the MINI Challenge JCW series.
Snetterton will witness the collective efforts of EXCELR8 Motorsport as they push boundaries, overcome challenges, and strive for excellence as they always do. The team's commitment, resilience, and unwavering spirit serve as the driving force behind their pursuit of success.
The MINI Challenge JCW series at Snetterton this weekend promises to be an exhilarating spectacle filled with intense competition; Bradley and Gravett Racing are eager to seize every opportunity, push the limits, and make their mark at what is one of Bradley's favourite circuits.
Robb Gravett, former 1990 British Touring Car Champion and father of Bradley Gravett, expressed his optimism for his son's racing journey:
"Seeing Bradley's progress and witnessing his first podium finish at Brands Hatch was an incredible moment for our family. His dedication and passion for racing is evident, and I couldn't be prouder of his achievements. With his consistent front-running pace, I firmly believe Bradley has what it takes to challenge for the championship title. The upcoming round at Snetterton holds great promise, and I'm excited to see him perform at what he keeps telling me is his favourite circuit."
Bradley Gravett, driven by the thrill of his recent podium finish, is determined to build on his success and aims for consistent podium finishes at Snetterton:
"What a weekend! The feeling of standing on that podium at Brands Hatch is something I'll never forget, and it's a testament to everybody's incredible hard work. Now that I've experienced that success, my focus is laser-sharp on repeating it as much as possible throughout the season. The retirement in race 3 at Brands was unfortunate, but it won't deter me. Snetterton is one of my favourite circuits, and I'm ready to push even harder, challenge for podium finishes in all three races, and keep the momentum going. I'm grateful for the incredible support from everyone, and I'll give it my all and more."
With the unwavering support of his entire team and the determination burning within Bradley, the Gravett Racing team is poised for a remarkable performance at Snetterton this weekend.
Bradley will do all his usual social media posts over the weekend, so watch your social platform of choice for live updates.
Facebook: BradleyGravettRacing
Twitter: BradleyGravett
Instagram: BradleyGravett
LinkedIn: Bradley-Gravett-181214151
TikTok: BradleyGravett
You'll also be able to keep up to date with all the live timings from TSL (the timing people) as it's happening by clicking HERE for the Friday test day timings and HERE for Saturday and Sunday timings.
This BTCC round is also televised on Sunday's live ITV4 coverage. Race three will be aired at 15:50, with the possibility of race one or two also being shown as a highlights race at some point throughout the coverage.
Finally, if you're visiting the circuit this weekend, be sure to come and say hello; it will be great to see you there! :)
Team Gravett Racing 🟨 🟥 🟩