EXCELR8 Motorsport BTCC Development Driver Bradley Gravett Aims for Podium Finishes at Brands Hatch Indy After Impressive Showing at Donington Park
Posted by BRADLEY GRAVETT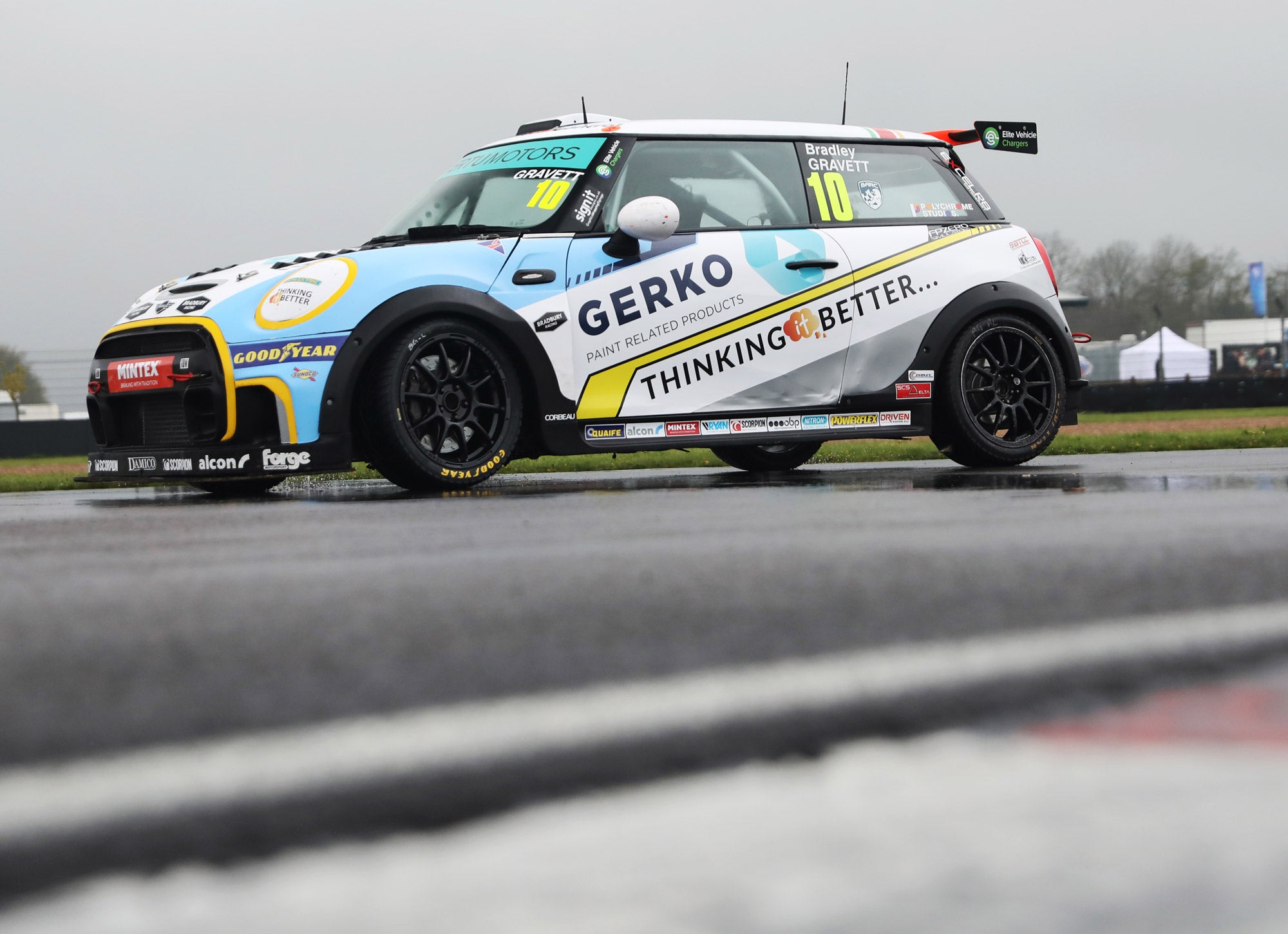 EXCELR8 Motorsport BTCC Development driver Bradley Gravett is feeling optimistic ahead of the upcoming Vertu Motors MINI CHALLENGE race weekend at Brands Hatch Indy. After a highly competitive showing at Donington Park, where he showcased his front-running pace and set a new personal best in qualifying, Bradley is eager to build on his momentum and fight for podium finishes at the sharp end of the field this weekend.
Reflecting on his performance at Donington Park, Bradley said, "Although I was disappointed with the results on paper for the weekend, there are a huge amount of positives to take away from Donington Park - which I feel was the most competitive weekend I've had in the JCWs. I really proved a point at Donington Park and showed that I have the pace to race at the front and to fight for victories, which is my ultimate goal this season."
Bradley's impressive pace throughout the weekend was evident in the fact that he matched his practice time in qualifying and secured his best qualifying result to date in the JCWs with a sixth-place starting position. In the opening race, he made a fine start to jump up into fourth spot and was lapping quicker than he had done in qualifying, setting a new Donington PB, and jumping in and out of purple sectors throughout the race. Although an unfortunate differential failure caused him to retire from the race, he bounced back to finish in the top ten in the weekend's final race despite challenging weather conditions.
Looking ahead to Brands Hatch, Bradley said, "There is a long way still to go, and if we can maintain the pace we showed during round one at Donington and avoid misfortune, I know I can be right in contention for the title when we get to the final round." With EXCELR8 Motorsport working hard to fine-tune the car and Bradley's confidence higher than ever after his strong showing at Donington Park, fans can expect to see him fighting hard for a podium finishes at Brands Hatch this weekend.
"We've had a productive week of preparation ahead of the Brands, and I'm feeling very optimistic about our chances. Our pace at Donington Park was really encouraging, and I'm confident that we can build on that performance and take the fight to our rivals.
Despite the unfortunate retirement in race one last week, we showed that we have the pace to run at the front of the field, and I'm looking forward to getting back on track and demonstrating our potential once again.
The Brands Hatch Indy circuit is one that I really enjoy driving, and I feel that it suits my driving style very well. We've been working hard to fine-tune our setup, and I'm confident we'll have a competitive package no matter what the weekend throws our way.
Our goal for the weekend is to challenge for podium finishes and to score as many points as possible. The competition in the JCW category is always challenging, but we have what it takes to run at the front.
I want to thank my team, EXCELR8, for their hard work and dedication in preparing the car for the weekend, with their support and the backing of our partners, GERKO, ThinkingitBetter, Ultimate Car Control, My Custom Workwear, Scalextric, Elite Vehicle Chargers, Flying TV, PolyChrome Studios, DriverAssist.ME, Bradbury Racing and Alexander James Interiors, I'm confident that we can achieve our goals and deliver a strong result.
Finally, I want to thank all my fans and supporters for their continued support. Your encouragement means a lot to me, and I hope to reward you with a great result this weekend. Let's go racing!"
Bradley will do all his usual social media posts over the weekend, so watch your social platform of choice for live updates.
Facebook: BradleyGravettRacing
Twitter: BradleyGravett
Instagram: BradleyGravett
LinkedIn: Bradley-Gravett-181214151
TikTok: BradleyGravett
You'll also be able to keep up to date with all the live timings from TSL (the timing people) as it's happening by clicking HERE for the Friday test day timings and HERE for Saturday and Sunday timings.
This BTCC round is also televised on Sunday's live ITV coverage. Race three will be aired at 15:45, with the possibility of race one or two from Saturday also being shown as a highlights race at some point throughout the coverage.
Finally, if you're visiting the circuit this weekend, be sure to come and say hello; it will be great to see you there! :)
Team Gravett Racing 🟨 🟥 🟩