MINI Challenge Cooper Trophy Post Croft Race Report
Posted by BRADLEY GRAVETT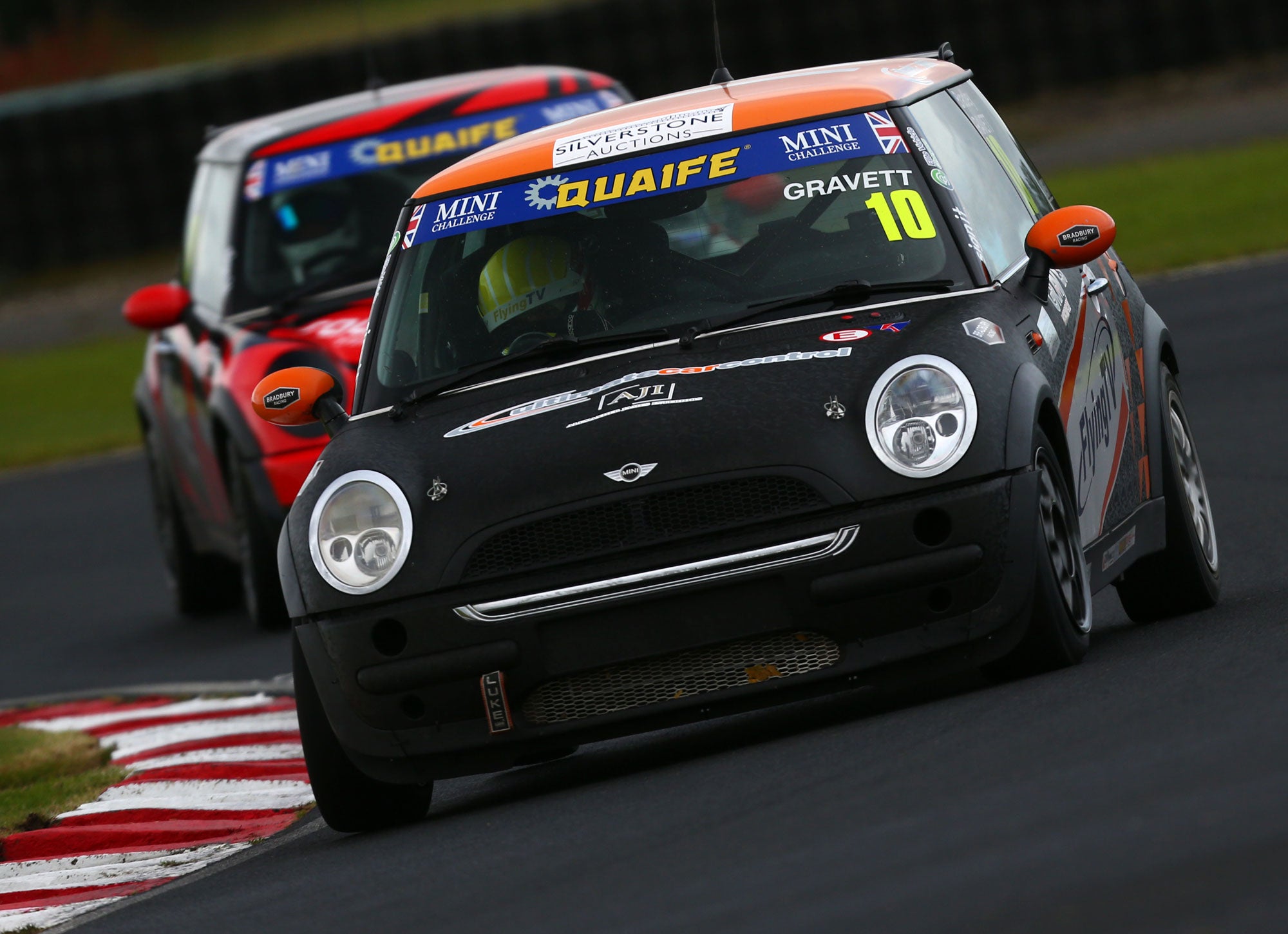 Well, that's another eventful MINI Challenge weekend done and dusted.
After driving to what felt like the moon and back Thursday evening, we finally arrived at Croft, the Monty Carlo of British motorsport, delivering all the glitz and glam UK motorsport offers; muddy field parking, sideways rain and wet feet. :)
As you know, Croft is a circuit I've never driven, and like with all circuits I've never driven, I do like to get a track walk in pre-testing. Fortunately, track walks were being allowed Thursday evening, and with the dying light, we just about managed to get one in. During the walk, I was able to see all my braking and turning points for each corner from recommendations from dad, who has driven Croft many times before. We were also able to see the bumps and cambers of each corner, or the lack of. Being an ex airfield, Croft is mostly flat and actually doesn't have a great deal of camber in its corners; this is very unusual as most circuits do generally have a ton of bumps and camber on pretty much every corner that needs to be considered to best assist the car through those corners.
With an early night Thursday evening to recover from the long drive, we arrived at the circuit Friday morning refreshed and ready for free practice one. As expected from the northern circuit, the weather wasn't playing ball; it was a partially wet/dry track that requires the most uncomfortable tyre combination possible, slicks on the front and wets on the rear. It is quicker to run this setup on this type of drying track, although it's not ideal when trying to learn the circuit as it makes the car feel very rear end happy. With FP1 over, I had learnt enough and was ready to push on for FP2 to try and pull a time. Thankfully the track had dried up for our FP2 session and it was ready for a full slick setup, perfect because this meant I had both a wet test session and a dry test session. However, in classic MINI Challenge fashion, the whole 45-minute session was continually interrupted by red flags with cars going off left, right and centre. This meant we only had about three flying laps, which wasn't enough time, and meant I would go into qualifying the following day with very little track time.
Having slept on the debrief notes made from Friday's testing, and despite the minimal amount of track time we had at Croft, we felt very optimistic about qualifying on Saturday morning. The circuit was dry and cold; I was able to qualify the car 11th, only 0.70 tents off pole and 0.20 tenths off 6th. I was thrilled with that result, considering the small amount of time we'd had in these conditions on this circuit.
Race one, unfortunately, didn't go to plan; starting 11th on the inside, I was able to get the car up to 8th in the first couple of corners, I was then going down the back straight about to take 6th when a car just swerved left and slammed into the side of my car, there really was nothing I could have done to avoid it as the car that hit me so unpredictably turned left in a place one just wouldn't do that. I did react to it well and had half the car off the track trying to avoid him, but it wasn't enough, and sadly, this very badly bent my right front steering, compromising my turn in and top speed throughout the rest of the race. Then about two laps later, another car locked up its front wheels under braking and used the side of my car to make the corner, if I wasn't there, that car would have ended up in the gravel trap. This race really highlighted the very worst driving standards I had ever been victim to; thankfully, however, there was a little justice as points were put on the driver's race licence who locked up and decided to use my car as a barrier.
This result from race one meant that I would be starting from P17 in race two. This was the televised race, and I was super ready just to get my car as far up as I could, however I could. I believe I got the car up to 12 after a couple of laps, but then, the race just turned into bumper cars, and I spent the rest of my race avoiding other people's accidents, and I did, I avoided them all. However, these accidents did bring out the safety car for 15 minutes of the 20-minute race, with the race actually ending under the safety car. I finished 15th and just didn't get the opportunity to get done what I had planned to.
Despite this unfortunate end to the weekend's racing, I did actually end on a high as my pace was as fast as the front runners, and I managed to finish on my own steam. It's not ideal, I know, but I am trying to take as many positives as I can from the weekend. Although moving forward, dad and I are going to heavily focus on qualifying, we now both believe that the best thing I can do to prevent these types of weekends from happening in the future is to qualify at the front and drive off. This way, I won't get embroiled in everyone else's incidents, and if the race runs under the safety car, it will be an easy win.
Moving forward to Donnington, we're going to try and get some testing and sim work in, so we're confident we can get to the front in qualifying. Fingers crossed we can achieve this at the next and final round of the MINI Challenge; we deserve it.