MINI Challenge Cooper Trophy Post Donington Race Report
Posted by BRADLEY GRAVETT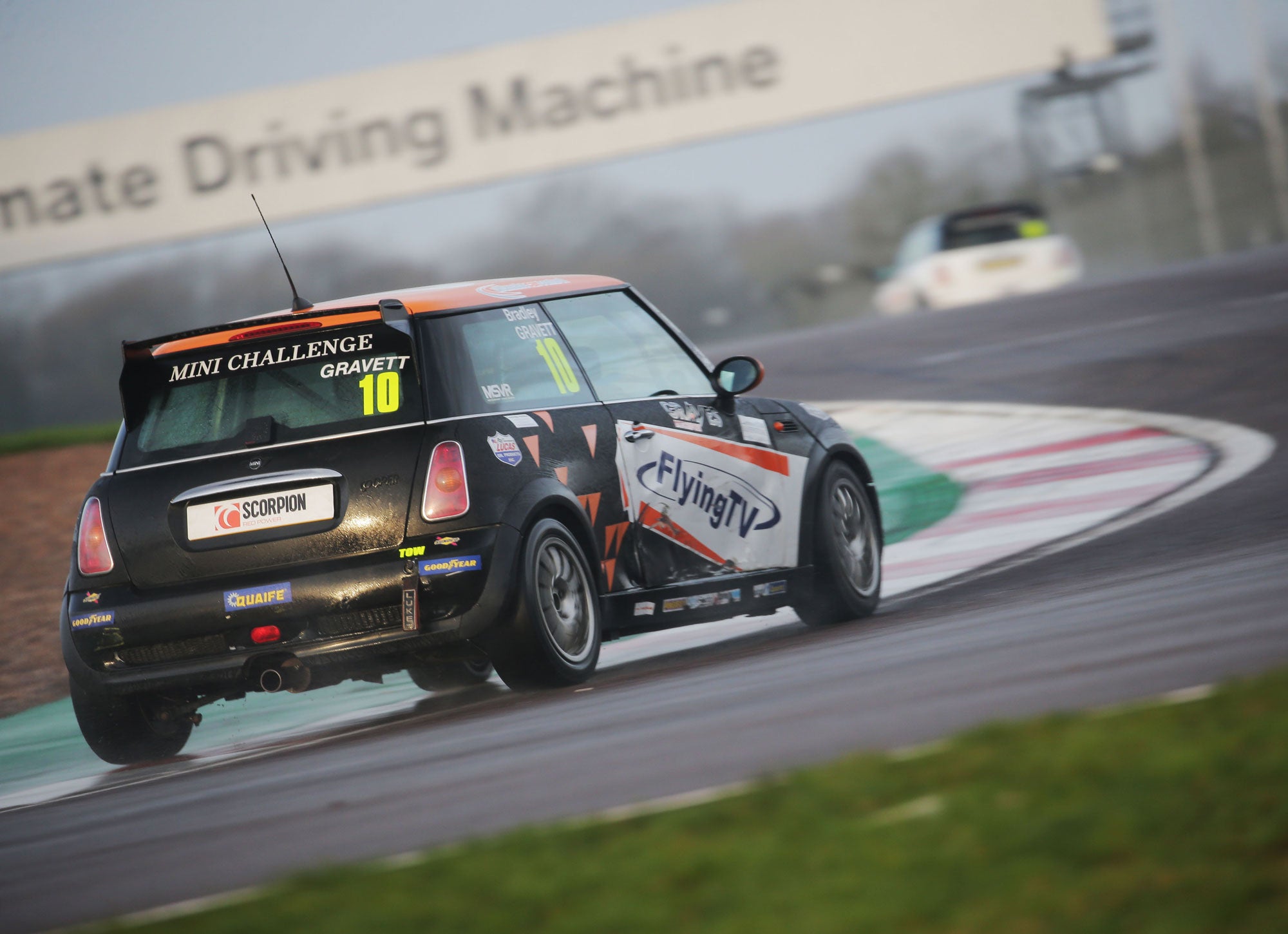 Well, that's the MINI Challenge 2020 season complete for another year, and wow, did we end it on a high.
Everyone I had spoken to about Donington all said how much of a fantastic circuit it is, but without driving it, I wasn't to know... within half a lap, I knew exactly what they meant. That feeling you get when going through the Craner Curves is like nothing I've experienced before; Donington is a very tricky, unforgiving circuit that, simply put, requires commitment. It's challenging to get right, especially in a low-powered car with its undulating inclines and declines, but wow, it rewards you when you get it right.
With my eye glued to my weather app the week before the event, I had my fingers firmly crossed that snow wouldn't cancel the meeting, and thankfully it didn't. As mentioned in my previous email, I was also concerned with dry weather due to the chilly December ambient making it near impossible to warm slick tyres up, so I was hoping for wet weather, and it was wet weather we had.
Come Friday testing; it was freezing cold and extremely wet. We had four 30 minute sessions spread throughout the day; our plan for the first morning session was to get to know the circuit, the main thing we learnt; was how slippery Donington gets after one month of no use from all the jet fuel dropped from east midlands airport. Nevertheless, we managed to keep the car between the lines and improved our times throughout the session. I suppose improvement was the keyword of the day on Friday, and every time I drove the car, I learnt something new, both about Donington and the car.
For the final test session of the day, we made a dramatic setup change that was a gamble whether it would work or not... It was the most significant single setup change I'd ever experienced in a racing car. In the extremely wet conditions we had, it made the car feel like it was dry and increased my best lap time by two seconds. This two-second increase in that session made me one of the fastest drivers of the day; it was a great end to Friday's testing, especially as I'd never driven Donington before, and I was ready and prepared for race day the following day!
With qualifying and two races on Saturday to look forward to, the team and I agreed we would run the same setup from the final test session on Friday based on its success. And, other than the circuit being unbelievably greasy, the car handled and felt fantastic. However, we unfortunately had a braking fault that was causing a long peddle and reducing the braking power that ultimately didn't allow us to qualify where we should have been. As a result, we ended up in 14th on the grid.
With the brakes repaired, race one started very well; a strong start with very little wheelspin allowed us to maintain our position throughout the first lap, with our pace being quick enough to stick with the lead pack of cars. Throughout the first couple of laps, we were dicing with the cars around us and gaining places where we could, before we settled down into a rhythm to chase down the cars in front. However, despite the race going so well, the safety car was deployed after lap six until the final lap, where we would be given a one-lap shootout. Unfortunately, due to cold rear tyres, a colossal oversteer moment at the Old Hairpin meant we lost a couple of positions and finished the race in p15, the position we would be starting for race two.
Race two; I think I would go as far as to say was one of, if not the best race I'd had all year. Starting in p15, I was totally aware that everything had to be done on the opening lap if I wanted to gain some serious positions. Still extremely cold and on a semi-dry track on wet tyres, I spent the warm-up lap weaving like my life depended on it. I wanted to get as much temperature into the tyres as possible so that come lap one, I'd have more grip than everybody else and could just drive around the outside of the other cars in the first couple of corners. Wow, did it work; as I fired the car off the line, my start was so strong with zero wheel spin I was able to comfortably drive past five cars before I got to the first corner. I then picked off an additional four cars throughout the remainder of the race and finished in 6th position, matching my best result all year.
We finished Donington and the 2020 season on a real high. We have proven to ourselves, the team, our partners, and our supporters that we have the ability and pace to be at the front. Each and every time I've driven the car this year, I have learned something new and got a little bit faster, and all this experience gained in 2020 has prepared us to start fighting for silverware in 2021.
We plan to return to the MINI Challenge for 2021; watch this space.