MINI Challenge Cooper Trophy Post Snetterton Race Report
Posted by BRADLEY GRAVETT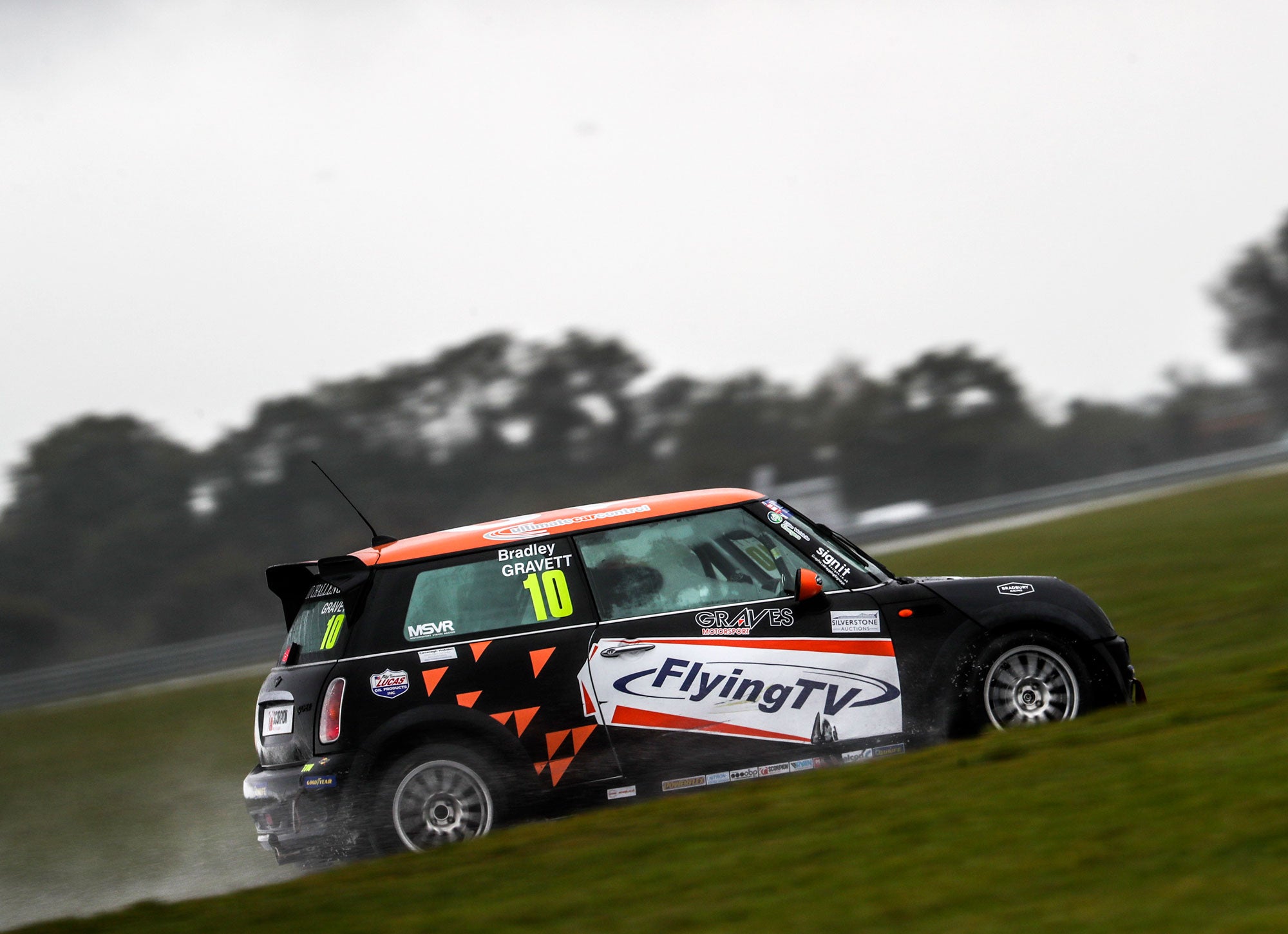 Snetterton, or as I call it, 'Wet'terton…
After arriving at a rather cold but sunny Snetterton Thursday morning, I was optimistic that the weather might hold up for the weekend, even though I had been spending the past week glued to the weather app on my phone looking to see if the 100% chance of rain would change… Unfortunately, I think I was being optimistic, to say the least, as these were some of the wettest conditions I have ever driven in, making the damage we thought we didn't have from Thruxton clearly evident.
Regardless of the weather, I had been very much looking forward to racing at Snetterton; it's a track I know very well and a track I have driven in both the wet and dry, and to tell you the truth, I quite like driving in the wet, and I'm usually pretty fast in it too.
I jumped in the car Friday morning for the first MINI test session to realise that the circuit was dangerously wet with so much standing water the aquaplaning was almost uncontrollable. Nevertheless, I saw it as an excellent opportunity to get some invaluable testing in very harsh conditions. However, having done around 30 minutes in this session, the car didn't feel right; in fact, the car didn't feel like my car at all. It wasn't responding as I was used to or handling as expected, and I was also several seconds off the pace. I originally put it down to me, and though I was just driving slowly… but I knew something wasn't right as I can usually place the car in the top 10, and I'm normally pretty much always quick in wet and challenging conditions. But what confused me the most was that I have actually driven this car in these conditions, at this track with an identical setup, and the car just didn't feel like it did then.
This pace was reflected throughout Friday's testing, and no improvements to the car or my time could be found. The weather was so bad that by 2:30 in the afternoon, the circuit organisers actually cancelled the day as it was too dangerous, as cars were going off left, right and centre.
This event was to be completed over a single day on the Saturday with a 15-minute qualifying session in the morning and two 15-minute races in the afternoon. With only a 15-minute race time, I knew qualifying was crucial, so I had a serious chat with the car to let it know I would be giving it major beans… Unfortunately, I could only place the car in 17th… not my usual form, and still, the car just didn't feel right. Come race one, I had a pretty decent start making up several places on the first lap, to then be clipped by a novice driver at no fault of mine in classic MINI Challenge fashion on the straight, sending me across the grass sideways to rejoined stone last. I did make up several places in that race, although the final result was not where I wanted to be. Race two was not much better, with a mechanical issue preventing us from starting the race.
After de-briefing with dad, we have concluded there has to be something wrong with the car; with all the bangs and knocks the car took from Thruxton last week, we believe it has done some structural damage to the chassis and / or potentially also to the suspension. One doesn't go from the front to the back of the grid within a week; that's not a fault of a driver, that's a fault of a car.
So with two weeks of downtime between now and the next round at Croft, the car is being fully stripped, and the chassis and components are all being stress tested. We believe there is some kind of flexing going on where it shouldn't be; we will find the problem, and we will fix it so we're able to get the result we deserve at Croft.
Sorry I couldn't report better news, but hopefully, I'll be able to very soon.