MINI Challenge Cooper Trophy Post Thruxton Race Report
Posted by BRADLEY GRAVETT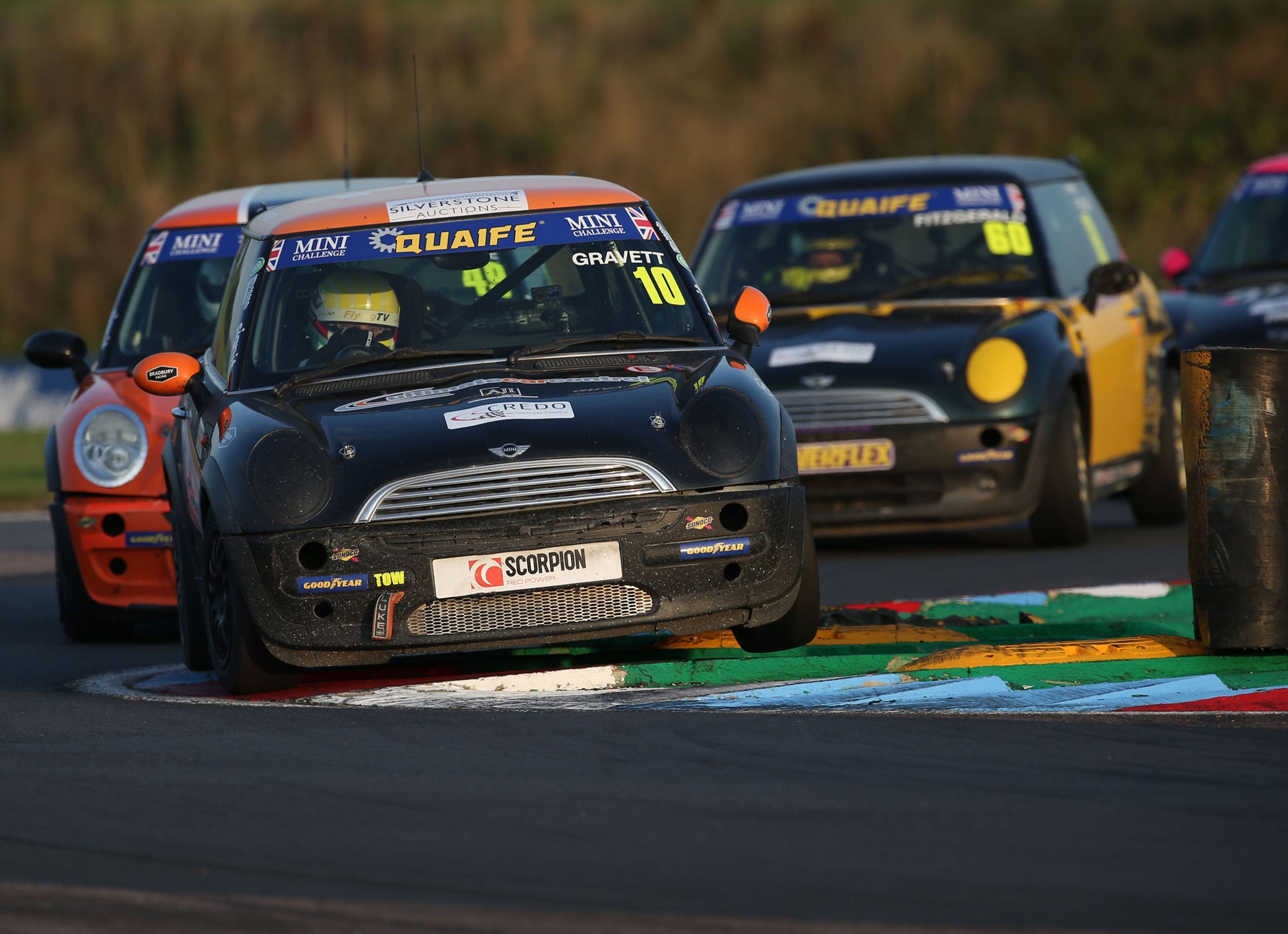 Well, that was an exciting weekend… The number one takeaway: the drivers in the Mini Challenge may be slightly crazy but do deliver some fantastically close and exciting racing.
Pretty quickly after driving Thruxton in the first test session both myself and my teammate realised we were not going to be able to pull a good time unless we worked together to break the wind resistance and create a slipstream.
After test session one had finished, my teammate and I sat down and devised a plan of what we were going to do in the second session. In the 45 minutes, we had decided that we were going to simulate a qualifying run, we decided that I would do a lap behind him, then he would do a lap behind me and so on to see what happened to our times. The plan was that the lead driver would break slightly early down the back straight, allowing the following car to pass and gain the time advantage of the slipstream. By doing this, I ended up placing myself in P5 while my teammate placed himself in P4 with about a tenth difference between our times, this clearly worked.
We used this tactic in qualifying and it worked again, I ended up qualifying p4 while my teammate qualified p3, a second-row lockout and a fantastic result for both the team and us.
Race one, however, wasn't as great, on the first lap somebody tried to pass me into church corner at about 100mph, I gave him plenty of space, but he wanted more. I was hit pretty hard up the rear and was put into an enormous slide at a very high speed. I managed to recover from the slide, although I was about midfield after rejoining the circuit. I started making some places back up and then about five laps later at the end of the main straight, the car behind me had complete brake failure, rammed into the back of me at about 120mph and put us both into the barrier and the medical centre. We were both okay, but my car was pretty severely damaged.
The team then worked extremely hard to fix the car for race two the following day, and they did. I started right at the back in p24 and finished p15, a nine place difference and a clean race, for me at least anyway. This was great and meant I would start p15 for race 3. Race 3 went very well, too, the race itself was frantic and with a delicate, cable-tied together car I was being cautious about making sure I didn't bump anybody. Despite this race also being crazy, I managed to keep myself out of trouble. Sadly, the race was red-flagged early as a car went into the tyre wall. When the race was red-flagged I was in p9 and getting a fantastic run on the cars in front of me, I am sure by the end of that lap I would have been in about p5, and who knows what may have happened from there. Sadly, because the race was red-flagged, the official positions were taken from the lap before placing me in 11th overall.
We learned a tremendous amount about the championship and its drivers at Thruxton while also learning how not to get involved in other people's incidents. We are now entirely focused on this weekend at Snetterton, a circuit I know very well and am generally pretty quick round - fingers crossed I can get a good result in this one too!