MINI Challenge JCW Post Brands Hatch Indy Test Report
Posted by BRADLEY GRAVETT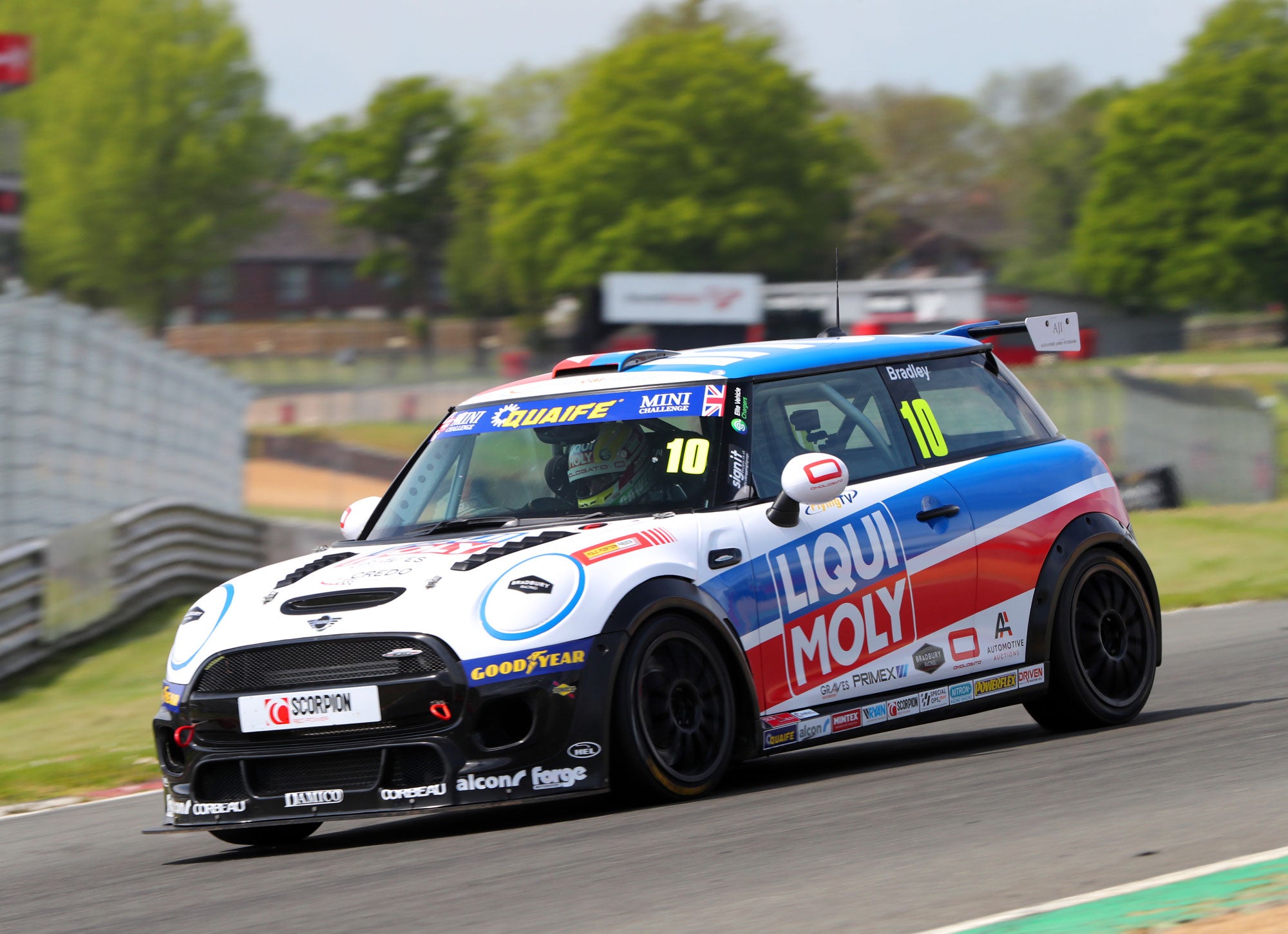 What a brilliant bank holiday weekend! I believe I clocked something like 31°C in my car on Monday, which was absolutely fantastic!
As you know, Friday last week, we were out testing at Brands Hatch on the Indy layout (the shorter circuit), and this was an official 'test day' and not a track day, with the difference being overtaking and timing being allowed. Also, you generally don't have a bunch of track day worriers getting in your way in their Subarus, as everyone on the circuit must be in a race-prepared car with a full racing licence. So test days are generally a better class of day vs track days when one needs to do either chassis setup work or quality race car milage.
Having now done a couple of days in the JCW to get comfortable in the car, our plan for Brands Hatch was laps, laps and laps. Unfortunately, with the team having to spend all day Thursday after the Croft test rebuilding the differential that imploded in on itself, they didn't have enough time to look over the boosting issue and arrived at Brands Hatch at 10pm, Thursday the night before. To be honest, it wasn't a massive issue that the car wasn't boosting correctly, as it allowed me the opportunity to drive the car with slightly less power, giving me time to focus on the chassis without the engine cleaving the car out the corners every time.
It was clear from the first session that the engine was still dramatically down on power. However, what was also evident, and, in my eyes, more important, was just how comfortable and confident I've become in the car with how it behaves. From lap one session one, I felt entirely at one with the car despite the amount it was moving around beneath me, and I felt happy that I could push right off the bat out of the pits.
So Graves arranged for my teammate Max Coates to come down to the track to give me an extra hand throughout the day, which was fantastic as Max is a multiple race-winning driver and a consistent front runner in the MINI challenge JCWs. Max spent all day looking through my footage and data following each session to work out where I could improve on my times. Session one and two of the day in the morning I spent by myself in the car; then, after lunch, Graves bolted in a second passenger seat so Max could come out with me and discuss on intercom where I could improve. He also jumped in the driver's seat to do a couple of laps with me in the passenger seat so I could see what he was doing. What was most interesting about this is I was only three-tenths of a second off Max's time, which is an unquestionably brilliant result considering I've only driven the car a handful of times.
With the start of the championship getting ever closer by the day, we've told the team that the boosting issue must be sorted this week, ready for another test we've got booked in back at Brands Hatch this coming Friday. For the next test, with full power back, the plan is to get accustomed to understanding how much throttle moderation's going to be required when firing 300 horses down onto the road.
All in all, I am delighted with the quantum of what was achieved last week in the car, and if we continue to progress and make improvements of this size in the coming days and weeks, I firmly believe I'll have a fighting chance at getting some rather serious results from the first round onwards - Let's not kid ourselves, it's not the taking part that counts, it's the winning :)