MINI Challenge JCW Post Snetterton Race Report
Posted by BRADLEY GRAVETT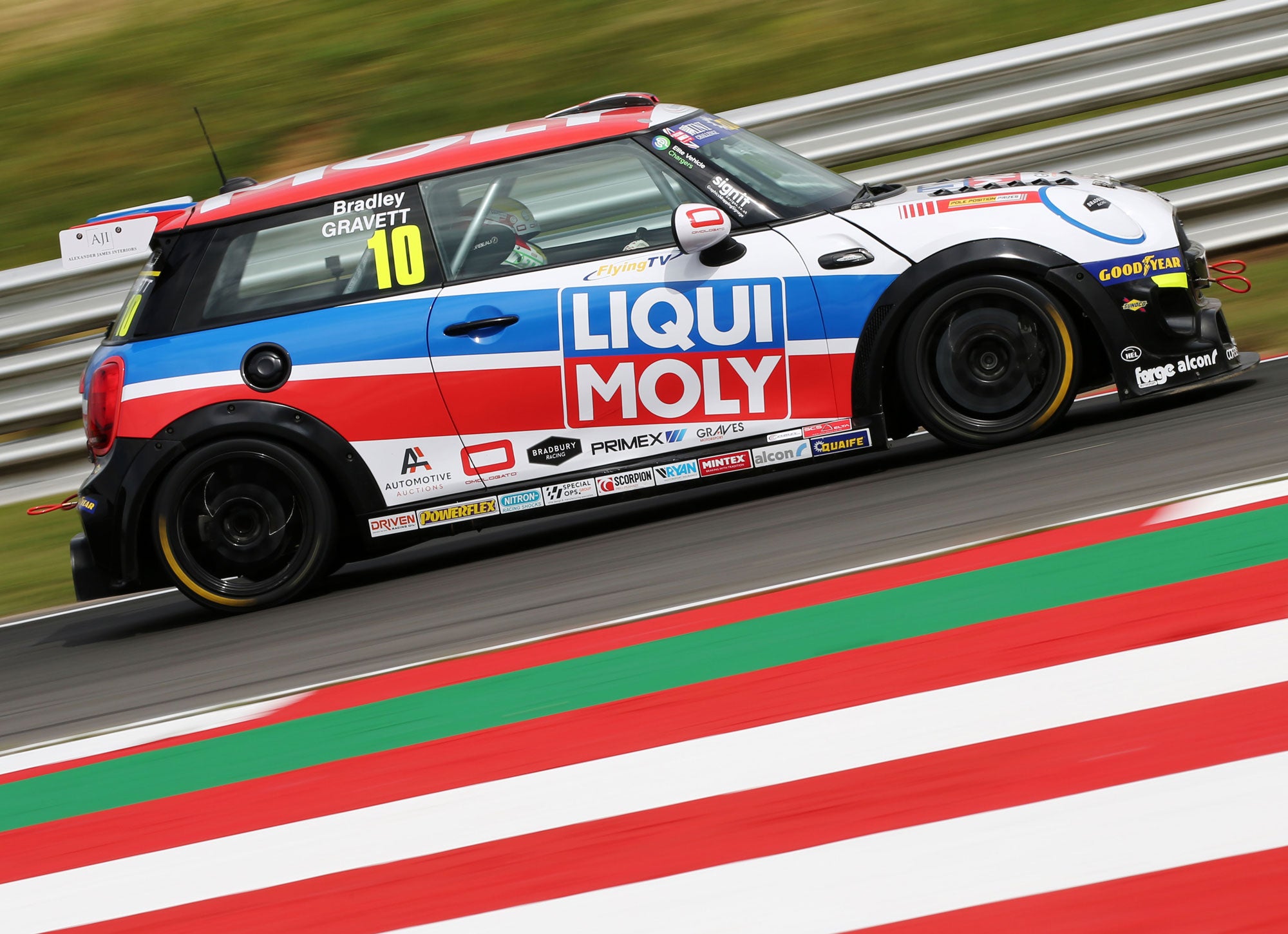 So round one of the MINI Challenge JCW Championship went remarkably well for us, which is nice considering we were dealt our fair share of bad luck by this point last year in the Cooper class.
As you already know, over the testing season, the team has been trying to sort out an ongoing boosting issue with my car that was found and sorted mid-last week, just in time for round one. As I have already said before, it's great this issue was rectified in time for the first round; however, having the problem during the testing season was not ideal as it has not allowed me to drive, experience or test the car with full power.
The first time I drove the car as it should be, with full power, was in FP1 on Friday. However, being the first practice session of the race weekend, we needed to spend it scrubbing in our new slick tyres, all ten of them. And, when you scrub new slicks in, you must keep the speeds as low as possible as you're only trying to put a light heat cycle through them over about a two-lap period.
So, FP2 on Friday afternoon was the first time I could push the car on good tyres with full power. What was most shocking to me and many other people was that I was only eight-tenths of a second off the fastest time, which was pretty impressive considering this was actually the first time I've really had a chance to drive the car properly.
So with the two sessions on the Friday test day complete, we spent most of the late afternoon / early evening going through the data, comparing my laps to my teammate Max's laps, to see where I could improve on my time. With this in mind, we concluded that we could dramatically and easily improve my time for qualifying the following day with a few tweaks to just a couple of corners.
Qualifying, having slept well the night before, I was very optimistic about it. With pretty much a brand new set of tyres, I was able to qualify the car in p12. This was an absolutely fantastic result, as I was just a second off pole position, ahead of previous race winners and just one-tenth off the driver who finished second in the championship last year and who's been in these cars for, I think, four years now.
Race one started well, and I managed to get the car into 8th position. However, around midway through, the car became very difficult to get the power down into the road without spinning the front tyres up. At that point, I just had to go into defensive mode to try and stop people from coming past. Unfortunately, I ended up losing some places and finished back in 12th position. However, not a bad result for my first race in the car, and only the third time I'd really driven it properly.
When we got back into the awning and looked at the footage, it seemed evident that there was something not right about the wheels spinning. With a bit of investigation with a torque wrench, the team realised that the differential had lost all of its preload, a widespread fault with these cars. In plain English, this basically means that I couldn't get on the power as early as everyone else out of the corners because if I did, my front tyres would spin up, and I'd just end up understeering off the circuit.
With not enough time to rebuild the differential before race 2 and 3 the following day, we decided that our best option was for me to compromise and change my driving style to cater to the fact that my differential wasn't working correctly.
Race 2 on Sunday started incredibly well, and once again, I managed to get the car up to 8th position on the first couple of laps. I then began to get into a good rhythm and gained on the lead pack of cars in front. However, about mid-race, as the differential started to heat up, I began to once again wash out on the exit of the corners with wheelspin. At this point, I decided to try and hold my position rather than push the cars in front and risk overheating my front tyres. I defended well; I ended up losing just three places to cars that were just simply faster and finished in p11.
What's frustrating about this is that, had I finished in p10 in that race, I'd have been given pole position for race three later that afternoon in the reverse grid.
Race three, wow, wow, wow, was it hot! I am sure it's the hottest day I've ever raced a car in, and boy did you know it, sitting in the cockpit of a 60 degrees celsius car with a three-layer race suit and thermals on. I was very conscious not to overheat any of my tyres on the warm-up lap, so I tried to keep the weaving to a bare minimum. The race started well, and I held my position for about half the race. The safety car was then deployed because of an incident, and we sat behind it for a lap. When the safety car peeled in, I heard this almighty bang at the rear of the car down the main straight, to which it then started driving like a shopping trolley. What I thought had happened was I thought I had a puncture; however, what had actually happened was the right rear wheel bearing had failed entirely, and the brake caliper was more or less the only component holding the wheel on.
The right rear wheel was so bad that the car was trying to spit me off down the straights, frightening really. But despite that, I managed to finish the race in p23 to ensure that I didn't get a DNF and got the championship points for finishing the race.
When we got the car back to the awning, the wheel was so loose; you could literally move it left to right about 10 inches forward and back, entirely freely. It was almost like the wheel just hadn't been screwed on; how I even managed to finish the race with it like that, I don't know.
All in all, I am so, so, so happy with how the weekend went, the fact that I can qualify the car ahead of previous race winners, and that I am comfortably able to race in the top ten on just my first outing bodes incredibly well for the remainder of the season. Oh yeah, and I can do all that with a broken differential; who knows what I'll be able to do with a working one, top five possibly, maybe even some race wins. We'll have to see what happens over the remainder of the season.