MINI Challenge JCW Post Snetterton Tyre Test Report
Posted by BRADLEY GRAVETT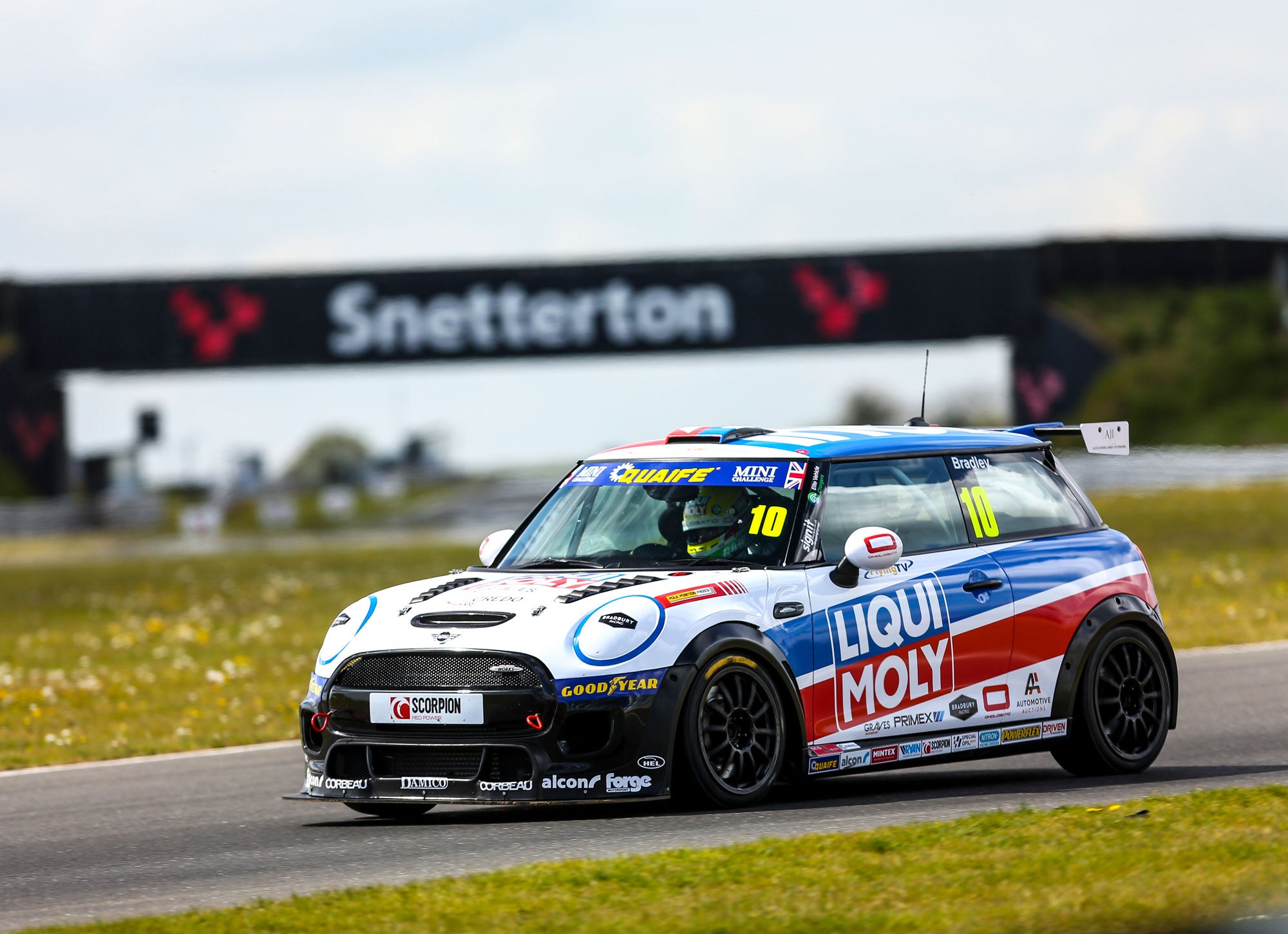 Well, that was one interesting and very busy tyre test, shakedown, test day, and media day all blurred into one!
Like with any new racing car, there's always going to be day one, the first time you drive the car, and there's always great anticipation of how both the driver (myself) and the car is going to perform. The biggest takeaway I learnt from the day; the absolute importance of a pre-test setup. As I said in my previous article, dad, myself and the team in mid-April spent a whole day around the car just getting our heads around dynamically how the car reacts and adapts to driver inputs. Knowing what I learned from this day before jumping in the car really helped me cement exactly what I needed to do as a driver to confidently and, more importantly, safely start hustling the car, which I was able to start doing right off the bat.
So, the car; wow, is it an animal, expected and anticipated but an animal nonetheless. With almost 300 horsepower being aggressively driven to the front axel combined with its extremely short wheelbase chassis, sequential gearbox, a whole ton of camber, stiff suspension, and firm steering really gives the driver a handful of car to work with, and, within about one corner, you realise just how oversteery and aggressive these JCWs are. They need to be respected, but total commitment is required one hundred percent of the time. Because of the nature of how these cars are; they can't drive you, you must get a hold of them and drive them. What I mean by this is if you're late getting back on the throttle for just a second, the car will snatch, and you'll most likely be in full opposite lock trying to recover the largest oversteer moment you've ever had, yeah that happened, thankfully though, on that occasion, I didn't run out of talent.
Despite the above, after session two, I started to get to grips with the car, what it does, how it behaves and what I need to do. Which simply put is to get back on the power as soon as possible to get the rear of the car to squat down to prevent the oversteer. Once I worked that out, I was then able to start to push the car and have a real play around with it to see what it does. By the end of the day, I was very confident and comfortable and would say I wasn't too far away from the 'limit', which is a fantastic achievement for the first day out in the car, considering everyone describes them as "hard to drive". In my opinion, a car's just a car, and once you can drive one, you can drive them all.
Shakedown; of course, like with any race car, the first time it gets taken out, there will always be things that need to be 'ironed out'. We didn't find any serious mechanical issues with the car, which is fantastic, but we did find some problems with the Cosworth data logger and the in-car camera system that needs to be fixed before the next test day. But, all in all, the car seems to be working well. The team are now going to strip the car down and re-prep it ready for the next test day; we've also agreed that we're going to put the car on the rolling road so we know exactly where and how much power the engine has compared to the other cars, very exciting stuff!
Finally, and most excitingly, we're now completely public on all our partners for the 2021 challenge, as seen with what I'd describe as a 'pretty awesome' livery, but hey, I would say that I'm biased because I designed it - I hope you like it too. We've also got a new shiny race suit from HRX coming that I should receive in the next couple of weeks, along with our customised livery matching team wear.
All in all, I'm delighted with how the first test day in the car went; I have learnt an awful lot about the car that I can continue to digest over the coming days and weeks until the next time we're out in it.