MINI Challenge JCW Pre Brands Hatch Indy Report
Posted by BRADLEY GRAVETT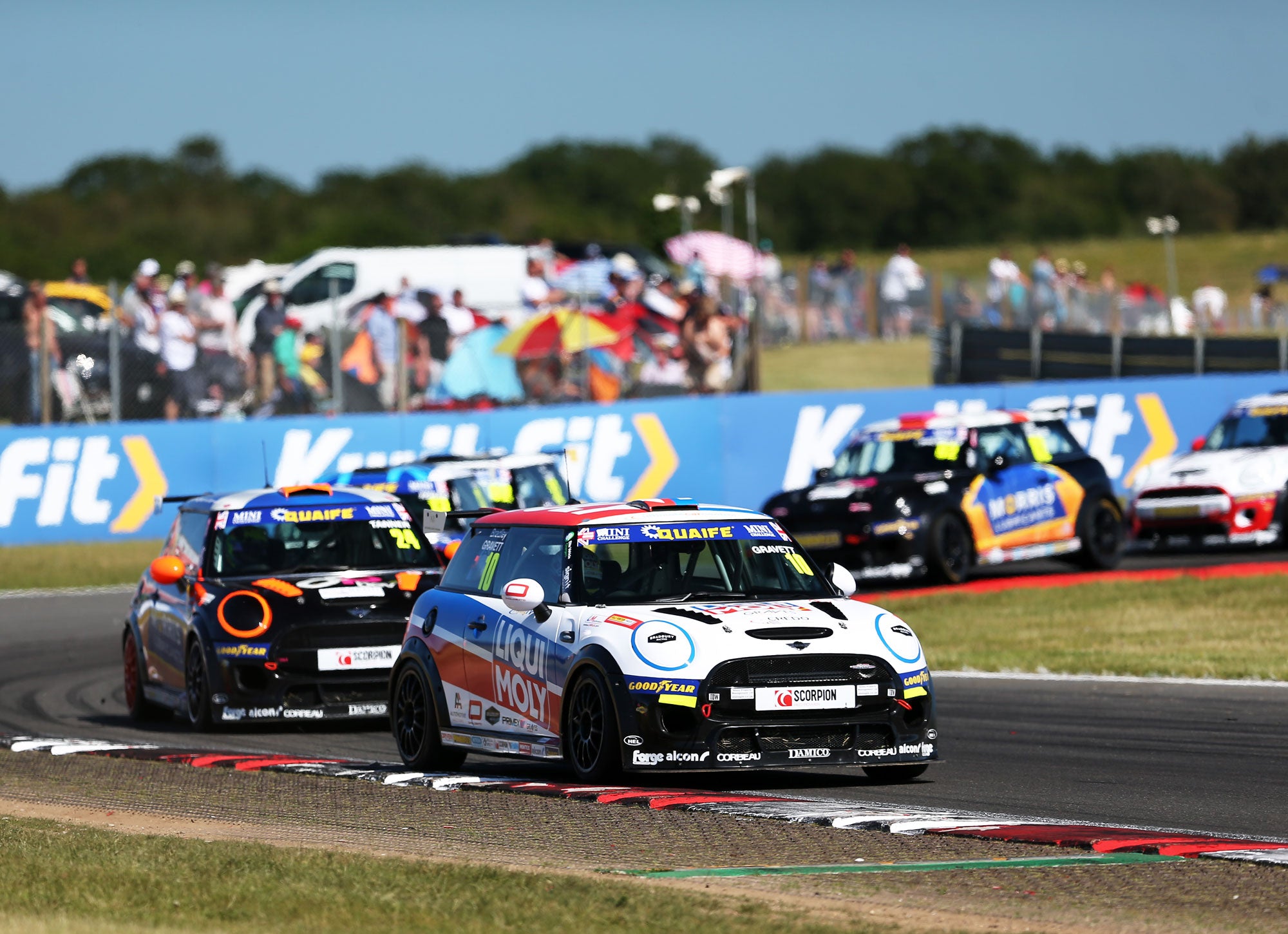 So the floodgates are fully open for the season, and we're here once again, except this weekend we'll be going to Brands Hatch to be racing on the shorter Indy circuit layout.
I have done hundreds of laps around Brands Hatch, and above all the circuits I've driven, Brands is the one that I'm confident I know best. And to be fair, it's definitely a track that, as a driver, you need to know. Albeit a very short lap, sub one minute in the MINI, each corner has something just a little unique about it that requires a touch of know-how to get the edge out of the car and a jump on the others.
Because Brands Hatch is quite an up and down circuit, understanding these evaluations is crucial if you want to go quick. This is especially important at turn one; Paddock Hill bend; the elevation here is crazy, if you look down it from the top, it's the height of a building. I must say, you get a very unnerving feeling at Paddock; the car feels incredibly light at the top at turn-in and extremely heavy at the bottom at the exit, with an odd mid-corner void feeling; it's an extraordinary sensation driving through Paddock Hill.
So, as always, we've been doing all the usual pre-race preparation. The car has been entirely stripped down and rebuilt by the team, who've done, once again, a fantastic job. They have also completely stripped apart and rebuilt the gearbox and differential, which is a rather large job from my understanding; however, it's a regular job on these cars as they are incredibly heavy on their drivetrain. But fortunately, for this weekend, I'll have all the preload back in the differential, which is worth quite a lot of time in a front-wheel-drive car, as I'll now be able to better pull the car through, round, and out the corners.
I've also been back on the simulator this week to help get my eye firmly back into Brands Hatch. Despite testing here in the JCW not that long ago, it's always a good idea to get on the sim, as track time on the Friday test day is usually pretty limited. And this was the best session yet as I found myself just two tenths off the chap who runs the business, which is impressive considering he is a well-seasoned sim racer and an exceptionally well decorated real-life racer.
This weekend, the weather is looking a bit hit and miss; it will likely be mostly a wet weekend with a bit of dry running thrown in for good measure. The weather's not ideal, but it's the same for everyone, and generally, I am pretty good at hunting for grip on a wet circuit; my car control is also pretty good too as, and when the thing decides to start to move around, I'm quite good at fixing it.
As always, we're heavily focusing on our qualifying pace as it's absolutely crucial to get the car as far up the grid as possible, especially if it's wet, as we need to make the race as easy as possible, so head down and foot forward in qualifying.
All in all, I am feeling very confident about this weekend, and I am very excited to get going.