MINI Challenge JCW Pre Snetterton Report
Posted by BRADLEY GRAVETT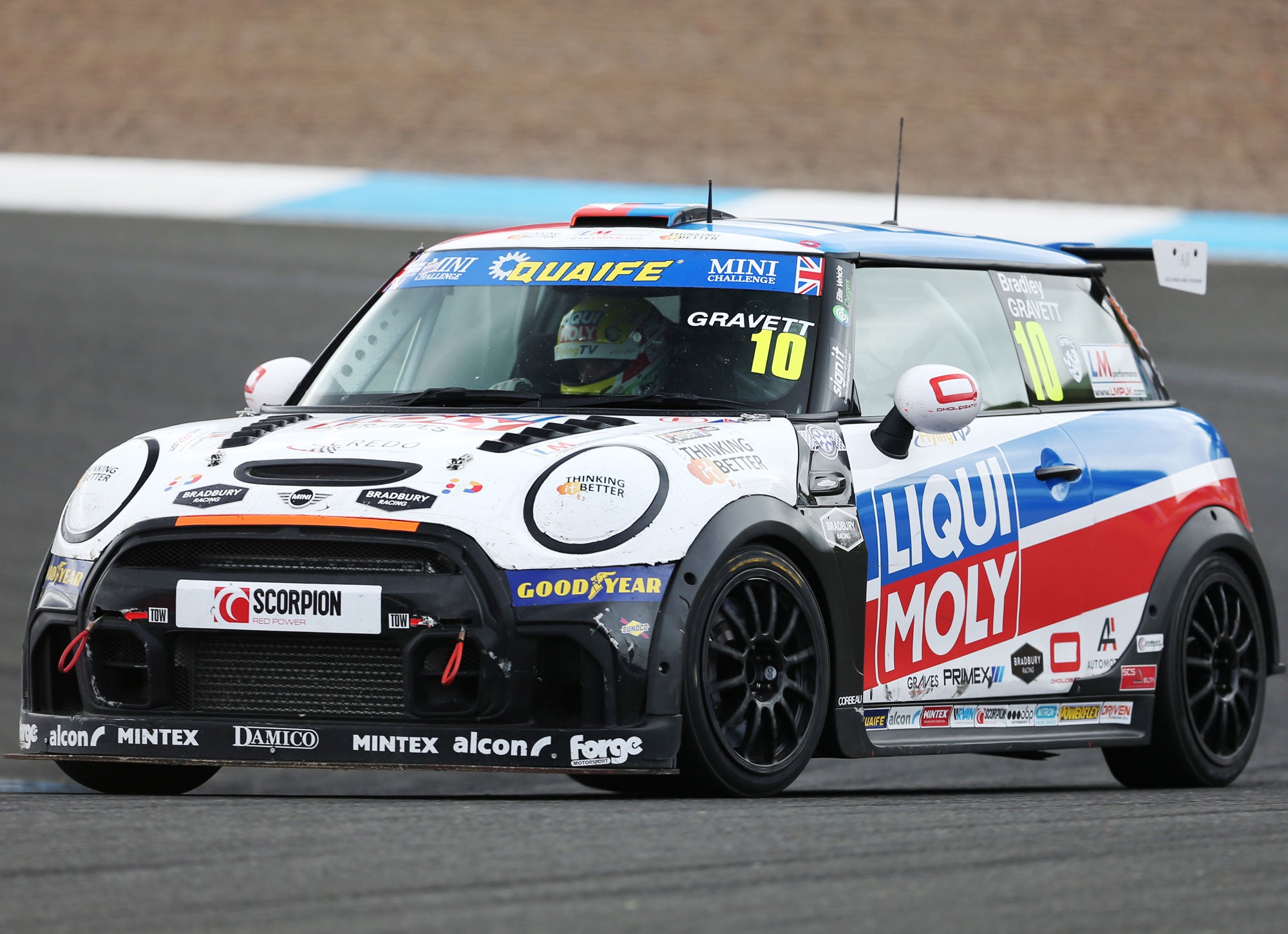 So yeah, I blinked, and just like that, I realised it's race week again, and wow, what a feeling that is! So as far as MINI Challenge JCW racing goes this year, I believe the Knockhill to Snetterton turnaround is one of the shortest of all season, or at least it's the shortest we've had so far.
With just a ten-ish day turnaround window between the last time out at Knockhill and this weekend at Snetterton, many teams in the paddock feel the pinch regarding race car prep time. I know that with the seven-car strong team we're in, it's undoubtedly been a push for the mechanics to get every car in the team prepped and ready for Snetterton. However, with my Gravett-focused 'it's all about me' hat on, as long as my car is prepared and fast, that's all I'm interested in, simples! as I quote, from your favourite TV advert of all time! :)
As you're very aware, we had some quite concerning engine power issues last time out at Knockhill, and since my post-Knockhill race report, I've been doing quite a lot of digging into, one; how much power we're down, and two, what the possible cause of this power loss is.
I'll first start with how much power we were down. So after everything had settled down post-Knockhill, I looked through the TSL best speeds data, which is independently provided MPH readings for each car. The way this works is that a lap of a circuit is divided into two, three or four different sectors depending on its length. TSL then records a driver's best speed, in MPH, between sectors and openly submits the data for each driver, from each of their sessions over the weekend on the TSL website. It's one of the only ways we can directly and officially compare ourselves to another team, driver and/or car and is available on the inter-web at any time. Do bear with me on this.
So during my research, I had a good look through my Oulton Park speed data from each session over the weekend, and it's clear that for all sessions, 'Gravet', me, is in the top, I'd say 30% of drivers on speeds all weekend. However, what's most interesting is that in the weekend's final race in sector one, I was the third fastest, in sector two, I was second fastest, and over the finish line, in sector three, I was sixth fastest. So this is unquestionably very positive speed trap data and would indicate that I am driving well and have a strong engine.
When I compared my Oulton Park TSL best speed data to my Knockhill TSL best speed data, it's clear that I spent the vast majority of the weekend at Knockhill in the lower 30% of drivers on speed traps. What was particularly interesting was that in FP2, I was the fifth slowest on my speed trap data. When you directly compare my Oulton Park speed data to my Knockhill speed data, there are clear and noticeable differences in my best speeds. This data clearly shows that there is quite a pronounced power deficit with my engine at Knockhill compared to Oulton Park. To add to the above, which you already know from my post-Knockhill race report, the data engineers within the team spotted a boosting issue with my turbo. The data crew informed me that my engine boost appeared to be the lowest of all seven drivers in the team, whereas, before Knockhill, my engine had always been one of the strongest from their data reports.
All this above data got me very curious, and as you know, I am a bit of a sucker for the finer detail, especially when there's something wrong. So when we have a problem, I like to be quite hands-on with understanding the cause of whatever the issue is, so I can learn from it and prevent it from happening again in the future.
Pretty much immediately after Knockhill, and as you already know, we requested our engine to be pulled out of the car and sent to the official MINI Challenge engine builder for inspection to find out what our problem was. So a couple of days into the engine being at the engine builders, I found out that my engine had, in fact, dropped in power.
With the above aside, I am glad that we've identified and rectified this issue before Snetterton. It could have been easy for us to leave everything as is and assume it was just a 'bad' weekend at Knockhill. However, this was fundamentally identified by the amount of motorsport experience I now have as a driver, and I am delighted that my support team quickly listened, recognised and fixed this issue as per my initial concerns raised, in time for Snetterton this coming weekend.
Snetterton is a track I always enjoy driving, and if I had to choose my absolute number one favourite circuit on the calendar, I would always select Snetterton. If you cast your mind back to round one from last year (2021), you'll remember how great of a weekend I had at this track. Having had very little pre-season testing before round one, I went into that weekend with a very minimal amount of JCW race car knowledge, yet I found myself hovering around the top 10 all weekend, in fact, Snetterton last year was my stand-out best race weekend of the season.
The circuit itself is very unique and by far one of the most demanding and challenging laps for a driver to string together compared to any other UK circuit. With a very long two-minute lap, Snetterton has a healthy mix of slow, medium, and high-speed corners, demanding massive commitment balanced with finessed patience all across a single lap. So I guess it's just a stroke of luck that I am a bit of a demon around Snetterton! :)
I've been looking forward to this weekend all season, and I cannot wait to once again wring the neck of my JCW around this incredible circuit, especially with the knowledge my engine is now back to full steam!