MINI Challenge JCW Post Knockhill Race Report
Posted by BRADLEY GRAVETT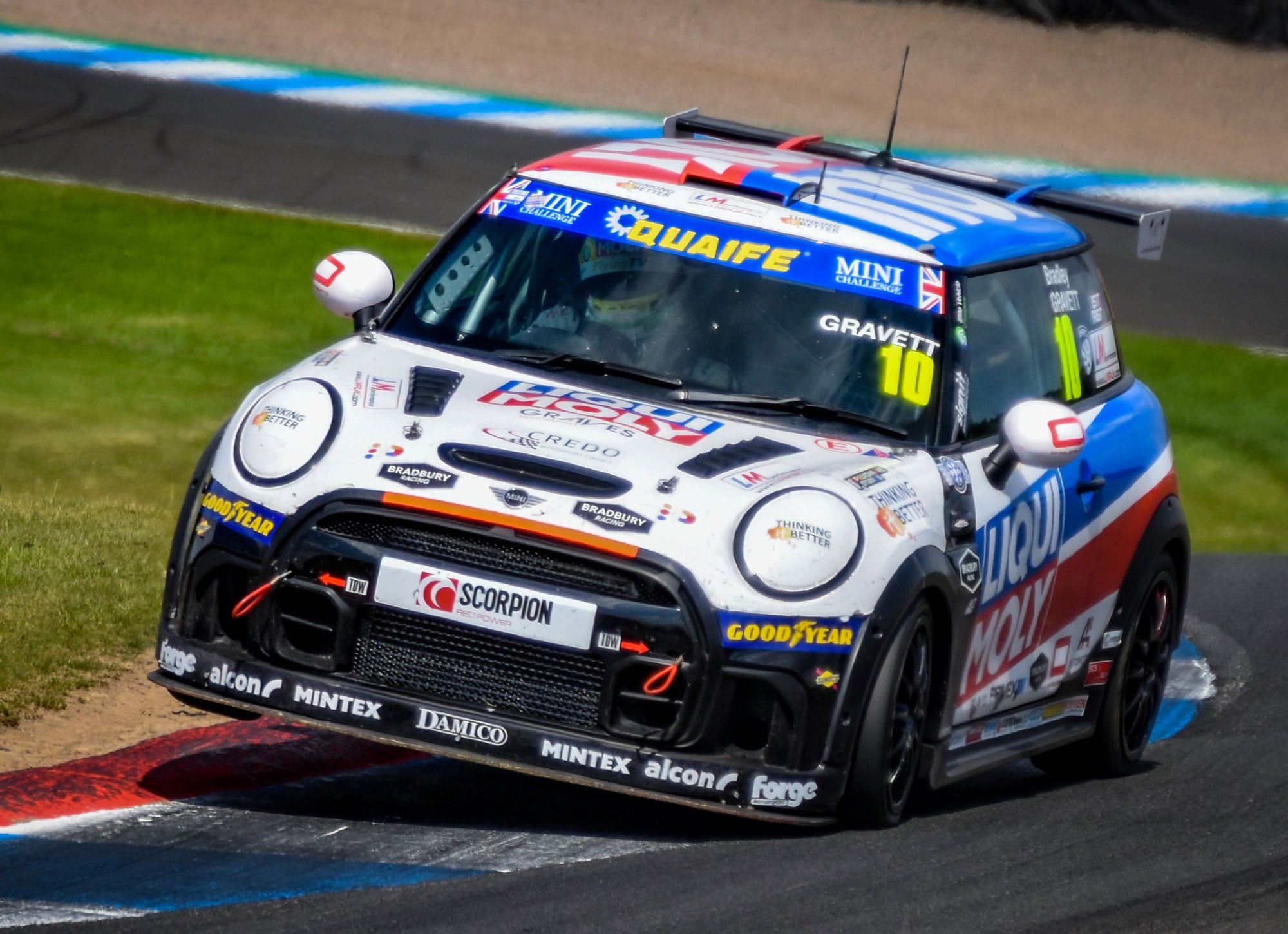 So Knockhill, round 4 of the 2022 Quaife MINI Challenge UK JCW Championship is now complete, and over the weekend, I think I clocked just shy of 1100 miles, which is the most I've ever driven in a single weekend, and that's not including the racing miles too, but, the fortunate thing is, I like driving, so we're all good! :)
Being an eight-ish hour drive, with a couple of planned pit stops on the way, we decided to make our way up to Scotland early Thursday morning, so we could arrive at our hotel, check in and still have enough time to get over to Knockhill for a track walk in the evening. So after what was, in fact, a very smooth and relaxed drive, we did manage to get to the track to fit in that all-important track walk, albeit by the time we'd finished our walk, it was a tad dusky.
I was keen to fit in a track walk before our Friday test day; despite knowing every inch of the track from my time on the simulator, I still wanted to see what those hills and cambers looked like in the flesh. Yes, I know I've raced at Knockhill in the past, but since then, with the many hours spent on the simulator, I had some unanswered questions about a couple of corners, questions the simulator can't answer due to its minor inaccuracies when it comes to digital circuit mapping.
Thankfully, our track walk cleared these concerns, which meant I had a confident understanding of which lines I should and shouldn't be using over the weekend. In other words, on some of the corners on the simulator, mainly the chicane and the final corner, there seemed to be two different possibilities regarding racing lines. With Knockhill being such a cambered track, I just wanted to ensure that the lines I chose to use maximised the use of the circuit inclines, declines and cambers.
With our first test session being one of the earlier sessions of the day at 9:45am, I was slightly concerned that the track may have still been damp due to the wet weather we'd had overnight. As you already know, I don't have any issues with damp conditions; I just wanted to get my eye into Knockhill on a dry track, not a wet, damp or semi-dry one. Thankfully, by the time our session got underway, the circuit was completely dry, both on and off line, so all was good.
Like we always do for FP1 on Friday morning, we went out on old tyres to allow me the opportunity to get a feel for the car and track without risking the possibility of wasting or damaging a better set of tyres.
As soon as I got onto the track, I felt straight at home, as I often do with the amount of simulator time I'm currently doing. As the session progressed, and as I became more confident in the car and the track, I noticed that my front tyres were 'going off'. By this, I mean the car was starting to develop a pretty obvious understeer issue, and as soon as I began to feel it get progressively worse, I pulled back into the pits only to find that my front brakes were starting to overheat. I have absolutely no idea why this was happening, and it was especially odd as Knockhill isn't that heavy on brake usage either.
After my number one engineer, Lewis, had recognised that we had a heat buildup issue in our front brakes, he sent me straight back out to try to get some cool air into them in an attempt to cool their temperatures down. But, unfortunately, as soon as I went into turn one, out of the pits, my brake peddle pretty much went to the floor. Sadly the brakes had cooked, and there was nothing more I could do in that session to cool them down, so I took it steady and returned to the pits to retire the car. That was the end of FP1; I was in P25, the fourth slowest of everybody, it was not at all ideal.
After we got the car back to the awning, it had cooled down, and my engineer had stripped the front brake callipers apart; we simply couldn't identify why the brakes had overheated, as there were no apparent issues with, well, anything really. We discovered this wasn't an isolated issue for us, other teams also had similar problems with front brake temperatures. With that knowledge, we just put it down to 'well, it's just one of those things'. This is not something I like to do, or usually do, to be honest, as I am a bit of a sucker for the smaller detail and want to know why issues happen so they can be prevented in the future.
My only educated guess as to why the front brakes could have overheated is that not enough airflow was getting into the front bumper, I mean, yes, the car does have an upgraded bumper for 2022, but we've not had this issue before, very odd. The only other possible cause that we thought it could have been was that the brake bias could have been adjusted too far to the front, which again I thought was odd, as, as far as I am aware, I'm the only person that's ever adjusted it, and it's always been right, or very close too. Unfortunately, these JCWs don't have brake calliper pressure sensors, so we cannot get an accurate bias set if anything gets knocked or changed in the workshop, but that's the same for everyone in the championship.
Going into FP2, despite having minimal running time in FP1, we decided to make a minor rear suspension adjustment. From the very diluted amount of feedback I presented to my engineer after FP1, we concluded that this adjustment should improve the car. We also put two better tyres onto the front axel with that single rear suspension adjustment. Better tyres were something I pushed for; because of my limited run time in FP1, I wanted to ensure we maximised the quality of my second test session, as it would be my last before qualifying the following day, and we had to make it count.
The second test session began well, and more or less immediately, I noticed that the better front tyres had eradicated most of the understeer issues we'd had from the previous session. Although, as expected, the rear suspension adjustment made a very noticeable difference to the handling of the chassis too, as this adjustment was intended to help the car 'turn in', which is precisely what it did, so that was a winner and something we kept the same for the remainder of the weekend.
FP2 was, however, frustratingly stopped three times by red flags. Red flags are common in MINI Challenge testing, but they are far more common at Knockhill specifically because it's simply so easy to get things out of shape, and of course, this happens all the time for drivers new to the circuit who perhaps are not as confident as others.
With the three red flags cutting into our 35-minute session, I didn't get many clear, committed flying laps; despite that, I would say I had about four clear laps to get a feel for the car and its setup. These four laps were vital as they were the only 'proper' testing laps I'd have before qualifying the following morning.
After FP2, I felt how I usually feel after Friday testing: "yeah, I feel like I was hustling the car, but perhaps there's still more time to be found on a lap". This, to be honest, is exactly how I felt after FP2 at Oulton Park last time out, which to remind you; I was on very old tyres and was the only test session I had that weekend as I had a coolant pipe leak in FP1 which retired the car. So despite the limited running at Oulton Park in testing and being on very old tyres, I still found myself in P6 in FP2.
Do bear with me, as this is all relevant; I am trying to say that after Friday testing this season (2022), I've always felt that I could have gone quicker, but despite feeling this, I've always been in and around the top ten. To put this into perspective, I had this very same feeling after FP2 at Knockhill, but instead of being in the top ten was, in fact, in p22, absolutely nowhere near the top ten, which was slightly bewildering.
This was a fascinating data point for me, as I know, with the experience that I now have, when something's wrong, I can feel it. So my immediate thought was that my engine was not right; how can I go from a comfortable top ten at every past race weekend this year to almost right at the back? Race drivers don't just lose their abilities overnight, so something had to be wrong with the car.
During our debrief post FP2, I asked our data engineers to look into my engine output data to see if they could spot anything that didn't look right, and to my delight, they found something, they spotted an issue with my turbo. Compared to the other six cars in the team, my turbo appeared to be working far harder to produce a far lower boost pressure, meaning the boost wasn't working correctly. So with this knowledge, the team replaced my turbo with a new one along with a new boost control valve.
I must be honest, this was a bit of a bitter-sweet for me; by this, I mean I was in no way happy that my engine was down on power, but I was pleased we had evidence that it wasn't my driving causing the deficit on my lap time but in fact my engine. This power deficiency was also backed up by the TSL 'best speed' analysis; you can clearly see that I'm in the bottom bunch in the speed traps, which clearly shows that I am between 2mph to 3mph down compared to everyone else, everywhere. In contrast, I am usually in the top group in the speed traps.
What's most confusing about this engine power issue is its cause. Looking at the black and white TSL data, in the final race at Oulton Park last time out, I was the second fastest driver in the final speed trap to Sam Weller, who's currently leading the championship. So what I am struggling to understand is how, between Oulton Park, last time out to Knockhill, when the car doesn't turn a wheel, how do we lose so much engine power when the car's just sat there in the workshop? I'll let you conclude on that one.
With Friday behind us, our focus was now very much on qualifying Saturday morning. Saturday was a busy day for the MINI Challenge, as we had qualifying first thing in the morning, race one mid-afternoon and race two at the end of the day. We'd usually have just qualifying and race one on Saturday, but for some reason, we had two races on Saturday and just the one on Sunday.
For qualifying, we'd decided to make further adjustments to the suspension. We agreed on these adjustments off the success other drivers in the team had with similar settings on their cars, matched with the fact that it was going to be a wet qualifying session. I am pleased we made these adjustments as I feel they suited the wet conditions we had in qualifying.
We actually tested back in 2021 at Knockhill in very wet conditions, so I was one of a handful of drivers that have experienced the track in the wet, which was a considerable advantage and, of course, a great confidence boost. For qualifying, I was advised to start with a used set of wet tyres, which had only completed a handful of laps around Brands Hatch earlier in the year. I was informed that because they had already been scrubbed in, they should be slightly grippier than brand-new wets, this was incorrect.
I took the first part of qualifying steady as I wanted to get a feel for the suspension adjustments we'd made and the wet conditions without putting the car at risk and ending up in the gravel that could potentially compromise my qualifying. Just as I started to get into my rhythm, after several laps, a red flag came out for a trapped car in the gravel at the final corner, which took several minutes to clear.
Once the trapped car was all cleared and the session restarted, after another several laps, I found myself in 16th position, and I simply just couldn't seem to go any quicker, as I was really struggling with understeer. I decided then to come into the pits for a fresh set of wet front tyres, and, as soon as I left the pix exit, I couldn't believe the amount of grip I had in the front of the car. The new wet tyres completely eradicated my understeer issue, but with around 5 minutes left, I knew I'd only have about three flying laps on these tyres.
With all the front grip I needed for a quick flying lap, I preceded with my out lap only to find that another car had beached itself in the gravel going onto the back straight, which bought out another red flag, and with such a minimal amount of run time left in the session concluded our qualifying there. This was so incredibly frustrating, as I knew that if I could have just got another lap in on these new front tyres, I'd have been far further up the field; I ended qualifying in 17th place, my worst qualifying, by far, this season.
Post qualifying, I could still see that my speeds were down on the TSL best speeds PDF data sheet, which suggested that we still had a power issue, which I now believe is more than just a turbo issue, as we had a new turbo installed but were still down on the speed traps. Unfortunately, this power issue did not improve all weekend and was still evident in races one, two and three. Furthermore, my speeds in the speed traps also did not improve all weekend from this point onwards, and we remained several mph down on speeds compared to other drivers for the remainder of the weekend.
For the weekend's first race, as you already know, I started in p17, which, being an odd number, put me on the inside for turn one. My start was okay, but being further down the grid at Knockhill was not ideal as the start/ finish straight is on a hill, which gets steeper the further back you are. This, of course, wasn't ideal, considering I had a weak engine, and I'd need the power to pull me away from the line and up the hill.
Despite the situation, I held position into the first corner and around the first lap. Then, over the following five laps, I preceded to make an additional three positions putting me in 14th. There was then a short safety car period, which bunched all the cars together. Upon the safety car restart, I managed to hold my position until the end of the race.
I actually think I would go as far as to say this was one of the most challenging drives I've ever had, as I was constantly defending cars behind me due to my weak engine, which I believe became worse as the race went on and the car became hotter. However, considering my circumstance, I was delighted with my 14th place finish as it was evident the cars behind me were far quicker. I'd say this was the best defensive drive I've ever driven.
Having finished 14th place in race one of the weekend, of course, starts me in that position for race two, which was the final race of the day, Saturday afternoon. Despite the forecast for rain all weekend, race two remained dry, just like race one, which made things a little more straightforward regarding setup decisions. Although, after race one, we noticed an unusual oversteer issue; it appeared the front of the car was diving on corner exit, so we attempted to dial that out with a slight tweak to the suspension for race two.
Despite being slightly further up the grid, I was still on quite an uphill slope which again caused me to have another average start; however, I managed to hold my position for the first couple of laps. Then, being consistent with the cars ahead and around me for the following five laps, I had a couple of overtaking opportunities, which I went for but unfortunately couldn't make stick, as I was struggling for drive coming out the corners. Then, a few laps later, my car's power just dropped right off, and I simply didn't have the same grunt as other cars around me appeared to have. By this point, I was up to 13th position as a couple of drivers ahead had retired, but as the race went on, the cars behind me had more overall pace, allowing two cars passed me on the back straight. I finished in p15 in race two.
To be honest, this race was a little dull as the field became so spread out as the race went on that there wasn't much racing or overtaking happening anywhere, everyone just seemed to get into their rhythm, and that was that. However, this aside, once again, I was thrilled with the finishing position of 15th because, with all things considered, could have been far worse.
With Saturday over, our focus was very much on Sunday for our live televised race, on what was a pretty relaxed day for the MINI Challenge, as we just had the one race scheduled for around 1pm. After the final race on Saturday, my engineer and I decided to leave the car as we'd set it for race two, as we concluded the changes we'd made got the car to where we wanted it.
Starting once again from where I finished in the previous race, which was p15, my start was actually pretty good, and I made up a couple of places on the opening lap. But, unfortunately, in classic 'televised race' MINI Challenge fashion, two cars had planted themselves in the barriers on the opening lap, bringing the safety car out for several laps while the stranded cars were cleared.
Once this had all been sorted, the safety came in, and we were back racing again. On the opening lap after the safety car, I managed to gain another position for 12th place. Unfortunately, the safety car was then redeployed once again as another two cars collided and were trapped in the gravel in a very similar position to the position of the first incident. Sadly, because this incident was another tricky one for the marshals to clear, our race was concluded under the safety car due to the limited amount of time left in the race.
The long and short, race three never really happened. However, this aside, I did have another solid finish of 12th position, which was my highest all weekend, and something, all things considered, that I am delighted with.
All in all, Knockhill has been a very consistent weekend, and when it counts, we've had some strong results. Despite our severe yet confusing engine power troubles causing my lowest finishing positions this year, I am optimistic about how well I've coped with the stress and frustration this has caused, along with how well I've driven what is, in essence, an underpowered race car.
Between Knockhill and Snetterton this coming weekend, we're having our engine sent back to the championship engine builder to get it checked, recalibrated and rebuilt if necessary, which should bring us back up to full power for Snetterton, which is a track that absolutely requires a strong power unit.
I'll see you back at the front this coming weekend!