MINI Challenge JCW Post Brands Hatch GP Race Report
Posted by BRADLEY GRAVETT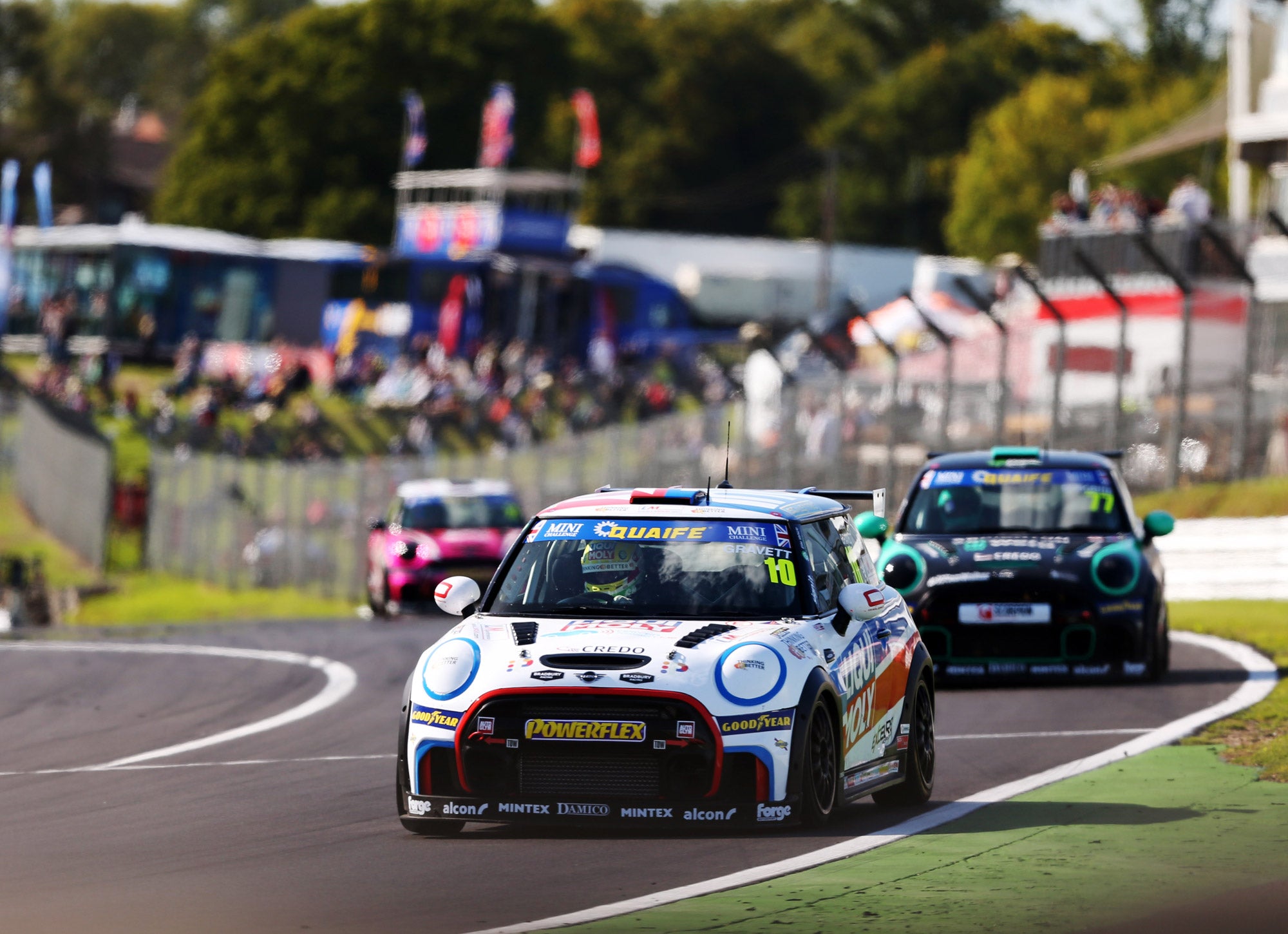 So, yeah, that's it, the season's out, and I literally don't understand how quickly this year has raced by! I mean, and I know I've said this many times in the past, but Donington, round one of the championship back in April, felt like last week.
But that aside, let's talk about Brands Hatch, the final round of the BTCC, which of course, is not only the championship-deciding weekend for the Touring Cars, but is also the grand finale for the MINI Challenge JCW Series, held on the world-famous GP circuit layout.
For many reasons, the Brands Hatch GP race weekend is always such a fantastic weekend to be a part of, not just because the circuit is absolutely awesome to drive but because the atmosphere is just different, different to any other race weekend throughout the year. In addition, because the Brands GP weekend is the last blast for the BTCC, I think spectators make a special effort to attend. I mean, earlier in the year, when we raced on the Indy layout, the shorter of the two circuits, the spectator turnout was massive, but then chuck in a BTCC championship-deciding weekend into the mix, for what's been a brilliant year for the BTCC in terms of competitiveness from the lead four championship contenders, and you've got a recipe for a rather large attendance, which is precisely what we had, a circuit sell out.
To be fair to Brands Hatch though, it's a very inviting circuit, and MSV has done a brilliant job; located in the 'right' place, close to London, Brands Hatch offers spectators lots to do besides watching racing, which also makes it a great family day out, opening the circuit up to a far broader demographic, as compared to the likes of somewhere like Snetterton, which is situated a little further off the grid, making it more of a hardcore BTCC fan circuit in terms of visitors. So I think what I am trying to say is that Brands, both the Indy and the GP race weekend is enticing to people who don't necessarily live and breathe the BTCC, which I think is why it's always far busier compared to other circuits.
So, with that extra long intro done, apologies about that; I bet you're gagging to know how I got on at the weekend! Well, the long and short of it is we signed the season out in style, with race three, the final race of the weekend, being probably one of my most competitive drives of the season since Donington, of course.
With EXCELR8 Motorsport giving me a highly pliable, confidence-inspiring, fast race car across the entire weekend; I had total belief and confidence that the car beneath me was one that I could trust, which is precisely what you need around Brands Hatch, and especially out the back on the high-speed, high commitment GP section. In fact, EXCELR8 got the setup so right that from Friday to Sunday, we didn't make a single setup adjustment all weekend; full credit to the team and their expertise on that front.
Starting slightly on the back foot on Friday, as we didn't have the opportunity to test on the GP layout before the weekend due to our mid-season team switch falling right around the time the team had testing planned, our start to Friday free practice was somewhat slow.
For FP1, the first test session on Friday, we had some housekeeping planned, which came in the form of bedding in discs and brake pads, of which I had one set of front discs to bed in, along with two sets of pads to bed in, to which I bedded one set of pads in FP1 and the other in FP2.
It turns out it actually takes quite a while and a lot of faffing to bed in new brakes, especially when you've got both new discs and pads, as you cannot bed in both new components together; I've no idea why, I just know you can't. So this meant that I had to run a full heat cycle into the discs with an old set of pads, which took several laps, then come into the pits, have the old pads taken out and the new pads put in, run a full heat cycle through these, then come in again, and have the original 'old' pads put back in so I could get a couple of laps of actual test running in.
I am sure you can imagine just how much of the 45-minute test session this ate into. So, unfortunately, after I went out for my final run, there wasn't a great deal of time left on the clock, and I barely had a handful of laps to work with, by which time, I hadn't been able to get the tyres up to their full operating temperature anyway, making FP1 in terms of time setting, a write-off.
I'm not going to use the word 'frustrating', as it's not the correct word, 'eager to go quickly, I think, is a better phrase, and with our absolutely essential housekeeping eating into FP1, it was a shame I didn't have more of an opportunity to show my true pace.
Usually, this kind of thing, brake bedding, would be done on a test day before a race weekend, so on Friday, one focuses mainly on car balance rather than anything else. But, without the opportunity to test before Brands GP, all this had to be done during my free practice sessions on Friday.
As I said above, for FP2, we had a second set of pads to bed in. So our run plan from the start of the session was to go out on the new pads, run three laps to bed them in, and then return to the pits for the old original set of pads to once again be put back in so I could finish the session. We put the old pads back in because, in our free practice sessions, we don't want to wear down our new race pads; we want to keep them as fresh as possible for racing.
So, as per the plan, I went out, did my three laps to bed in the new race pads and came back into the pits to have them switched over for the old 'test session' pads. When my engineer, Lewis, removed the first set of pads, he looked at them and saw they hadn't quite been bedded in enough; they still had a slight new 'sheen' on them, and they needed an extra lap or two. Lewis then put the new pads back in and said to do another couple of laps on them to finish off the bedding process.
With the clock ticking down, I decided, of my own volition, that I was going to stay out and run several laps so at least I'd get some testing in under my belt, which I'm pleased I did. I ran around six laps on the new pads, and with every lap I was driving, I was getting quicker and quicker; I kept thinking that 'I'll come in this lap', but every time I thought that, I'd look at my dash to see that I'd be several tenths up on my previous lap, so I'd stay out. I then, on a lap, decided that no matter what the dash said, I'd come in as per the team's instruction, so I backed out of my final lap two corners before the end of that lap to come into the pits to have the pads changed back over, I was three tenths up at that point, which I knew from my dash.
Yeah, I definitely should have stayed out and finished that lap, as, after the session, we looked at that lap on the data, and it would have put me in around p5, but I pitted. I was also on very old tyres, and I'd have been ahead of other front-running drivers in the team who were out on new rubber; I really am a melon sometimes! It didn't matter though, as it was just testing!
After the 'brake pad bedding' stint in FP2, I came back into the pits, had the new pads changed over to the old, went out, did two laps, and the red flag came out, season over. So actually, I absolutely did the right thing staying out, as it gave me a whole ton of confidence going into qualifying the following day.
Heading into Saturday, MINI Challenge had a pretty busy day as we had qualifying and both race one and two on the same day and race three on Sunday. Usually, we'd have qualifying and race one on Saturday and race two and three on Sunday. I think the reason for this timetable switch was to give the Touring Cars a little extra breathing time on Sunday. Nevertheless, it didn't make that much difference to me, it just meant that I had a far more relaxed day on Sunday than usual.
The very fast pace I showed in FP2 on Friday certainly gave me a lot of confidence heading into qualifying Saturday morning, which is vital, especially on such high commitment circuit as Brands GP.
Knowing I'd only have between 5 to 7 laps to maximise and extract the most out of the new tyres we'd put on the car before I needed to come back in the pits for another set of new front tyres, I went out with the intention of two warm-up laps, then around four flying laps to set my time. So we all left the pits and started our session; we went out, past the start-finish line once, and then the red flag came out. A car had gone off, up, and over the barrier out in the back section of the circuit; the driver was unhurt. This, of course, stopped the session for a total of thirty minutes, and we all waited outside our cars in the pit lane while the circuit staff repaired what I believe was quite a badly damaged barrier.
Of course, with this considerable delay, our run plan had been totally thrown out the window; our new plan, with a revised 15-minute qualifying session, was to stay out and drive as fast as I could until the chequered flag came out, which is precisely what I did.
We managed p12 in qualifying, which was a brilliant result, considering the limited amount of run time I had on Friday. I was once again breathing down the necks of that top ten and just behind last year's champion and now teammate Dan Zelos, who I know is very good at opening gaps and moving forward, meaning that I'll be able to follow him through in the race.
Starting on the sixth row, on the outside for race one, was, in fact, a perfect starting place; you may or may not already know, but the start / finish straight at Brands Hatch is situated on a hill, and P12, is just at the crest of that hill, meaning that I very much had the advantage of a downhill start.
The race started very well, and I managed to get off the line incredibly well, with excellent traction, using the hill to my advantage. The opening lap, like most opening laps in the MINI Challenge, was a little hectic, but I managed to avoid any first-lap incidents, slotting into 12th after lap one. As the race developed, the lead pack, the pack I was racing in, broke away from the midfield and all throughout the race, we continued to dice for position, which from a driving perspective, was great fun, and very respectful. When you race with people at the front, you find that the quality of driving is of a far higher standard, as people race with more awareness and respect, as opposed to the mid and back-running drivers, who tend to drive in a more desperate and heroic type manner, which in short, means they like to drive into you a lot more.
After a very exciting race, I finished where I started, in P12. Albeit, this wasn't where I'd like to have been, which was in the top ten, I was still delighted, as it was clear that I had the pace to run higher up had my hand been played slightly differently.
After race one, I released that for the first time since Donington, round one, earlier in the year, I finally had my race car back, a race car that I could actually race, move forward and attack with. Before this weekend, the race car I have been used to is one that I had to use my mirrors in, one that I became very good at defending in because until now, it ultimately hasn't had the pace to move forward. Of course, it's of total credit to EXCELR8 Motorsport, who've made my car as quick as it is now, it's just unfortunate it's come this late in the season, as I've always had the pace to run at the front, but until now, I've not had the car to support my ability, but hey, that's why we made this team switch, so everything is going to plan.
Starting race two from where I finished in race one, which was 12th, I had precisely the same plan as I did for race one, move forward as quickly and as soon as possible. The 'as soon as possible' part was vital as if the lead bunch of cars were to break away, It can, especially around a long lap like the GP loop, be challenging to catch back up with them. Just like race one, I had another brilliant start, and on the opening lap, I was able to make up several positions with some aggressive driving and, similar to race one, I had a brilliant race, dicing for positions in the lead pack, which chopped and changed between p8 and p12 throughout the race.
Towards the latter stages of the race, unfortunately, another driver was clipped and half spun around on Surtees corner, the corner going onto the back straight; I thought by the time I'd get to the spinning car, it would be out of my way, but sadly it wasn't, and I had to take to the grass on the outside of the corner to avoid crashing into him, unfortunately causing me to drop back several places to p16. As this was towards the end of the race, I could only regain one position to finish in p15.
This was somewhat of a frustrating end to race 2, but, looking at the circumstances, this could have easily been far worse, or a DNF had I collided with the spinning car going onto the back straight, so with that considered, p15 wasn't actually to bad a finish.
As I was outside the contention for the reverse grid draw for race three, the televised race on Sunday, as I was outside the top six in race two, I would once again be starting from where I finished in the previous race, which of course, was p15.
As this would be the last race of the season, I asked the team to give me absolutely everything we had; and by this, I basically meant the very best tyres possible. Thankfully, due to what's been a somewhat challenging end to the season, we actually managed to save two brand-new front tyres, which we saved for this final race. Of course, every driver gets their allowed tyre allocation for the weekend, but everybody, apart from one other driver and me, started race three on old, worn-out tyres. You're probably thinking how I knew this; well, while all the cars were coming into the assembly area, before the start of the race, I made sure I checked the tyres on everybody's car, so I could confirm to myself just how much of an advantage I would have, which of course, being one of only two cars with new front tyres, was huge.
Knowing that I had more grip and that we wouldn't again need these tyres, I wanted to maximise the mechanical grip potential of these new tyres fully. So basically, I wanted to extract as much as possible from them over the 20-minute race, which of course, if we needed these tyres again, I wouldn't do, but as we didn't, I wanted to abuse them, to gain as much of an advantage as I could from the fresh, sticky rubber.
With the above in mind, my keyword phrase for race three was 'more grip!' I just knew that I'd have more grip than everyone else in whatever situation, and I had every intention of using it right off the bat. So, at the race start, I deliberately asked a little more from the front axel, as the new tyre should allow a little more in terms of revs before the wheels would spin up, meaning I would get a slightly quicker start, and, it worked, my start was mega, to which I managed to get up and around the outside of the car in front of me, we stayed neck and neck for the first three corners, to which I completed the move in Surtees heading onto the back straight.
The first lap, in classic MINI Challenge style, I must say, was a little hectic, not from me, but from everybody else. As I was heading down into the final corner on the first lap, the driver of the car, two cars in front of me, just totally ran out of talent and spun in the middle of the track, missing me by a handful of feet. Fortunately, somehow no other cars collided with him, but how I don't know; I just remember looking in my mirrors, thinking how big an accident that was going to be. Then, as I came down paddock hill, there was another car in the process of spinning and heading sideways in the gravel, which is never a great place to be, especially there, as the gravel is very deep and can cause cars to roll over easily, which fortunately didn't happen, this spin was at some speed though. These two incidents, of course, bought out the safety car for several laps while all the debris were cleared away.
By this time, I was in p12 and actually in a very strong position, having already made up several places. Upon the safety car coming into the pits, I still had the same plan, which was to go aggressive with the more grip I had from that still very fresh new tyre. As the race developed, the lead pack, once again, the pack I was in, totally broke away from the remainder of the field. As the race continued, I managed to make up another position, which I actually had to work quite hard for, which lost me a little time in terms of chasing down that lead pack. Around four laps after this, I saw that the seven or so cars in from of me started squabbling for position, which I knew would cost them time, and I knew that if I just held my line, I'd be on their bumpers in three corners, which I absolutely was. As I got really very close, the entire pack was bunched up, and as I started my run for an overtake, which I think would have been at least a one, but possibly a two-position gain, as I went for the move however, I saw that the red flag had come out, and with two minutes left on the clock, that was the end of the race.
I mean, yeah, I'd had a fantastic race, and I was absolutely back up with the front runners once again, just like I was at Donington, but was I frustrated with the red flag prematurely ending the race? Yeah, I was; I was because I knew that had the race completed, it would have been right at the final stages of the race where I'd have seen the most significant advantage of that new tyre choice. Genuinely, had the race run its course, I think I could have finished in the top five or even higher.
Nevertheless, this kind of end to my season is just the end I needed. Despite never doubting my ability, even during some very challenging weekends, due to out-of-my-control mechanical and political issues with our previous team, I've always known that I absolutely have the ability and skill to run right at the front and right at the end of the season I once again showed this pace, not just to remind myself what I can achieve, but to remind everybody else too.
This fantastic result, right at the end of the season, is precisely what I needed to allow me to head into the off-season with bucketloads of confidence, belief, positivity and motivation to ready myself for what's going to be a fantastic season next year.
Our plan for next year is to continue racing in the MINI Challenge JCW series with EXCELR8 Motorsport, with our goal of challenging for the championship. Absolutely I have the ability and skill to run right at the front, and I know EXCELR8 Motorsport have the know-how and experience to provide me with a race car quick enough to challenge for the title, they've done it before, and we will do it again!
We've also got some very exciting news dropping in the not-so-distant future, which I absolutely cannot wait to tell you about, watch this space.