MINI Challenge JCW Post Brands Hatch Indy Race Report
Posted by BRADLEY GRAVETT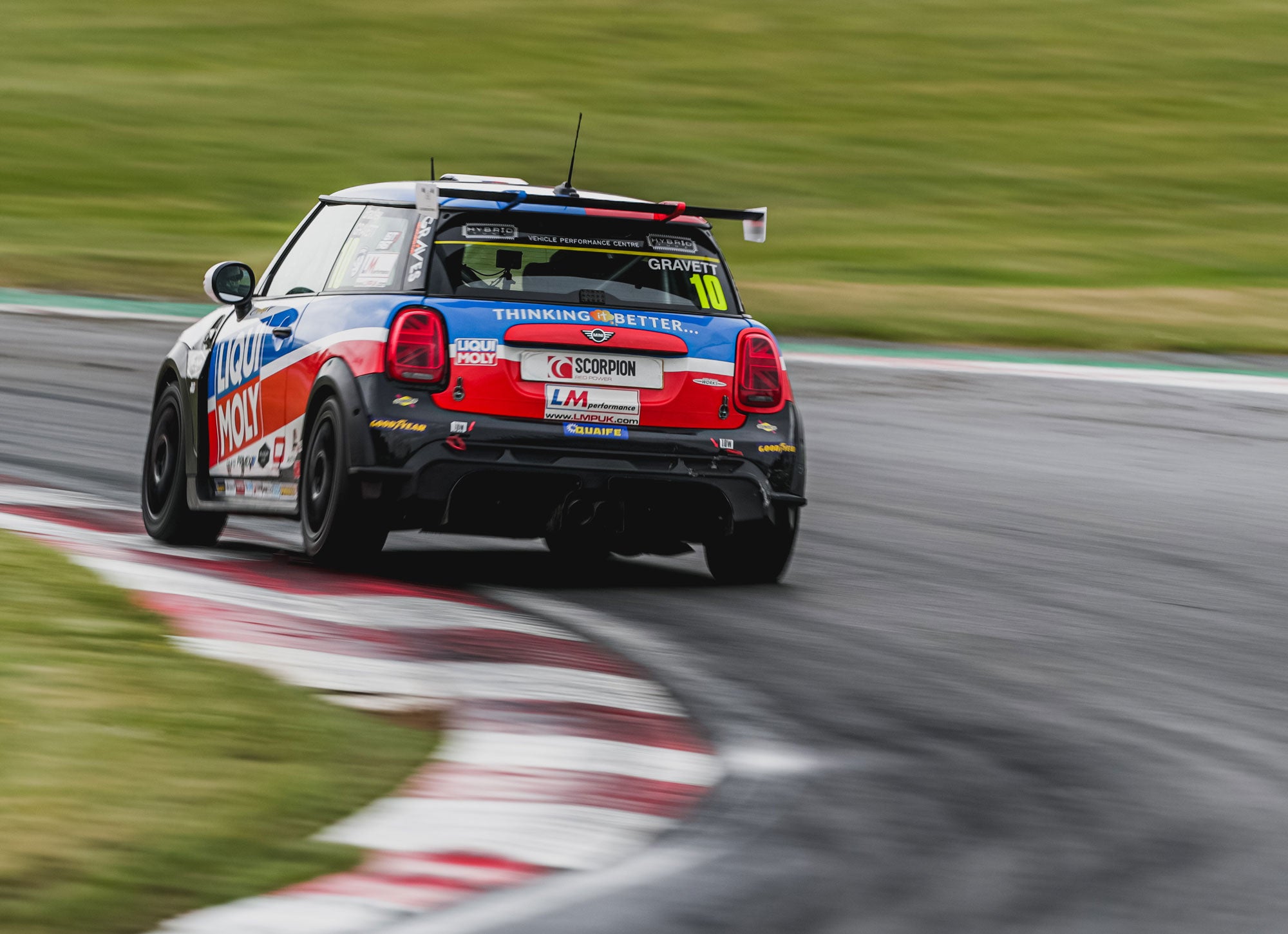 So round 2 at Brands Hatch Indy of the Quaife MINI Challenge UK JCW series is complete, and what a rollercoaster of highs, lows and everything in between it was, not just for me but for everyone.
Unlike Donington last month, Brands Hatch works to a regular timetable, and by this, I mean Friday testing is actually on Friday and not on Thursday like it was at Donington. It's far nicer to have the race weekend actually as a weekend without a day's break in the middle, although, to be fair, the Friday break last time out at Donington gave the team a little more time to rectify my gearbox woes from Thursday testing, so it wasn't a bad thing.
FP1 of Friday testing at the second round of a championship is always interesting because everybody is out for the first time on used tyres, as initially, nobody puts any of their six new allocated race weekend tyres on as it's simply just a waste. So everyone's running around, like we were, on old ready to be binned tyres. This is prudent because, unlike round one, where everybody is always on brand new tyres for each session or race, people are now starting to use older tyres, which generally means the car feels horrible to the driver.
I can fully concur with this, as having heavily worn Donington 'front' tyres on both the front and rear of the car in FP1 made my JCW feel very lifeless around the tight and windy Brands Hatch Indy Circuit.
Despite having lapped thousands of laps around Brands Indy on my simulator, there's still no substitute for actual laps, around the actual circuit, in my actual race car, and because of, I used FP1 to get my eye in as I usually do in the first test session of a race weekend.
With a whole year of experience now under my belt in a JCW, I'm now fully aware of how differently these cars handle on old, worn-out slick tyres, and I am actually able to directly distinguish between when the car is handling poorly because of a bad set up and when the car is handling poorly because it's on old worn-out tyres. As a driver, it's imperative to know the difference because, yeah, the car didn't feel particularly great in FP1; its turn-in, mid-corner and exit grip was pretty lame, and because of I was several tenths off the pace, but I knew this was a tyre issue, not a setup issue. After FP1, we were in 16th position.
Knowing the difference as a driver is crucial because if you don't, it can be very easy to blame yourself and lose confidence across an entire weekend because of, when actually, as soon as a new set of tyres go on to the car, all those before problems go away.
Despite the above, for FP2, we opted to stay on the very same tyres as FP1, as again we wanted to keep our new tyres for later on in the weekend for qualifying and the races, as I know when we put new rubber on, all our issues would go away. However, after spending some time with our data engineers, we did actually identify an area of suspension we felt needed tweaking. Despite being on older tyres, it looked apparent that the issue we were addressing, which was our mid-corner grip, could be improved both on an old and a new tyre, so we made an adjustment.
Yep, the suspension change we made did improve the chassis, and we found an additional three tenths in FP2, finishing the day in 14th on times overall, with, unlike others, a full arsenal of brand new tyres to be used in both qualifying and our three races over the weekend. Post this second and final test session of the day, we opted not to make any further adjustments to the car, as from what we could tell, all the issues we were now facing were being caused simply by an old tyre, and we were right.
With the weather forecast to be absolutely stunning all day Saturday, we were confident our qualifying session at 10:55 am would be a scorcher, and it really was. The positive to having a warm qualifying session; is it's easier and quicker to get the tyres up to temperature; the negative is there's a risk of overheating one's tyres before getting the best possible lap time out of them.
Qualifying at Brands Hatch Indy is always tricky; it's such a short lap that getting a free patch of track can be difficult without encountering traffic. Fortunately, however, there is some kind of order to qualifying in the MINI Challenge, as drivers are released onto the track in their current championship position. This put me the 8th driver onto the track, behind last year's champion, which guaranteed me several clear laps with a decent toe from another quick driver.
Knowing that I had between 5 to 10 laps before I'd encounter traffic, I knew I had to set my lap pretty quickly, but I also knew it takes around five laps to entirely switch a new set of tyres on, ready for my first flying lap, leaving me about three clear laps to actually set my time. So after the tyres had come up to temperature and I was ready to go, I went for it and set my lap. After I finished that lap, I knew it was quick for two reasons; one, it felt it, and two, when I crossed the line and glanced at my dash, I could see it was several tenths under my previous best time.
At the end of that lap, I came into the pits to find that I was in p9; pretty good that considering if I'd have found just another tenth, I'd have been around p5. So to save tyres, I sat in the pits for about 15 minutes to see if anybody went any quicker and to be honest, nobody did in the latter stages of the session. Despite that, however, for the final 8 minutes of qualifying, I decided to bolt another brand new left front on and have another stab at it to see if I could find that last tenth. But unfortunately, I couldn't and ended up finishing qualifying in p10.
I was thrilled with this result as it was my first top ten qualifying in the JCW series. With Brands Hatch Indy being such a tight and short lap, tiny amounts of time found or lost can have significant implications in qualifying. It can be very easy to both lose and gain small increments of time, making Brands Hatch Indy very rewarding to drive, especially when you string a lap together and get it right.
Starting race one Saturday afternoon on the fifth row in p10 was pretty awesome because it's really very close to the front and, in fact, slightly higher up than I started at Donington, and you can remember how well we did there. So with the circuit being a sub one minute lap, a new regulation from MINI Challenge is that we now get two warm-up laps, basically to prevent cars falling off on the first couple of laps due to cold tyres.
So after the warm-up laps, I lined up in my grid slot and waited for the lights, they came on, went out, and we were off. So my start was pretty average, to be honest; it wasn't bad, and it wasn't great, it was right down the middle. However, a couple of cars behind me had a slightly better start, which ended with me losing a couple of places into the first corner, which wasn't ideal. Although, after around five laps into the race, after everything settled down, I found myself in p12 behind a regular front runner and race winner, which, might I add, I was quicker than. Sadly, however, it turned out this driver is incredibly good at driving a very wide car and made it near impossible for me to overtake.
Fair play to him on his defensive driving, but we both lost a considerable amount of time messing around, as he was simply backing both of us back into traffic behind us. Every time I tried to pass him, he'd either attempt to run me off the circuit around the outside or over slow the car on the apex on the inside. It was very frustrating, and back to Brands Hatch Indy being such a short lap, it's challenging to overtake due to the lack of overtaking and 'run' opportunities the circuit presents drivers.
I finished race one of the weekend in p12, which was frustrating as I very much had the pace to run, once again, way inside the top ten.
Come Sunday morning, my weather app was being very sporadic; all week, it was showing light rain before 9am on Sunday, then dry for the rest of the day. However, at 11am, just an hour before our race, my weather app said it was currently dry, but it was, in fact, raining and raining quite hard, then stopping, then starting again, just a nightmare for tyre choice.
Around 30 minutes before the start of race two of the weekend, the rain actually seemed to stop, albeit a minimal amount was still coming down. However, we knew that the race before us would dry the track out enough for slick tyres, providing it didn't rain again. 90% of the grid had the same idea and, like us, switched onto and committed to slick tyres for the second race.
Perfect, so we made our way onto the track and into our grid slot before our warm-up laps, and, yeah, it started properly chucking it down like torrential rain as we were all sat there 30 seconds before the start of our two warm-up laps. With the knowledge that pretty much everybody is in the same boat, literally, I wasn't that bothered with the rain; I just knew I needed to thoroughly work my tyres on the warm-up laps to get as much temperature in them as possible.
When we gridded up to start the race, my plan changed from attack to simply staying on the circuit to finish in a decent position. However, once the race started, it was apparent that most of the grid had chosen the wrong tyre, as there were several casualties to a slick tyre in the wet, but thankfully, however, we were not one.
After the first lap, the safety car was deployed to clear away several cars that had found themselves in the gravel. Continuing to keep my tyres up to temperature throughout the safety car period, I was absolutely ready to go upon the restart. However, by this point, the rain had petty much stopped, allowing a dry line to develop and any wet running cars in the front pack to drop off with overheating tyres.
Despite a dry line, off line, there was still a lot of standing water, and any attempt to leave that grippy dry line would most likely result in a gravelly end to one's race. So with this in mind, I kept the car on line, on track, created a gap to the cars behind me and finished the race where I started, in respectable 12th place.
To be honest, this race was pretty null and void for the majority of drivers, who mostly finished around where they started. Still, for myself, p12 was a solid finish, but I'd be lying if I didn't say slightly frustrating, as I know I had the pace for a solid top ten finish; the weather just made this race a touch awkward for MINI Challenge as a whole.
With the third and final race scheduled for the last race of the day at 17:40, it became apparent that this race would be wet as we got closer to that time, completely opposite to what my weather app had predicted throughout the week prior.
Despite the weather making a turn for the worst, it very much didn't bother me as I don't have any issues with wet weather racing. Right back in my early days of karting, I was always, and have always been quick in very wet, tricky conditions. I guess it's a confidence thing, in terms of how much one believes in and trusts their car control, which is a lot in my case, let me tell you!
With the above in mind, I was very excited to have my first proper wet race in a JCW, starting in a strong position, 12th, where I finished in the previous race. I was planning on an aggressive, around the outside first lap while the others in front would be finding their feet in the tricky and slippery conditions.
However, I had an issue; as I started to make my way to the grid, after being sat in the car in the assembly area for 25 minutes in the pouring rain, I noticed a light dusting of condensation on the inside of my windscreen. Just before the warm-up laps started, this condensation was just about bearable, and I thought, the worst it would get. But, unfortunately, when we then came back round into our grid slots for the start of the race, the heat in the car had risen, and the condensation had worsened; it worsened so bad that I could barely see the starting lights.
When the race started, I did manage to get away, albeit not very well, as I had to react to all the other cars around me due to my visibility on the lights. I then managed to complete one full lap, pretty much wholly blind, until, at the end of lap two, I was forced to pit to have my screen cleared. When I pulled into the pits, my visibility was so poor I even struggled to see where the team was, it was terrible, and I think saying that I was frustrated was an understatement!
After my screen was cleared, I then went back out and rejoined the race, which at that time was under safety car due to a car stranded at the outside of Druids, the hairpin. After being behind the safety for a further three laps, my screen began to mist up again, and again I couldn't see anything, so I'd planned to come in at the end of that third lap to have it once again cleared.
However, unfortunately, the, what I would call novice backmarkers which I was behind due to having to pit, just randomly stopped on the racing line at Druids corner. From my understanding, I think there was a crane on track, and one of these inexperienced drivers panicked and stopped, which initially caused a car to run into the back of them, which then caused several cars essentially stop, which, yep, you guessed it, I couldn't see, until... I smashed into the back of one of them; that's how bad my visibility was.
Even as I type this out now, I'm getting sweaty palms of frustration. This type of thing, misting of the windscreen, is the responsibility of the team to ensure this doesn't happen, it's motorsport 001; when it's wet, the screen must be correctly and adequately treated to prevent misting. Believe me, this will never, ever happen again!
It's in the past, it happened, and that's it. Yes, there was a lot of damage to my car; pretty much everything from the bumper right up to the engine was smashed to pieces and needs replacing. However, despite an overwhelmingly frustrating end to this weekend of racing, we've actually had some very strong and consistent positives from Brands Hatch to take with us to Oulton Park in two weeks time.
I am a front runner, I have the pace to be at the front, and I will get myself onto those three steps, and that's that; I'll see you at Oulton!