MINI Challenge JCW Pre Oulton Park Report
Posted by BRADLEY GRAVETT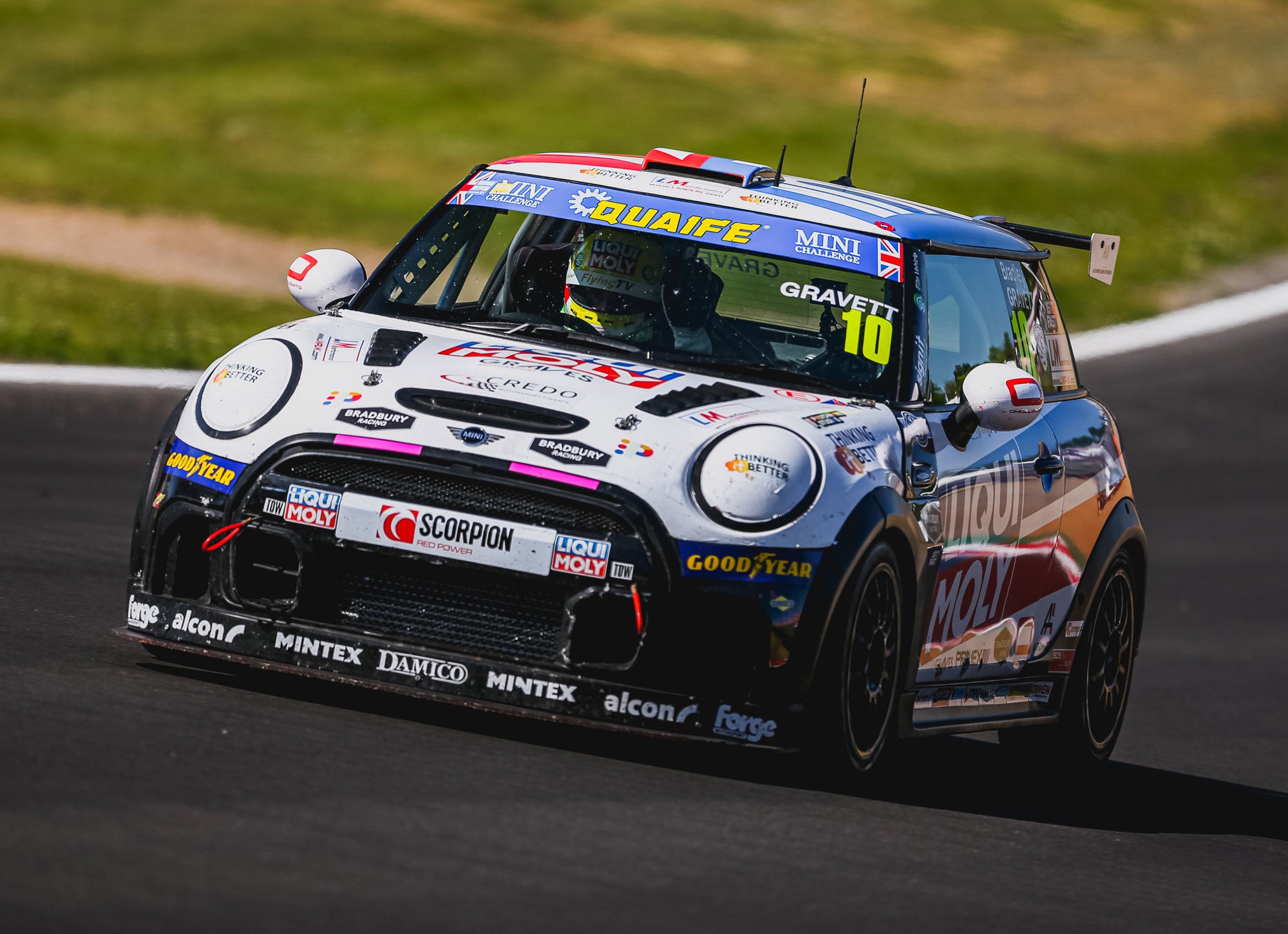 So it's race week for round three of the MINI Challenge, and this time we'll be heading on up north to the Cheshire based circuit, Oulton Park, which, as you may already know, is my favourite track on the British Touring Car calendar.
Oulton Park is absolutely stunning and by far one of the best-kept circuits I've ever visited. Of course, you only really fully appreciate all its glory when on a track walk and not doing 100mph, but I'd describe the track as top-end golf course beauty, with perfectly cut grass, hundreds of stunningly mature trees and actual flowing plant things. I've got to be honest; I'm not entirely au fait with my plant names, but I know when big flower things look nice! Anyway, with my completely inexperienced horticultural cap thrown off and over the hedge, let's talk motorsport!
So since the woes of that super wet race three at Brands Hatch a couple of weeks back, the team have been busy repairing and straightening my car. After watching the race back on ITV, the impact looked pretty uneventful, which it was, but it sadly did end up doing quite a lot of damage, which was both frustrating and expensive.
To be fair, the commentators were incredibly good to me, as, when the camera panned to my car, both commentators said 'it must have been impossible for me to see through my misty screen', which it was, and I appreciate their words on that, I'll have to thank them for that this weekend.
So since Brands, I've been busy with all my usual pre-race weekend prep, and by this, I mean simulator time. It's really interesting; when I fully committed to practising on the simulator earlier this year, it seemed to take me ages to get acclimatised to each circuit; however, it's now taking just a couple of sessions. I think this is partly down to simulator experience and understanding, but also down to the fact that I simply have more overall 'motorsport' experience in the way of seat time, which makes my daily simulator testing in my front room very valuable, and I genuinely learn things, which is pretty cool.
After spending many hours on the simulator at Oulton Park, I've managed to pick up on all the finer details of the circuit, so I'm now fully aware of where all the bumps, curbs and cambers are, and I've got a good understanding of how to maximise these to my advantage.
Oulton Park is incredibly undulating, and with that, it's essential, when trying to maximise a lap time, that all these undulations are known, understood and used with absolute confidence. This is especially important as many of these bumps are in the braking zones, making my track knowledge from both my real word racing and my simulator practice sessions incredibly valuable.
With the above in mind, I have also been sending my simulator footage to our team driver coach, who has always been incredibly helpful in providing feedback on where I can improve. By doing so, I have found consistent time improvements throughout my sessions, which I can apply to my real-world driving too. This is the first time I have ever spoken to my driver coach about my simulator time, and it's a fascinating dynamic, as we both treat it as real-world testing. By doing so, I firmly believe these improvements found on the simulator will bleed into my real race car driving.
As a side note on the simulator, when I now have a session on it, I fully immerse myself into the process and genuinely treat it as 'real-world driving. By doing so, as far as I am concerned, I've already done hundreds of pre-race weekend testing laps, and I am absolutely ready to go. So all I need is a couple of laps to dial myself in, in FP1, and once that's done, I'm 100% ready to go for qualifying Saturday morning.
On a slightly different note, I will, this weekend, also be taking delivery of my new Corbeau Pro-Seat custom moulded seat insert. Basically, this is a beaded custom body moulded seat liner designed to hold the driver in place better. Since I have been racing my JCW, I have always found the seat is a little big for me, meaning that I am moving around in the seat when cornering. This is never ideal, as this type of seat movement gives incorrect feedback to the driver (me) and forces the driver (again me) to have to grip the wheel tighter to support this body movement, causing unnecessary fatigue throughout a weekend, which I have had many times in the past.
My new Corbeau Pro-Seat insert, cast a couple of weeks back, will dial all the body movement out, allowing me to loosen off and relax more in the car so I can focus on going really rather quickly. I honestly believe there is 'time' in this, and I am incredibly excited to be trying this out this weekend.
One final note; Oulton Park, I believe, because of the local village always has a shorter racing schedule, meaning we only have Friday testing, qualifying and two races this weekend, as opposed to three races, as usual.