MINI Challenge JCW Post Oulton Park Race Report
Posted by BRADLEY GRAVETT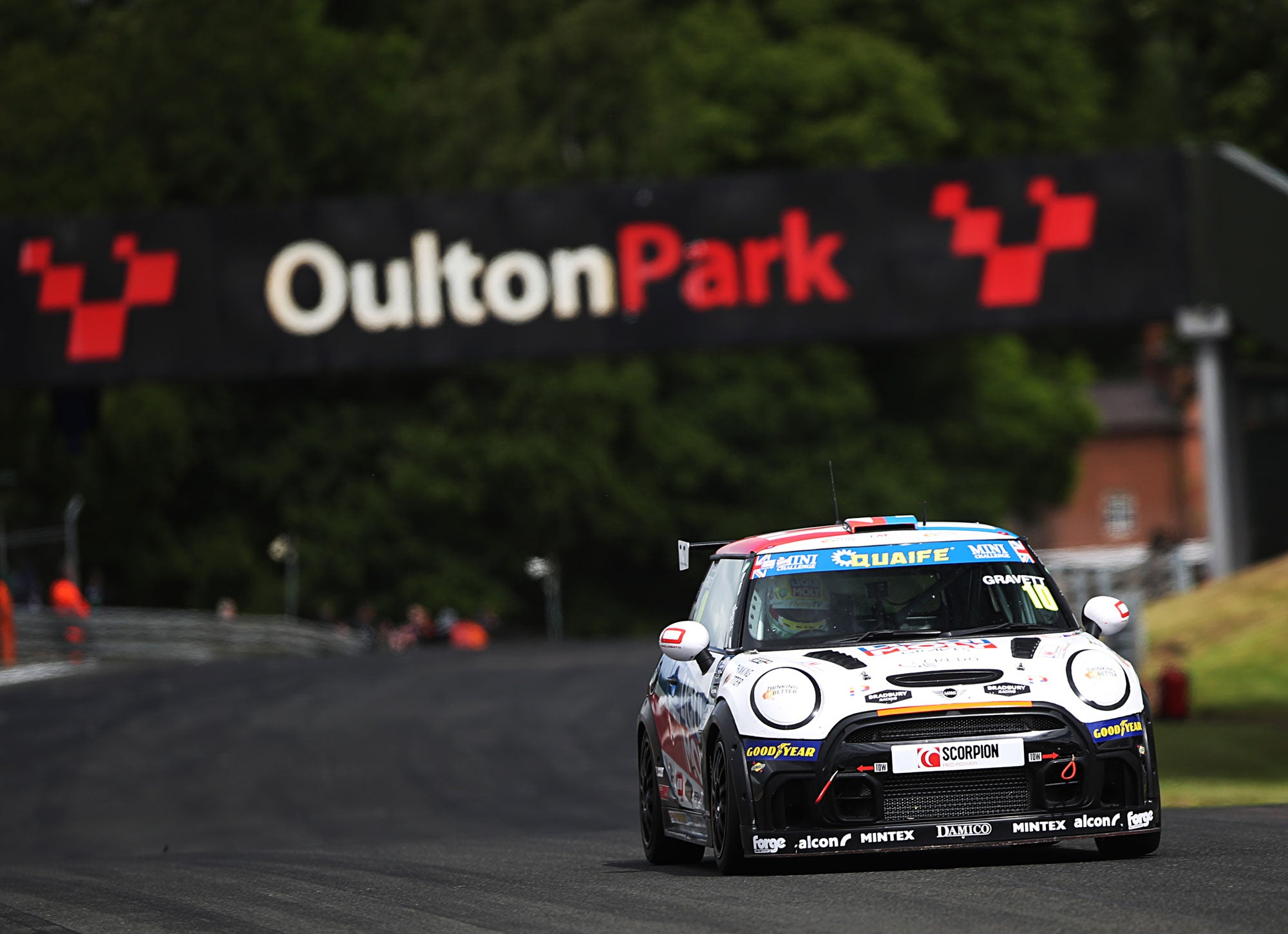 So Oulton Park, as you know, it just happened, and wow, did we have another blinding weekend of MINI Challenge racing.
Having now fully recovered from the frustrations of our DNF in the final race of the weekend at Brands Hatch a couple of weeks back, I went into Oulton Park with precisely the same positivity as I did at the start of the previous two rounds and boy, did it pay dividends.
As Oulton Park is around 180 miles away, we decided early last week that it would be best to get ourselves up and into the Oulton Park, Crewe area for Thursday, in good time, rather than super early Friday morning. This was actually a sagacious choice as it meant that I had a decent night's sleep Thursday evening and was fully refreshed for testing Friday morning.
All weekend, to be fair, the MINIs had an excellent timetable, and this included the Friday timings too, with our free practice one session starting at a relaxed 12:05. With this later start to the session, it allowed me to discuss the run plan for the day with my engineer, Lewis, while also allowing us to mull over setup ideas for the weekend. Our plan for FP1 was to set the car as it was for Donington as a starting point and then tweak onward from there.
So I jumped in the car for FP1, made my way to the assembly area, carried out my noise test then went out onto the track. Then pretty much as soon as we were released onto the track, the red flag was displayed for a stranded, spun-out car. So without even completing a single lap, we came back into the pits and waited for the track to be green flagged again. However, while waiting for the green light, I noticed a slight oil splattering on my windscreen, I mentioned it to the team, who, upon then removing the bonnet, found a split coolant pipe with coolant fluid sprayed all over the engine bay, nice, that was the end of my FP1 session right there!
What was most frustrating about this particular pipe is that it was brand new from Forge for this weekend, as the last one was damaged from the front-end impact I had in the final race at Brands Hatch. From our understanding, it looked like the split in the pipe was simply just a manufacturing defect, although it's not the first time I've seen one of these pipes split. Unfortunately, however, this pipe is a championship-controlled part that the entire field has to use, so we sadly can't source an alternative, and it has to be replaced with a like-for-like.
My mechanic Lewis did try to attempt to replace it so I could get back out for FP1, but sadly everything was just a touch too hot, and he was unable to replace it in this short window, so it was at that point we decided to commit to retiring the car from FP1. So I suppose it was a bit of a blessing that we came into the pits under that red flag and spotted the coolant leak, as this is the type of thing that could destroy an engine, but fortunately, my engine is still perfectly fine.
With a lack of running in FP1, we had absolutely no data, of course, to work with, not a single lap, so the only feedback that we had to work with was the information given to us from other drivers. But with everything we learned from the other drivers in the team, we still decided to leave the car with the original setup from the start of the weekend.
We always use the first part of our free practice sessions to bed in new brake pads, which takes around three laps to do, so at the start of FP2, that's precisely what I did, spent three laps bedding in a new set of brake pads. Then, on lap four, I returned to the pits to allow these new pads to cool and liaise with my engineer. But unfortunately, while sitting in the pits, the red flag came out again, and the session was halted for several minutes.
Once the track reopened, there was enough time for around seven laps of driving, so I went for it. Once I started pushing the car, I could feel it was working well. From all the practice I'd done on my simulator, I had spotted my braking, turning and accelerating points perfectly, and once the session had finished, I'd managed to get the car into P6. A fantastic result and the highest I'd ever been on outright pace in terms of lap time in this championship. To put this into context, I was on old tyres, we hadn't yet tweaked setups as I didn't complete FP1, I hadn't yet got my eye in, and this was the first time I'd driven Oulton Park in over a year; pretty mega I'd say!
Upon looking at the footage and data, it became apparent that I was generally struggling for all-round grip. Although, to be honest, it actually looked like I had an overall imbalance of grip across both axels, as in some corners I'd understeer, and in others, I'd oversteer, then on another lap, it would be completely different and very inconsistent. But this all made sense as I just had old random slick tyres on the car, which had come from various meetings, with each tyre having completed a different number of laps. We always use old tyres for Friday testing to keep our 'good' and 'new' tyres as sticky as possible for qualifying and racing.
With all the information from the footage and data, we concluded that the grip issues we faced were caused by old tyres and not necessarily a poor car setup. The trouble is, it's always tricky to make setup adjustments with old tyres on, as it's highly likely that the issues one faces with old rubber will completely change with new tyres. So with the above in mind, we didn't make any setup adjustments post FP2; our plan for qualifying the following day was to put two 'good' rear tyres and two brand new front tyres on the car and go.
With Oulton Park having a very pleasant timetable, qualifying didn't start until 11:45 on Saturday morning, which gave me plenty of time to arrive at the circuit, debrief with my engineer and ready up while still having a bit of a layin. Upon starting qualifying, I had to use the first three laps to bed in another set of new brake pads, which we usually wouldn't do, but because we didn't have the opportunity to do it in FP1 due to the coolant pipe break, we had no option but to.
Our run plan for qualifying was to go out on good, qualifying-ready rear tyres and old front tyres; the plan was to use the first three laps to bed in the new brake pads while also putting temperature into the rear tyres, which is just what we did. We didn't put new front tyres on during this stage as we didn't want to take the best out of these new tyres while bedding in brakes and warming up rears. Because the rears take a little longer to warm up as compared to the fronts, our idea is that if we can get the rears hot, then come into the pits and bolt new fronts on, we can get the best of both worlds; warm rear tyres with brand spanking new, super sticky, not overheated front tyres; a perfect recipe for a super-fast qualifying lap.
So after the three-lap warm-up period, we came into the pits, put new front tyres on and went to leave the pit lane, however, as I went to drive out of the pits, the exit light turned to red, and the session was red-flagged due to a car in the barrier at Druids out the back of the circuit. So I sat in the pit lane for around 15 minutes with all the other drivers while the marshals repaired the barrier.
Fortunately, I was the second car back in the pit lane exit, which meant when the circuit went green again, I wouldn't have any traffic in my way, mega! When the circuit went green, however, we had just 12 minutes left to set our lap, which equated to a total of about four flying laps.
The short story; this was my best qualifying to date in the MINI Challenge JCW series, and I qualified in p9. In fact, I was actually on a lap that was around 2.5 tenths quicker, which would have put me in about p5, but unfortunately, I bit a little too much off under braking into the Knickerbrook chicane, with a touch too much rear brake bias causing a small spin on entry and of cause writing off that lap. Still, I was delighted with p9 as we were right in the mix.
Post qualifying, looking at the footage and data, we could see that I still didn't have enough rear-end grip. A grip imbalance front to rear was what was causing this; simply put, because we had new front tyres on the car with already used but 'good' rear tyres, we had too much bite on the front with just not quite enough grip on the rear to support it. This caused the car to be snappy in the medium to high-speed corners, so stringing together such a quick lap, as I did, with such a loose car, was pretty impressive, even if I say so myself.
Race one was then later Saturday afternoon, at 16:50, so we had plenty of time to get the car ready for the race. However, because of the snappy oversteer we were experiencing in qualifying on newer tyres, we decided to make a rear suspension adjustment to minimise it. We made this adjustment as this oversteer was compromising my exit speeds going onto the back straight, which was worth a couple of extra tenths on my lap time.
Starting race one in p9 placed me on the inside on the 5th row of the grid, and at Oulton Park, it's extra vital to be nearer the front end when starting a race; this is because the further back you are, the steeper the hill is on the start-finish straight, but thankfully where I started, the track was dead level. So the race actually started reasonably well; I did have a bit of wheel spin off the start line, as I just had a tad too many revs, I did, however, also lose one place because of my start, which I then got back a couple of laps later by adding pressure to the car in front of me, who ended up making a mistake and running wide.
To be fair, the remainder of race one was pretty non-eventful, to be honest, as the lead pack, the pack I was in, didn't change much. This, I believe, is mainly down to how tricky it can be to overtake around Oulton Park. Despite this, I did manage to make up a place towards the latter stages of the race to finish in p8, which was another solid top 10 finish.
Once again, after the race had finished, we did our usual and looked at the data and footage. We noticed something very evident that I had already mentioned to the data team, which was why I simply could not catch the cars in front. To be clear, I wasn't losing to them, I just couldn't make up any ground against them, as I was struggling to get back to full power as early as I would have liked. When the data team looked at the footage, they could see that I now had just a touch too much rear-end grip caused by the changes we made to the car for this race. What was happening was that the super grippy rear end was now pushing the front into understeer in the medium to high-speed corners.
With the above in mind, for race two the following day, we made a further adjustment to the rear suspension to actually reduce the amount of grip on the rear of the chassis to help me with my mid-corner rotation, which should allow me to get back to full power sooner enabling me to gain an advantage on the other drivers.
Starting where we finished in p8 on Sunday for our second and final race of the weekend, I was now on the outside for the first corner, which actually isn't an issue, as an outside move is a definite possibility into turn one on the first lap at Oulton Park. On the warm-up lap, I made a conscious effort to really work my tyres, especially my fronts, to get as much heat in them as possible so they'd be extra sticky come the race start and the opening couple of laps.
My start for race two was far better; I almost managed to pass two cars into the first corner, but sadly, I couldn't quite get it done. We then went down into Cascades, turn two, and the heavens absolutely opened, it started chucking it down, it was raining so hard that I had my wipers on flat out. Then, into the hairpin, I was cautious to not out-brake myself in the wet conditions on slick tyres, which allowed a car to get alongside me on the left, under braking. Unfortunately, this move compromised my exit, allowing this car to overtake me into the entry of the Knickerbrook chicane. Although I was now in p8, I'd actually gained a place on lap one as another car had pulled into the pits on the formation lap.
For the remainder of the race, I got stuck behind another car which basically turned into the broadest thing Oulton Park had ever seen, by weaving, blocking and parking on apexes to prevent me from coming past. It was incredibly frustrating as I was far quicker, and we were both being slowed up, allowing the cars in front to drive away, but I simply couldn't overtake and believe me, I tried many times.
The silver lining, however, was that I had a massive amount of live ITV exposure throughout the race, as I was displaying the most excitement for the spectators, which is brilliant, as nothing was happening with the leaders in front and not much was happening behind us. I've always said; that if I can't win the race, the next best thing is to have the maximum amount of TV exposure possible, which is precisely what I had, mega!
Unfortunately, after spending the whole race both attacking the car in front of me while also defending the car behind me, on the second to last lap, I found myself in p8, but as we came out of the hairpin, the heavens once again fully opened, requiring our wipers to be on flat out, as I then went for the brakes into the chicane on the back straight, my wheels locked up as it was now properly wet and I had to go straight through the escape road. Unfortunately, this did lose me that place I so well defended against all race, but there was literally nothing I could have done about it. And, to be fair, about half the field did precisely the same thing as me, including both drivers in first and second, so this did make me feel a little better about myself.
I finished race two in P9, which was still an absolutely brilliant result, as it was a weekend of consistent top-ten finishes.
I now fully understand these JCWs and how to make them go quickly; It's just clicked with me, I feel my limitations in the car are caused by the car, and its setup, rather than my ability as a driver, the long and short of it is, if the car would go faster, I'd drive it faster. I felt at Oulton Park, I extracted as much out of the car as I could have, and I think by race two of the weekend, the setup was more or less spot on. The frustrating side to this is that if we had my race two setup in qualifying, I firmly believe I could have had a top-five qualifying position and possibly a podium or two over the weekend.
Moving forward, we need to be testing before a race weekend, not for me to learn the track, that's no longer necessary, we need to test to get our setup right, so come qualifying, we're there and ready to go.
It's as simple as this; I am now quick enough to win races, but we as a team just need to find a way to extract that little extra from the chassis to do it. We will get there, and that's that!
We've now got a six-week break until Knockhill, which gives me plenty of time to practice my Scottish dance on my simulator.