MINI Challenge JCW Post Donington Race Report
Posted by BRADLEY GRAVETT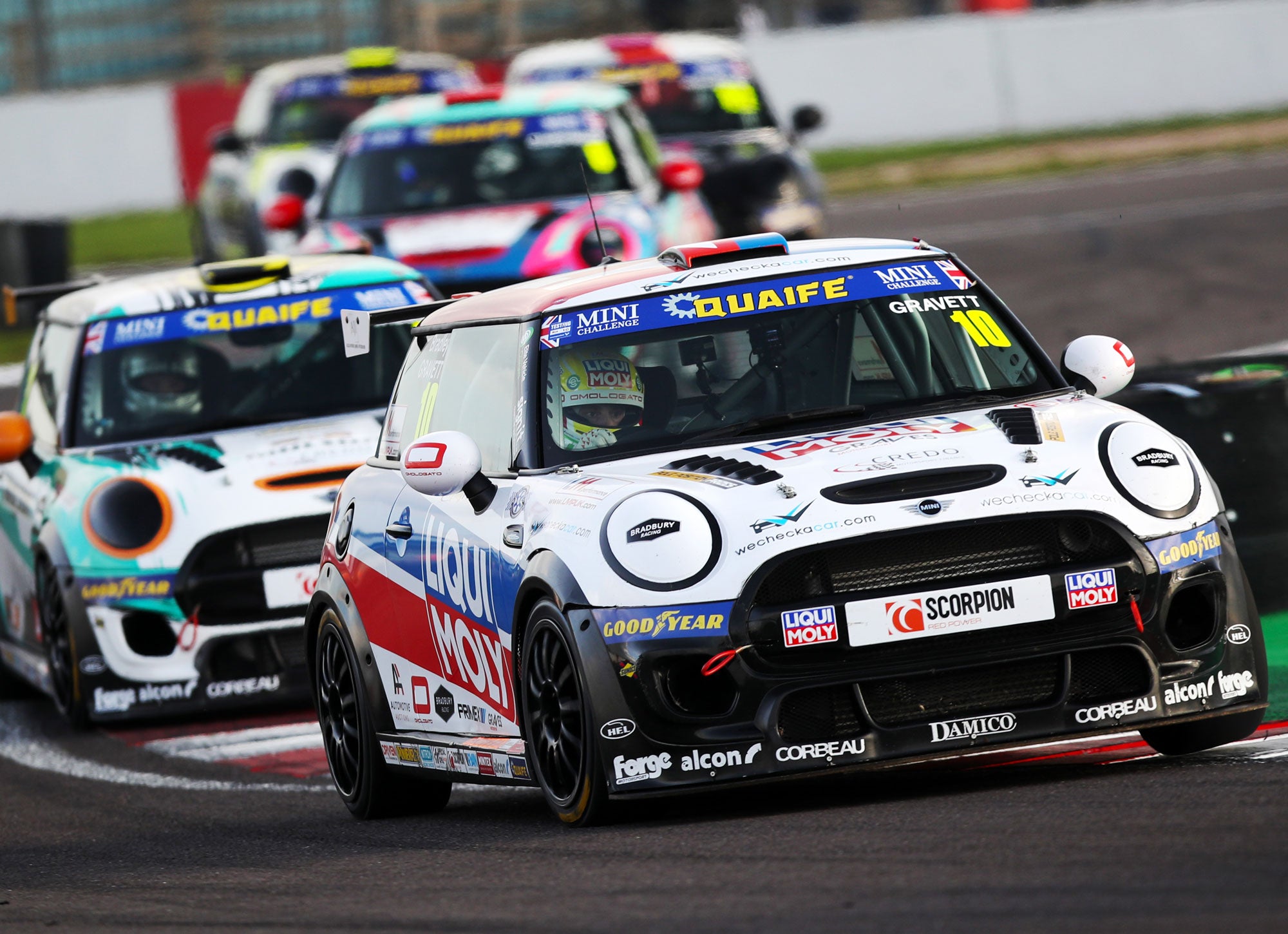 After a tricky race weekend at Knockhill two rounds ago, it was nice to have a strong result at Croft a couple of weeks back. The plan for Donington was to continue building on that momentum from Croft, which I am pleased to say is exactly what we did with solid, milestone progression throughout the weekend.
As you already know, Donington is one of my favourite circuits, and because of that, every time I go there, I feel on the front foot, which is a definite advantage for such a high-commitment track. So, we arrived at Donington early Friday morning to be pleasantly surprised with dry, relatively warm, sunny weather. With not a great deal of time to ready ourselves up, as we were the first test session of the day, I said "hello" to the boys, signed on, and got myself ready for free practice one at 9 am.
It's never ideal to be the first session out on Friday, as basically, you are the class that cleans up all the dirt, grit and grease that's pulled into the circuit between race meetings, mainly due to weather but also caused by service vehicle activity too. What makes it even worse at Donington is that the track is right under the takeoff and landing path of the runway of East Midlands airport; this means that the circuit gets caked in extra slippery aviation fuel, making that first session even more of a handful than it already would have been.
With all the above in mind, we can only work with what we have, and it's the same for everybody. But, all that aside, the session wasn't actually too bad, although it was very slippery. Being the first session out on such a 'green' track, matched with the first time I'd driven Donington in the JCW, and on very old tyres, I was cautious with the car as going off in FP1 was not an option. We were slightly off on our pace, but that was expected, being on such old tyres; in fact, the tyres were so old that come the end of FP1, the front left, the most used tyre around Donington, had worn through the rubber and onto the cords and was absolutely ready for the bin. However, considering the old tyres, my consistency and pace were very good.
After FP1, we debriefed with our new team driver coach and data engineer, Simon, who's working with both Max and myself, and we could see that both drivers were suffering from the same issues, fully expected as our cars are set up identically. We were both turning in slightly early as we were both driving around an oversteery rear end. After we identified this issue, we made some adjustments to the car to allow us to have more confidence in the chassis to enable us to turn in later and get back to full power sooner.
FP2 was a little later in the afternoon, which meant the track was much warmer and stickier from all the rubber laid down from the previous sessions. Knowing I'd have more grip in the car from the changes we'd made, I consciously started to turn in later and explore the grip levels the car now had. I immediately noticed that by turning in later, I could brake later, hit my apexes easier, carry more speed into the corner and get back to full power sooner; it was naturally opening up the corner and actually making my life easier.
So at the end of FP2, we drastically improved on our previous set time, and my consistency became even sharper. However, we were still off on pace, but again that was fully expected as our tyres were still ancient; in fact, the replacement front left tyre we put on the car also wore down to the cords after FP2, as it was also already quite an old tyre. However, we could see from the data that everything I was doing was correct; I just needed new boots in qualifying to go faster.
Qualifying Saturday morning; from our debrief from FP2 in testing, we decided to make a further change to the chassis to help the car better ride the curbs on the apex of the corners. It wasn't a drastic change, but a small change that would make the car feel slightly more compliant to help me carry more speed into my apexes; fortunately, it was a positive change that made the car feel even better.
Qualifying started very well, we first went out with four brand new tyres, and within several laps, I found myself teetering around 10th position, which was fantastic. So, after I didn't feel that the car would go any faster, I came in, allowed the car to cool, bolted on a new set of front tyres and had another stab at it. I had been pushed down to 17th position by this point, but I knew I had more time in me. So, with the clock ticking down, I went for my final flying lap, which was an absolute corker of a lap, and by the final chicane, I was around three tenths up, which would have placed me in around 8th position. Unfortunately, I kept thinking, "whatever you do, don't mess up the chicane", but of course, by overthinking it, that's precisely what I did. By the end of qualifying, I ended up 17, but was very happy, as I knew that if I had successfully completed 'that' lap, I'd have been in the top ten for sure, and because of this, I knew I could quickly move forward in race one later that day.
After qualifying, we debriefed and decided to make minor adjustments to the car to further assist it in riding the apex curbs. So, I gridded up for race one, had my green flag lap to warm the tyres up and slotted the car back into my grid position to start the race. As the five-second board came out, the lights went red, so I started revving the car; as the lights switched out, I dropped the clutch and embarrassingly, and unfortunately, stalled the car, yeah, not my usual start, as I usually am very good with my starts. Fortunately, I knew exactly what I had done, so I managed to get it started and go again immediately, but sadly, I was right at the back of the pack. I think the word frustration was an understatement, but to be fair, I drove the first couple of laps like other cars were in a slower class; I passed several cars on the opening laps and throughout the remainder of that race to end up finishing 21st. This wasn't what I expected, but considering I started last, which was about 30th, I don't think this was too bad a result.
Stalling that car at the start is not something I plan to do again. As I said above, I am usually very good with my starts, and if I don't pass at least one car from my start, that's unusual. As much as I want to point the finger at something or someone else, I can't, this one is totally on me, and I hold my hands up. There's one thing that could have added to why it happened; we adjusted the way the gear shift lights work, so possibly that could have subconsciously affected how many reves I was giving the car, as the lights on the dash were different to what I'd usually see. I think this error happens at least once in every driver's career; the lesson is, don't let it happen again.
Race two Sunday morning; from our race one footage, in our debrief, we noticed that the front tyres were losing grip and starting to cause understeer around 15 minutes into the race. So, before race two, we made further adjustments to the car to help stabilise and improve this grip issue in the front tyres in the race's latter stages. Race two started very well, and I managed to get a solid start off the line, passing several cars into the first corner. I was consistently overtaking throughout laps one and two; then, on lap three, I managed to get a run on a car up the hill and into Mcleans, the right-hander for P14. I managed to get alongside in the braking zone, and as far as the other driver and I were concerned, the move was completed. However, as I turned into that right-hander on the inside of the tarmac and lent onto the rear left tyre, the whole car aggressively snatched into oversteer and sent me sideways across and into the edge of the circuit. Sadly, some oily fluid was being dropped by a car further up the pack that I somehow managed to find and brush across while making my move. It wasn't just me who was affected by this, other drivers were also having issues here; the only silver lining is it was a fantastic save!
During the race, I didn't know it was oil causing this issue; I actually thought I had a problem with the car, and because of that, I was a little tentative with it throughout the remainder of the race. In the car, I just assumed whatever we'd changed, we'd gone too far. However, when we looked back at the footage after the race, it was evident and apparent that it was just that corner, as I continued to have an oversteer issue at that bend throughout the remainder of the race. I finished race two in 19th position, but I believe I'd have finished in the top ten with the pace I had in the earlier laps of the race, but hey, that's racing.
Starting race three in 19th later that day wasn't ideal, as I was out of the top ten and therefore not involved in the reverse grid, but I, unfortunately, had to work with what I had. Also, race three was our televised race of the weekend, so starting outside the top ten wasn't ideal as drivers try to be heroes in front of the cameras, which is generally seen in the mid-pack. And, on the first lap, that's precisely what a bunch of drivers tried to do, be heroes, with about four cars firing themselves off and burying themselves into the gravel, forcing the safety car to come out while these cars and debris were cleared. Fortunately, despite all the carnage, I wasn't involved, which meant my race carried on as usual. However, we spent quite a bit of time behind the safety car while everything was cleaned up, and we were left about 8 minutes of racing once it was all good to go again, which was frustrating but not unexpected for our televised race.
I was very quick in race three; with the new setup on the car and some simple yet very effective tweaks to my driving style, I was very much able to catch, attack, and overtake other, front running cars who also found themselves in the mid-pack due to their own issues throughout the weekend. Unfortunately, because of a lack of time left in the race, I could only push the car up to p17. However, the front running car of the pack of cars I caught up with was p9; this means that had I a little more time in the race, I could have comfortably finished close to, if not in the top 10, mega!
Despite my unfortunate luck over the weekend, I very much feel that something just clicked with me at Donington with what I need to not only do in a front-wheel-drive car, but what I need to do in the MINI. I feel this is the first time this year that I've gone quickly and known precisely why that is. Not only that, but I feel confident about what I need to do to get this quirky little car going very quickly, it's just become obvious, and that's very exciting not only for the final round at Brands Hatch this weekend but for next year too.