MINI Challenge JCW Pre Donington Report
Posted by BRADLEY GRAVETT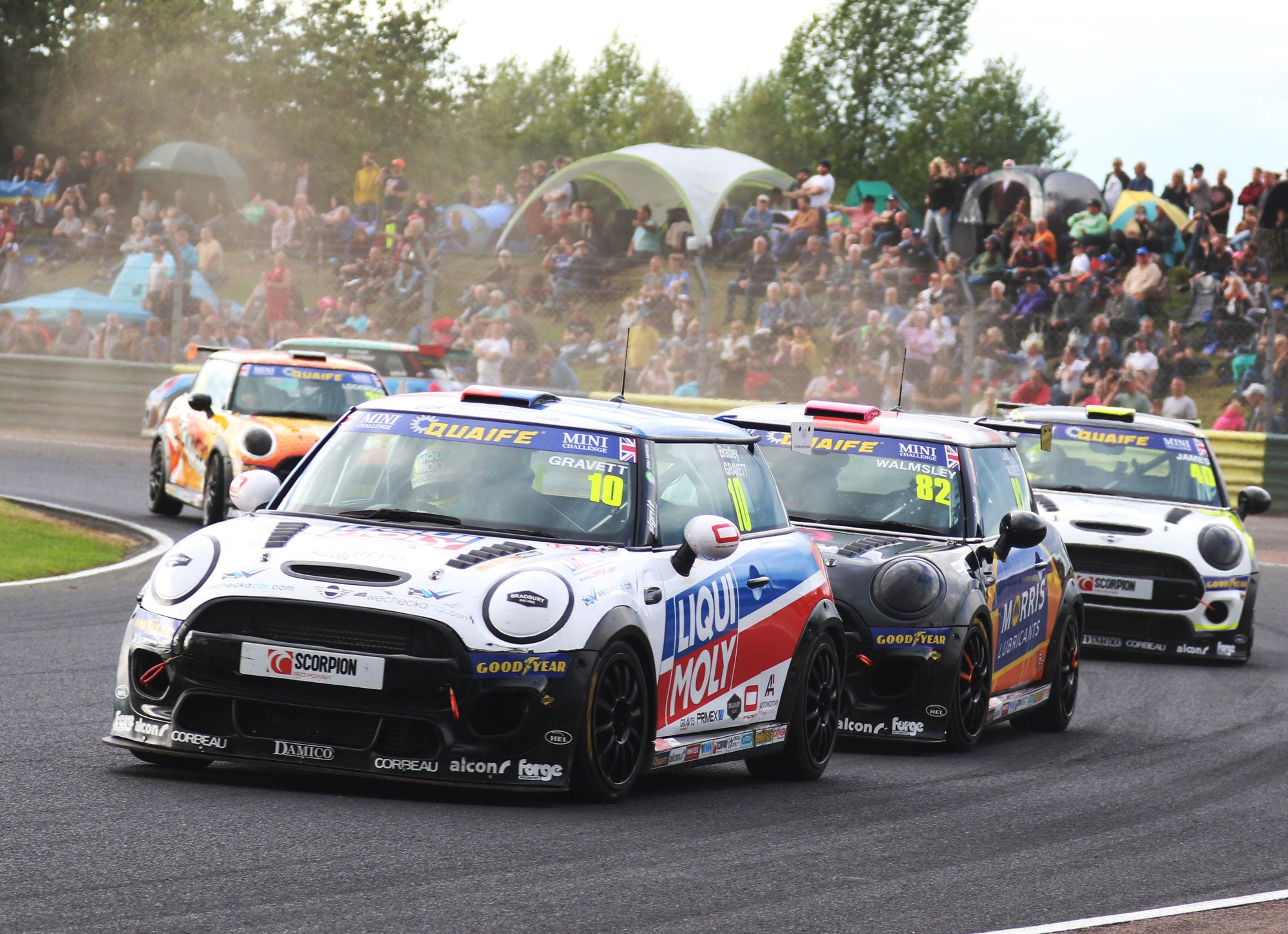 Autumn's an odd but equally a beautiful time of year, just as long as you try and minimise the amount of time you spend walking under conker trees. These should definitely come with a warning sign, as I almost got hit by a falling conker, walking past one the other day, crazy!
Anyway, peeling swiftly away from my horticulturist fascinations, it's race week, again, and the penultimate round of the MINI Challenge JCW Championship, which is at Donington Park this coming weekend. I can't believe how quickly this season has gone, it only felt like yesterday we were gearing up for the official tyre test, back at Snetterton in May, with October actually being the final month for MINI Challenge and BTCC racing all year, sad times.
I have raced at Donington before, in the Cooper car last year in December, which was a very odd time of year to be driving a race car, as we had to be cautious of black ice in the earlier sessions of the day; it definitely wasn't an ideal time of year to be driving a race car in. Nevertheless, it was actually my best race weekend of the year, with a solid sixth-place finish in the final race, climbing up, from memory, from 18th place, which the team and myself were delighted with; it was a very strong end to the season.
I hadn't tested at Donington before that race weekend, and FP1 on Friday morning was the first time I'd driven the track, and I was pretty much up there on pace more or less right away. Something about Donington just clicked with me, I don't know what it was, but I happily took it.
With the positivity from the final time I drove the track in the Cooper car last year, matched with the positivity from the great result we had at the Croft round a couple of weeks ago, I have every reason to go into Donington with a bucket load of confidence. Of course, I appreciate that the JCW will require a little more finesse compared to the Cooper car, but from what I have learnt from the previous five race weekends, I feel confident in knowing what I need to do with the JCW to hustle it around Donington, hopefully, quick enough to be within the top ten.
I've been keeping, as always, a close eye on the weather app on my phone over the past couple of days to try and predict what the weather's going to be like over the weekend. It looks like it will be dry but overcast, with the potential for possibly some wet spells throughout the weekend. I'd actually like it to be a wet weekend, as I am pretty fast in the wet, but if I am honest, I think it's going to be a dry one, and with that, at least I'll keep the suede race boots dry.
In terms of setup for the weekend, from all the positive changes we made at Croft and how the car reacted to these changes, I think we'll set off from where we left off. The Croft setup gave the car an excellent balance and a stable and predictable rear end, an absolutely essential confidence-boosting necessary for when hailing down, flat out through the Craner Curves at 100mph and into the Old Hairpin.
This weekend's timing is a little different to normal, I believe, because of noise, the test day is on Thursday and not Friday; in fact, no race engines are allowed to run on Friday at all. A little odd, but I suppose when you buy a house next to East Midlands Airport and Donington Park race track, you weren't expecting to hear any noise from either on Fridays, hmm.
As usual, we'll be focusing heavily on getting a good qualifying position Saturday morning. I'm aiming to be in the top ten in qualifying, as it's clear that if you keep your nose clean in the race, you usually finish plus or minus five places from the position you qualified in. And, if we can finish in the top ten in either race one or two, we'll be in the draw for the reverse grid for the following race.