MINI Challenge JCW Post Donington Race Report
Posted by BRADLEY GRAVETT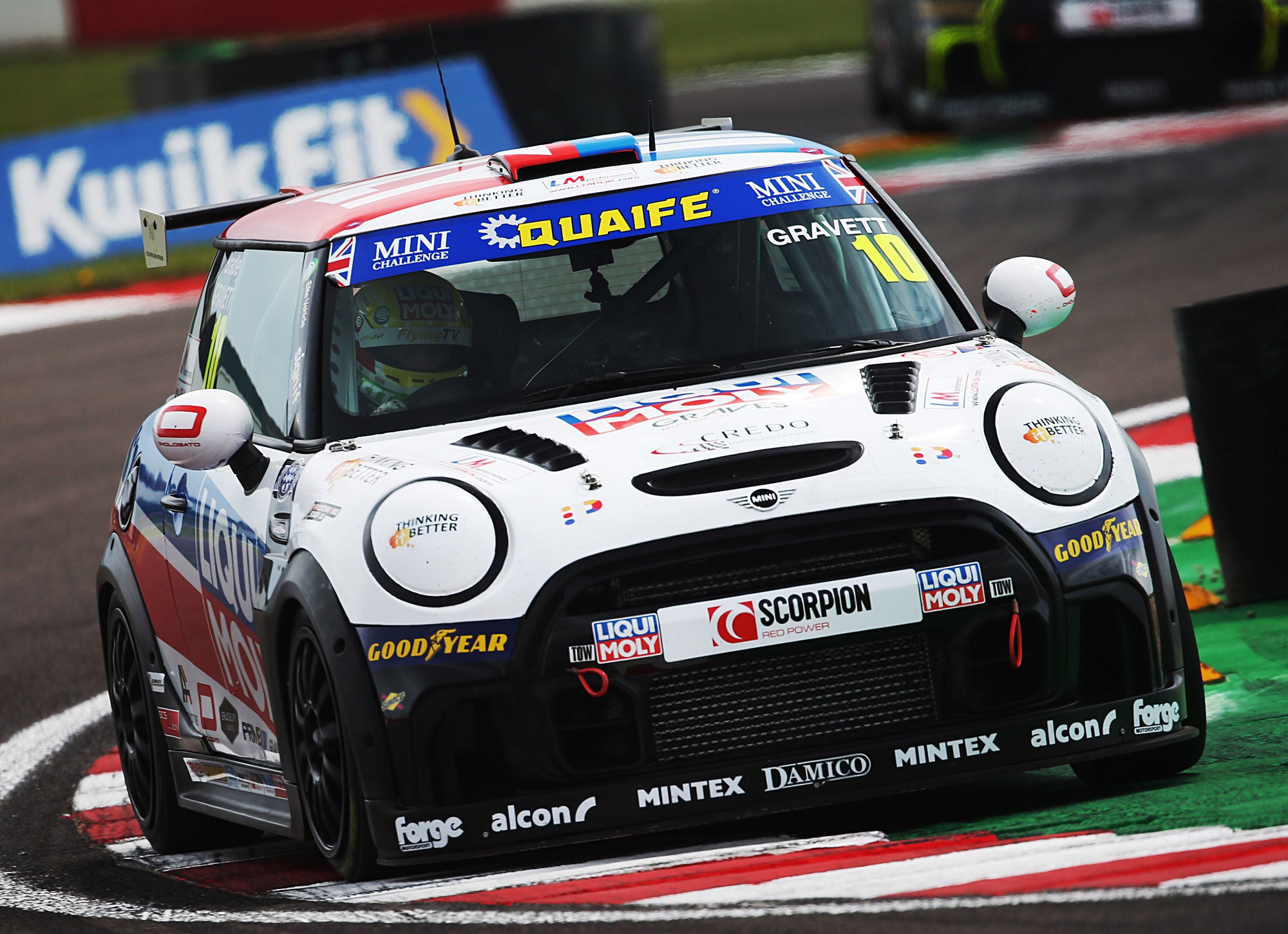 So the first round of the 2022 MINI Challenge JCW series at Donington Park is done and dusted, and wow, wow, WOW, did we have an epic weekend!
As I've mentioned many times in the past, Donington Park, which is attached to the East Midlands Airport, has a Friday noise curfew. This is to manage noise for all the locals who purchased houses next to a race track and a busy airport, so our Friday testing for Donington is always on Thursday.
So, we arrived early Thursday morning, as our first test session was at 9:50 am, the second overall session of the day. We were supposed to be the first session of the day at 9 am, but MINI managed to get the session pushed back slightly later, so the teams had a little extra time to get all the championship stickers on the cars, which we all received that morning.
I was pretty pleased we were the second session out, to be honest, as the first session of the day at Donington is always a bit of a nightmare. It's because of the number of planes that regularly fly over the track to take off and land, as they tend to drop a whole load of slippery aviation fuel on the track, and it's always the first session that has to clear it away.
FP1, yeah, it was alright to be honest; it was the first time I'd driven the car, on the new tyres, with the new turbo system on a stopwatch, so as planned, I was always going to use that session to get my eye in, which is precisely what I did. Oh yeah, I forgot to mention that these MINIs now have wastegate valves, so there's plenty of turbo wishing to be enjoyed by all.
Having spent hours on the simulator, I didn't really need to use FP1 to learn the track; It was more for me to get back into it after a very long time away from the car. And, after the session, being in 17th, I wasn't too disappointed, especially as we all had to wait in the pits for 15 minutes under a red flag so the marshals could remove a car from the gravel.
After FP1, there were two things I wanted to look at; one was that the car felt a little loose on the rear in the mid to high-speed corners, and the other was a strange noise coming from the gearbox. So after a bit of deliberation, we addressed the loose rear end with a front suspension setup change, which we were confident would resolve the loose back end. The team then evaluated the gearbox noise and concluded it wasn't an issue... unfortunately they were wrong on the latter.
FP2, yeah... it kind of didn't happen, five laps in during bedding in some new brake pads, the gearbox popped at the end of the straight, and that was that. On inspection later that day, after the gearbox was entirely stripped apart, we found that the 6th gear had cracked into three pieces and navigated its shrapnel around the box, chewing everything in its path. It's a shame, as I did notify the team about the unusual noise, which preferably should have been inspected in more detail, but either way, FP2 didn't and wouldn't have happened. The silver lining; is that this happened in testing and not qualifying or one of the races.
Also, the other silver lining was that this happened at Thursday lunchtime, which gave the team plenty of time Thursday evening and all day on Friday to strip and rebuild the box. And believe me, there was so much scrap metal; our gearbox guy said it was the worst break he'd ever seen and put it down to a manufacturing fault with 6th gear, so we'll see how this one pans out with Quaife.
But, all the above aside, that was the end of testing, and my next session would be qualifying two days later on Saturday morning.
It's always odd being back at home Friday on a race weekend. Still, it allowed me to jump back into the simulator to adjust a couple of elements of my driving, advised after FP1 to see what it did to my lap pace, which was indeed very helpful. However, it was a little tricky to refrain from getting frustrated about my gearbox issues from testing, so I focused on what I thought I could improve about myself and my driving rather than getting frustrated about something totally out of my control.
Qualifying Saturday morning; qualifying has been a huge focal point for my pre-season planning. As you already know, qualifying is super important and, without question, one of the main factors that helps one achieve in a one-make championship like this one. Having practised qualifying runs on the simulator, I quickly learnt that a fast qualifying lap on new tyres must be completed within five laps, as any attempts later than that are past the best and most grippy time for a new tyre.
My qualifying run started on four used tyres, still relatively new but used and past their best. We planned to put in a banker lap on these used tyres, then come in for new front tyres and have another pop with fresh rubber with the rears already nice and warm and ready to go. So, after we came in, switched to new fronts, and went out to set a lap, I was floating around 9th position for most of the session, which was brilliant.
However, by the end of the session, I managed to qualify 13th, just eight-tenths of a second off pole and just behind last year's champion Dan Zelos. This was a mega result considering my limited amount of pre-season and Thursday testing track time and one of my best qualifying sessions in a JCW to date.
Race one Saturday afternoon, the long and short of it, this was my first top 10 finish in a JCW, we finished 8th from starting in 13th, I mean yeah, I was as quick as any other front runner in this race. So, it started very well, and I had a great drive off the line; on the first lap, there were a couple of incidents in front of me that I wisely and thankfully didn't get involved with, which allowed me free positions, that I very happily snatched, thank you very much.
The racing post the first couple of laps, in all honesty, was a little non-eventful. I spent most of it dicing with Dan Zelos for 6th position, where three laps from the end cost us both a place, as it allowed a trailing car to pass us while we were messing around defending and attacking. But, I must be honest, I was so happy with an 8th place finish, as I spent all last year shooting for top tens, and we did it in the first race of the season this year; it was an absolutely fantastic feeling!
After debriefing post-race one, looking at both the in-car footage and the data, it was clear that I had to pace to be faster and to be honest, it looked like Zelos, last year's champion, was actually holding me up. So the conclusion for the debrief was that I just needed to attack a little more, as all my lines, braking points, turning points, and throttle points were spot on; I just required a bit more aggression.
To tell you the truth, during race one, I was delighted with my position, and I didn't want to make any silly mistakes to try and get another place, which could have led to an early end to my race or a massive loss in positions, which I still stand by today, and I still believe the correct call at the time. However, I also think that I didn't quite believe how much pace I really had; I think, because of how we did last year, I felt slightly out of position, and therefore this result would be a brilliant confidence booster not only for the rest of the weekend but for the rest of the season too.
In hindsight, the conclusion of race one is that I've clearly got the pace to be right at the front and win races... Believe me, I slept very well that night!
Our second race, race two, was the first race of the day Sunday morning, and to be fair, the weather was actually quite warm for that time of day. Starting in 8th position, where we finished in race one, I managed to again get off the line very well and had a solid start, although, in the early stages of the race, I felt like the front tyres were not working very well for me. I thought I was overworking them at the time, so I slightly backed off to help maintain what I thought was a tyre overheating issue. I was wrong on that, but more on this later.
Halfway through this race, the safety car was deployed for several minutes to remove a stranded car from the gravel. Unfortunately, after the race restarted, I lost another position until a red flag prematurely ended the race a couple of minutes before its planned end.
I finished in 10th in race two, and although I did lose two places, this was again my second top ten finish in this championship. After the race, I did feel a tad confused as to why the front tyres were not working that well for me, which fundamentally was the cause of my loss of position. However, after looking at my race data and onboard footage, my driving looked good, and it wasn't much different from race one, so we started asking questions about what caused the loss of grip.
Upon inspection, my lead engineer found a partially split coolant pipe on the left side of the car; this pipe with throwing slippery coolant fluid all over my left front tyre, we think, throughout the entire race. And this was why the car felt like it didn't quite have the snappiness it did in race one.
Thankfully the pipe didn't fully split, and there was absolutely no damage to the engine or anything like that. So to still get a top ten finish with this issue, I thought was pretty good going.
So, race three, the famous race three, yeah, I am still fully on cloud nine about this race... the long and short of it, I almost had a second-place finish, and if there was more time left in the race, I think there could have been the possibility to go on and get a win, absolutely incredible!
I didn't finish in the top six in race two, so I wasn't eligible for the reverse grid in race three. So basically, I'd be starting from where I finished in the previous race, which was 10th in this case.
Once again, I started very well; I didn't actually gain any places at the start; however, I just managed to hold my position until everything sorted itself out post the first corner. I then continued to hold my position for the remainder of the first lap until the back straight, when an absolutely mega drive out of Coppice corner allowed me to steam past two cars on the straight along with another one into the final chicane, p7 at the end of the first lap, thank you very much!
I then spent the next lap catching up with the lead pack and the following four laps, again dicing with last year's champion, who happens to be an excellent defensive driver. But with evidently more pace, I managed to dive a move up the inside into McLean's to continue my hunt chasing the lead pack. Later that lap, however, the safety car was deployed for around 7 minutes to clear away a crashed car.
When the safety car came in, I managed to get a solid restart, being around a car length behind the next car. Currently, in p6, I was very cautious not to make a silly error, so I was driving with a bit of carefulness until two laps into the restart, an opportunity presented itself which allowed me to make a move into the Old Hairpin for p5.
At this point, I was about 12 car lengths away from the lead pack, but within three corners, I'd managed to catch them up under braking; by the end of this lap, I then somehow managed the drive of a lifetime out of the final chicane which allowed me to get past two cars into the first corner. At this point, I was in p3, with a bit of a gap behind me to the following cars. Then for the remainder of this lap, I managed to force the car in p2 into heavily defensive driving. Then, at the end of this lap, I had another fantastic drive out of Coppice corner, allowing me alongside, on the outside, on the brakes into the final chicane challenging for p2. Unfortunately, when I went for the brakes, the rear tyres locked up, and I just missed my apex, allowing several cars back past me into the first corner.
That wasn't it, though, another two laps were remaining, and with some incredibly close, brave and trusting driving from all involved drivers, including myself, the MINI Challenge produced what I would go as far to say were the best final two laps of any race I've ever seen. Which finally saw me finish in 7th position, just car lengths away from a podium.
Race three at Donington park was by far the best race I've ever had and a race I needed to boost my confidence. I have always known that I've had the ability and skill to be at the front, but I have never actually managed to prove it until now.
It's pretty clear that I have the pace to be right at the front, which bodes incredibly well for Brands Hatch in a couple of weeks and my championship race. So I've managed to get myself to the front, and I am 100% here to stay!
I'll leave a link to the ITV race below, which I highly recommend you watch, as it's been dubbed the 'Bradley Gravett show' as the amount of TV time I had was absolutely insane, as two-thirds of the race featured me, which is pretty cool. But it's not just that; the amount of support I have received off the back of this televised race is incredible, literally hundreds of people messaging me with their comments of support, which is absolutely amazing.