MINI Challenge JCW Post Oulton Park Test Report
Posted by BRADLEY GRAVETT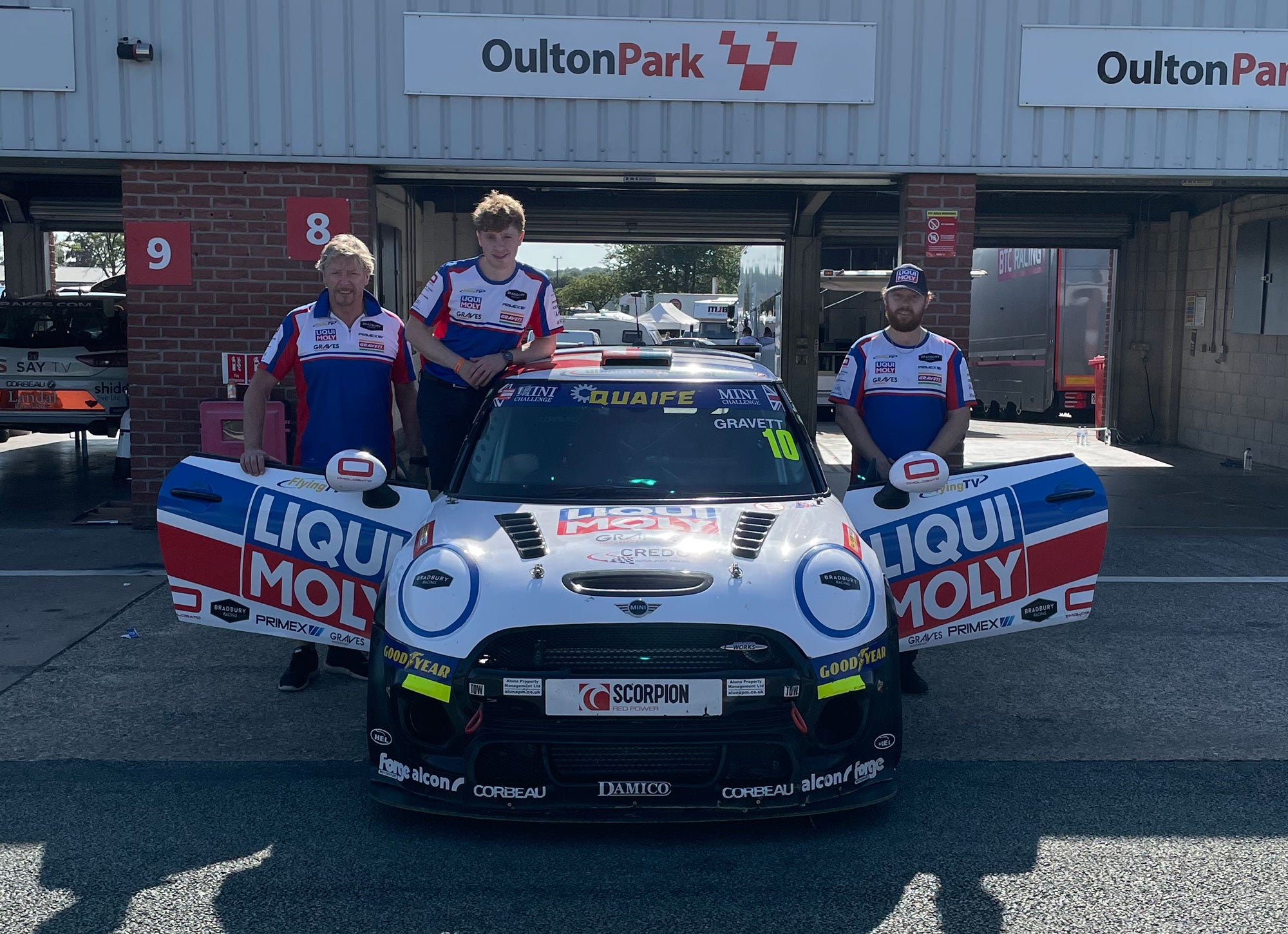 Oulton Park, well, I have to say that overall, we're all very pleased with how it went and what we learned. As you know, we were very much treating this day as a true 'test day' to allow us the opportunity to make some dramatic setup adjustments to the car to see what it does, and that's precisely what we did, and we learnt some interesting things along the way.
Despite Oulton Park being around a 3-hour drive, we decided that we didn't fancy a night in a Travel Lodge on the Thursday night and concluded that driving up at 5:00 AM Friday morning was the better option, hmm. However, to my surprise, I felt pretty energised all day despite a lack of sleep.
With our first session being at 9:30 AM, the team had arrived late the night before to make sure everything was set up and ready to go for the first outing. We decided to make some quite heavy adjustments to the car's front end for this session to see again what it did. We're only allowed four new slicks on a test day, so we went out with two brand new tyres on the front and used tyres on the rear. The car didn't feel good at all, the adjustments we'd made in this session made the car feel like it was wandering around, and I didn't feel comfortable committing, so I didn't.
After the first session, we moved all the setup changes around to try something different. For session two, we made adjustments to both the front and rear of the car, which wasn't far off the setup we ran at Snetterton for the first race weekend. Despite still not feeling quite right, the car progressively went faster than it did in session one, and we were able to tick off a couple of other changes that weren't ideally suited to the chassis that we wanted to try.
Session three was probably the best session of the day, so in this one, we put the car to exactly how it was at Snetterton, at the first weekend when it ran very well. So after about five laps into this session, I came in to get the last two allowed tyres to put them on the front; four laps later, the car was right on the pace of other front runners that were there testing on the same day, super, because that's exactly what we wanted to achieve in terms of times.
For the final session of the day, we decided not to make any further changes to the car except to check that all the wheels were still pointing in the same direction; interestingly, we found that the tracking was slightly out on one of the front wheels, but more on that later. The plan for session four was simple, go quickly for as long as possible; race simulation, qualifying simulation, something like that. However, I couldn't make the car go any faster.
Interestingly, when we finished the final session, we came in and strung the car up to check the tracking; and both front wheels were bent, despite ensuring they were straight before the session started. What was most interesting about this is that I hadn't hit anything to bend them, which means they bent by themselves. So this tells us that there is something not quite right on the front end of the car that is causing something to move; what? We don't exactly know yet, but we'll find it.
This also explains why I struggled with my setup at Brands Hatch last time out and why the 'Snetterton' setup didn't work because no matter what configuration we put on the car, a handful of laps into a race, it would completely change, by itself due to whatever's causing the bending to happen.
We're pleased to identify an area for the team to look into before the Oulton Park meeting at the end of this month. The team will now completely strip down the car's front end, put it back together, and replace any required parts causing this issue as they go.
If we didn't test the car last week, we wouldn't have identified these areas that we need to look into. As a driver, I am incredibly pleased this has now been found and will be rectified, ready for what's going to be a very, very interesting race weekend at the end of this month.