MINI Challenge JCW Post Silverstone Test and Pre Silverstone Report
Posted by BRADLEY GRAVETT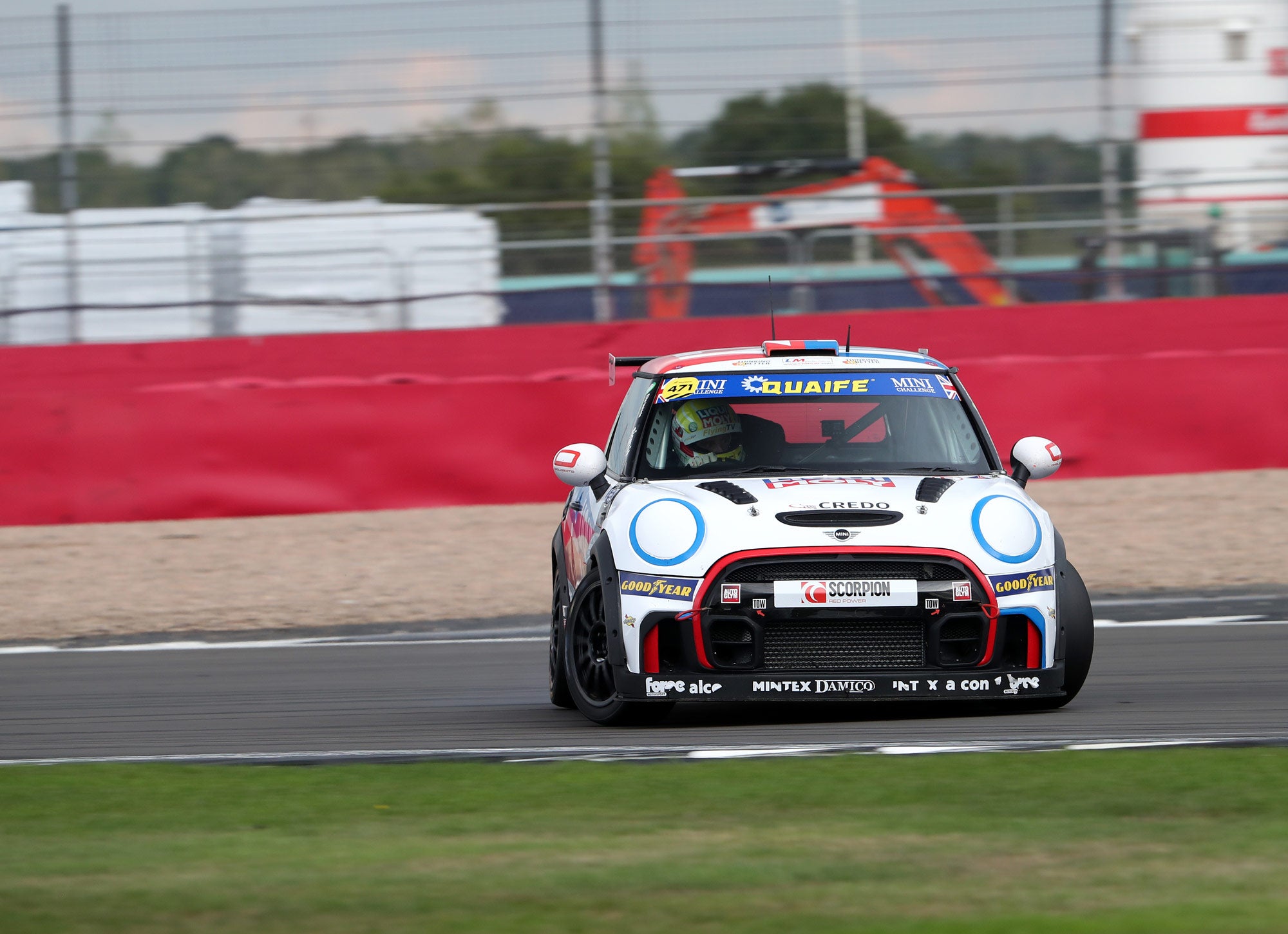 Being back at the home of British Formula 1, Silverstone is always such a great pleasure whether I am driving it or not; I always love visiting the track. Unlike any other circuit on the BTCC calendar, Silverstone has something other tracks simply don't offer, it's just different and has this unique feel of being cleaner, newer, bigger, and better than the rest, no offence other tracks, I like you all too, but for different reasons!
I think it's most likely the vast amount of money being ploughed into the venue each year so the track can support the high demands and requirements circuits have to meet to host Formula 1. And, on the topic of F1, the last time I visited Silverstone was back at the British Grand Prix earlier in the year, in July, and it feels very special to be driving on the same tarmac that I watched the F1 on earlier in the year.
Anyway, enough of my F1 fanboy chat; the reason I am writing this article is, of course, to update you on how we got on at our pre-round 6 Silverstone test day yesterday, which was also my first time out with EXCELR8 Motorsport.
The purpose of our test day was not only to get some invaluable laps in before Silverstone this coming weekend but also to meet the new team, which was, for sure, a great pleasure. First off, right from the moment I walked into the garage, it was a completely different feeling from what I've experienced before from a race team. I could feel a raw sense of positivity oozing from each member, and everything immediately just felt right, like I'd been there all year. On top of all that, everybody made me feel so very welcome, which was brilliant as I instantly felt relaxed, which was fantastic. Of course, having been around the MINIs for the past two seasons, there were some familiar faces I recognised, and it was great to meet all those people properly.
But, from a team personal and operations perspective, the way EXCELR8 manage everything is precisely how it 'should' be done, and I mean in every single way. So, to summarise, I would describe the way the team operates as unbelievable, they are, for sure, one of, if not the most professional teams in the paddock, in every way, which is all credit to every member. And, I've seen all this on my first day, on a test day; I can't wait to see them in full swing this weekend, where I just know it's going to be even better.
So the actual test day, how did we get on? Well, in a sentence, we made some exciting improvements every session, and we were there or thereabouts throughout the day in terms of time.
With the amount of experience EXCELR8 has with a MINI Challenge race car, I was very interested and excited to get to know how they set up their cars because the fact is, EXCELR8 simply know how these cars need to be set up, full stop. For me, this is great, as in the past, with the last team, we've been chasing our tail most weekends, too, by race three, finally get the setup close to where we needed it to be, by which point it's too late in the weekend. But, with EXCELR8 knowing exactly where the setup needs to be, minus, of course, a few minimal individual driver tweaks, I'm now able to hit the ground running from FP1 at the start of the weekend, which is precisely what we did from the start in Tuesday's test.
With the test day split into five 30-minute sessions, I had plenty of time to dial myself into Silverstone once again, and get used to EXCELR8s MINI Challenge setup, all while shaking down the car to check everything was tight and working correctly; which we did during the three morning sessions.
From the moment I drove the car, there was a clear and noticeable difference from how it had handled in the past, and overall I would say that it was a far more direct and compliant car; in plain English, the car basically did everything I expected it and wanted it to do.
As the day progressed, after each session, we looked through the data and footage and made minor tweaks to the setup to get the car closer to where I needed it to be for my driving style. I can confidently say that every adjustment the team made to the chassis improved the car dramatically every time. Furthermore, every adjustment made was explained to me like this; 'this is what we're going to change, this is why we're going to change it, and this is what it's going to do to the car' which is exactly how I like it, as I am a sucker for small detail.
By the end of the test day, I was running consistently at around the same pace as other front-running drivers there on the day. Of course, it's always tricky to know your maximum overall pace on an open test day simply due to the quality of your tyres compared to everybody else, but from what I can tell from our team data, I am lapping consistently at a front-running pace, which is absolutely brilliant!
The fact that we've already got the car set up to where it needs to be makes Friday testing more about finding those small, finite gains that make all the difference on a qualifying lap. Also, now that I have had a couple of days to sleep on my Silverstone test earlier in the week and watch over my footage is very much helping me submerge my mind and thoughts into what I can possibly do to improve from a driving perspective.
Silverstone is the first time in my racing career that I feel everything is starting to align for me; The fact that I have 110% confidence in myself and my ability to perform matched with the fact that I am now with the very best team, have access to top engineers and mechanics and have absolute belief and confidence that I have a quality race car with a perfect setup, that will perform, bodes for a very interest and exciting weekend for team Gravett.
I am undoubtedly looking for podium finishes this weekend, and I now know that I have a package that can deliver these kinds of results.
Bring on those steps!