Bradley Gravett Gains Ground with Battling Knockhill Performance
Posted by BRADLEY GRAVETT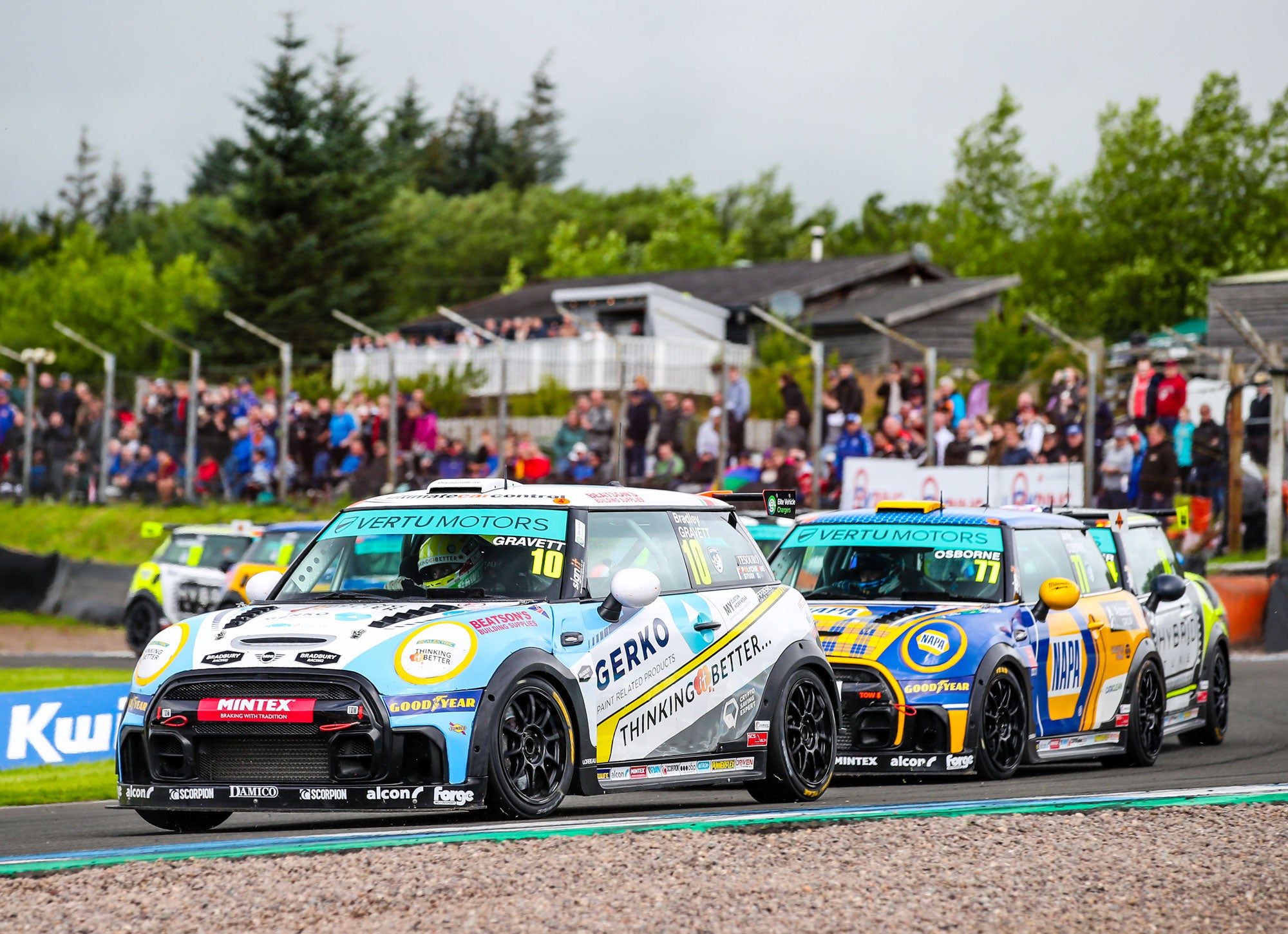 Bradley Gravett maintained his impressive form in the Vertu Motors MINI CHALLENGE with a battling performance on track at Knockhill as his season resumed after the summer break.
Bradley had gone into the break on the back of a strong weekend at Oulton Park, where he had powered his EXCELR8 Motorsport-run car to a second podium finish of the campaign to leave him sitting sixth in the championship standings.
As usual, the action kicked off with two practice sessions on Friday, which would end with mixed emotions for Bradley as he worked to get back into the groove on-track. Despite a late spin whilst pushing to find the limit of the car, Bradley ended the opening session with the seventh-best time, but he would then be restricted to just nine laps in the second session after an off at turn three.
Whilst Friday had seen drops of rain, both sessions ran on slick tyres, but when qualifying came around, Bradley and his rivals faced a fresh challenge with the circuit hit by heavy showers that would continue for the remainder of the weekend.
Battling against tricky conditions on a greasy and drying circuit, Bradley struggled to extract a quick lap from the car and would find himself back in eleventh place on the grid and with work to do going into race one.
Having gone out onto the grid on slick tyres for race one, Bradley saw the start delayed by a heavy shower of rain, which left a number of his rivals switching onto wet rubber. Bradley, however, was amongst those who stuck with the dry tyres with the expectation that conditions would improve, although it would make for a tricky start as Bradley battled to keep his car on track.
Despite that, he was able to make up three places on the opening lap and then fought his way into the top six shortly after a mid-race caution that backed up the field. Rising as high as fourth as his impressive run continued, Bradley would eventually take the flag in fifth spot to kick things off with a solid haul of points.
Gaining a place on the grid before the start of race two as a result of a penalty for one of his rivals, Bradley would find himself shuffled back to sixth on the opening lap and would hold the position throughout despite being forced to contend with understeer from the early laps.
Dicing for position with team-mate Thomas Jack Lee, Bradley saw his chance to nip ahead on the final lap and, having drawn alongside on the run to the line, secured fifth spot at the death by just 0.071. That would then become fourth post-race when rival Jamie Osborne was handed a penalty.
Drawn to start on the front row for the weekend finale live on ITV4, Bradley would endure a challenging end to his Scottish trip as he struggled with a loss of power that left him unable to keep his rivals at bay.
Although he would drop back to seventh by the finish, three solid point scores have seen Bradley move up in the standings to sit in fifth spot ahead of the penultimate meeting of the year at Silverstone.
"Knockhill is another of those weekends that shows how my expectations have changed this season," he said. "Last season, if you'd offered me these results, then I would have snapped your hand off, but this time around, I'm a little disappointed that we've 'only' come away with three top-seven finishes and not picked up more silverware!
"Friday was a tricky start to the weekend, and things didn't get much better in qualifying, where I just couldn't get the lap in in the tricky conditions. Around a circuit like Knockhill, that was always going to make the races a challenge, but the mixed weather in the first race was just what I needed. The car felt fantastic, and to come through to take the flag in P5 was a great way to kick things off.
"To go one better in race two was a positive, and I felt it was all building up to a great end to the weekend in race three when we got drawn on the front row. Unfortunately, we had an issue that resulted in a loss of power, and it just came at the worst time, as it left me powerless to maintain my position through the race.
"Despite that, another solid top-ten finish means we scored a good haul of points across the three races and have actually gained a place in the championship, which is obviously a big positive at this stage of the season.
"We've got another small break in the schedule now before we head to Silverstone for the next round, and I'm hoping to push for the podium again when we get there."
Having ended the weekend with a better points-per-race score than ever before, Bradley sits fifth in the standings going into the summer break but is just 26 points away from the top four.
Bradley Gravett is supported by GERKO, ThinkingitBetter, Ultimate Car Control, My Custom Workwear, Scalextric, Elite Vehicle Chargers, Flying TV, PolyChrome Studios, DriverAssist.ME, Bradbury Racing, Alexander James Interiors, Tesouro Timepiece, Crypto Saving Expert and Beatson's Building Supplies.