MINI Challenge JCW Post Silverstone National Tyre Test Report
Posted by BRADLEY GRAVETT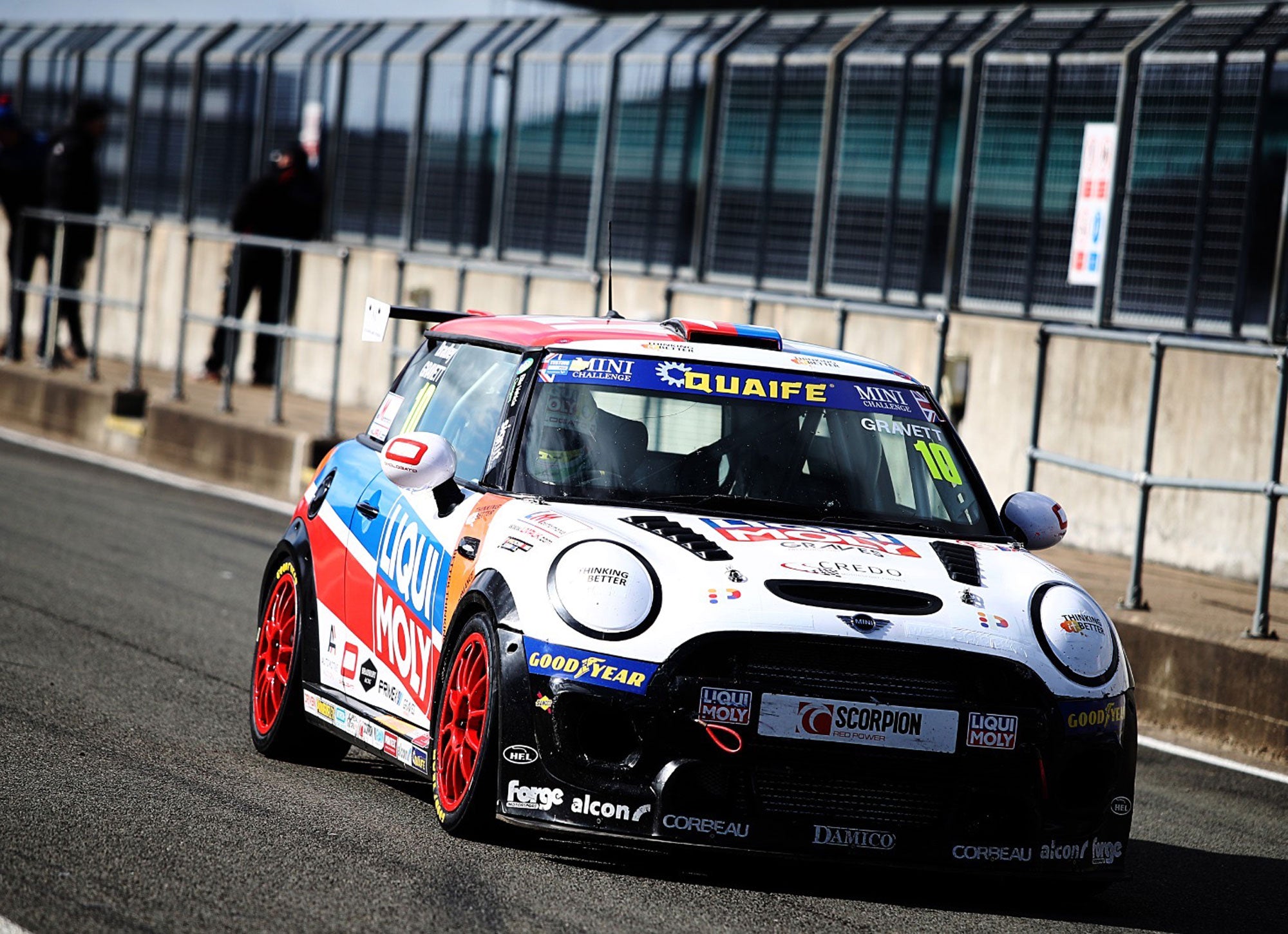 As I usually do, I thought I'd let you know we got on from yesterday's MINI Challenge Goodyear tyre test at Silverstone, which was a very positive day that bodes incredibly well for this year's season.
So, as with any 'race car' day, the morning started pretty early, and I got to the circuit at about 7am so I could make some adjustments to a couple of stickers, which in my naivety, I thought was a '2-second' job, turns out it wasn't, and it took about an hour and a half with a bit of help. Nevertheless, all the changes were made in time for the first session.
Albeit it was glorious sunny weather yesterday, at 9am, the track was still very greasy from the previous day, where it rained all day. To be fair, the track wasn't actually completely wet, it just had a 'dusting' of water on it. I mean, it wasn't really ready for wet tyres, but it was still a bit damp for slicks, but we still opted for slicks like everybody else.
I've got to be honest, having not been in the car for almost five months and jumping back in for the first time this year in cold, damp conditions on slick tyres was a tad interesting. The good news is though, I haven't lost my talent on my car control front! There were some pretty epic oversteer moments, which definitely woke me up. Admittedly, this session was a bit pointless with slicks in the wet, but it was an excellent way to jump back in and warm up.
After my first session, the Coopers (the slower MINI Challenge class) then went out for their session, and by the time they'd finished, the track was 95% dry, ready for our second session of the day.
For FP2, I decided to stay on an old-style set of slick tyres from last season, as the team had told me they'd made some dramatic changes to the chassis to improve the car's handling. Interestingly enough, these changes on old tyres made the car the best it'd ever felt, and fixed all the issues I had with the car from last season, hmm.
If I didn't say this was a bit of a bittersweet, I'd be lying; and to be totally honest with you, the car felt a bit like it did back at the first round of 2021 at Snetterton, which, if you remember, is when I had my best result all year; I was around two-tenths of a second off pole in qualifying and challenging for a top 7 position in both race one and two of that weekend; the car on that weekend felt awesome, much like it did yesterday.
While remaining overall in a positive attitude about this great move forward as a team; my belief from last season, post Snetterton round one, was that my lack of experience in the championship was the reasion I wasn't faster for the remainder of the year, even though I jumped in the car at Snetterton with basically no experience at the first round and went really rather quickly, it just didn't add up to me last year.
I was told that my lack of experience in the championship was the reasion I wasn't quicker for the remainder of the year. Still, despite that, the car I had yesterday was absolutely perfect, on the old tyres from last season, which tells me I never lost any talent, and the tyres weren't the issue; the issue was that I just simply didn't have a set up on the car that was right for me.
Anyway, with that now behind me, which was a brilliant confidence boost, for FP3, we bolted on four brand new style Goodyear slick tyres and went out for a simulated qualifying run. Just so you know, the new slicks have a stiffer sidewall, which is supposed to support the tyre better, and I can confirm the sidewall is far stiffer. So the moment I did my first weave on the warm-up lap, I immediately felt the difference, which was huge, a far more stable ride all round.
After my first session, the Coopers (the slower MINI Challenge class) then went out for their session, and by the time they'd finished, the track was 95% dry, ready for our second session of the day.
So after a three-lap warm-up, I started to really push the car hard as if I was qualifying, and it was doing absolutely everything I asked it to. It was stopping amazingly, turning in perfectly, riding curbs brilliantly, and throttling out the corners well; it was a dream car to drive.
So, just like in actual qualifying, I split the session into two parts, which basically means I went out for about five laps and set a time, then came in, allowed everything to cool, adjusted the pressures and went out again, and in both runs, the car felt the same, which was brilliant. Then, when I came in after the session and checked my times against Max's, I was within a tenth of a second of his time.
Now, considering this was my first time at Silverstone, this is pretty impressive, furthermore, Max's engine was rebuilt at the end of last season, whereas mine has not had a rebuild for two seasons, and when it gets rebuilt before the first round this year, it will be even quicker, super exciting!
Unfortunately, close to the end of my third session, when in sixth gear, there was an awful grinding sound coming from the gearbox. Upon inspection of the drained gearbox oil after the session, the team found small lumps of metal in the oil, which we think were from a broken tooth on the sixth gear sprocket. So, to prevent completely destroying the gearbox, I opted to end the day there and retire the car.
To be completely honest, this wasn't a problem as the car felt brilliant, and I didn't need to do many more laps as I'd just be wearing the car out, and I was already thrilled with the performance I'd given.
All in all, yesterday was a fantastic day; despite the broken gearbox, which didn't overly matter, the car felt unbelievably good to drive, and my confidence is now sky-high. I definitely think the time on the simulator greatly benefited me yesterday, as it allowed me to maximise my track time to focus on going quickly rather than learning the track, as I've had to do in the past in test sessions.
Moving forward, I'll continue to use the simulator to learn the circuits so I can literally drive the tracks, gear by gear, in my sleep!